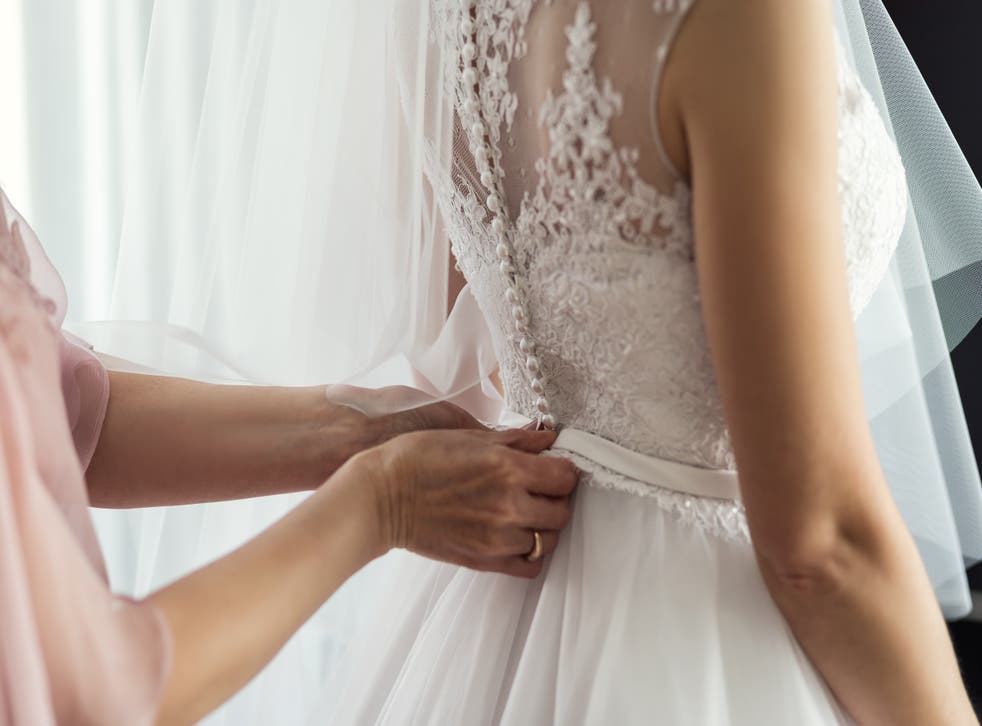 Woman wears wedding dress to get vaccinated after marriage celebration cancelled due to pandemic
'No pretty dress should sit in your closet forever unworn,' bride said
Leer en Español
A woman made sure she was able to wear her wedding reception for a special occasion - even after her wedding was cancelled due to the ongoing pandemic.
Sarah Studley, from Baltimore, Maryland, married her husband Brian Horlor in a civil ceremony in November after getting engaged in November 2019.
However, the couple had originally planned to host a big reception in June so that they could celebrate with family and friends, and which Studley, a non-profit attorney, had purchased a white polka-dot dress for.
When the couple realised that they wouldn't be able to hold a celebration that was both "safe and fun" like they'd wanted to because of the safety risks, Studley put the dress in her closet and cancelled their wedding plans yet again.
"It went into the closet and it stayed there," Studley told WJZ. "It just didn't feel like it was going to be possible to have a wedding that was both safe and fun."
Fortunately, she found another occasion to wear the white cocktail dress for - her recent Covid-19 vaccine appointment at M&T Bank Stadium in Maryland.
"I knew this was the dress I would wear," she told the outlet of her unique decision. "No pretty dress should sit in your closet forever unworn," adding that instead of her wedding reception dress the outfit became her "vaccine reception dress".
Photos of Studley wearing the outfit and receiving her first dose of the vaccine were shared on Twitter by The University of Maryland Medical System, where they were captioned: "Here comes the bride...to get her vaccination at M&T Bank Stadium Mass Vaccination Site! Rather than let the beautiful gown for her pandemic-cancelled wedding reception just hang in her closet, Sarah Studley wore it to get vaccinated."
As for the reactions at the vaccine centre, the 39-year-old said that most people were pleasantly surprised by her choice, and that she thinks it added some levity and happiness to the day.
"Everyone seemed really happy about it," she told the Baltimore Sun. "This is a moment for me to seize the celebration and seize a little joy in what has been a dark period. "
Studley's choice also meant that her husband finally got to see her in the dress she'd picked out for their wedding celebration, with the attorney telling the outlet: "He was like: 'Whoa! OK!" when she left the house in her outfit, which she paired with pearl earrings and an updo.
"Our wedding was an occasion, and her getting vaccinated was an occasion, " Horlor told The Washington Post. "Normally, those two things don't go hand in hand, but why not?"
Join our new commenting forum
Join thought-provoking conversations, follow other Independent readers and see their replies