These are the most overdone wedding trends of 2018, according to wedding planners
Make your special day a little more special by being original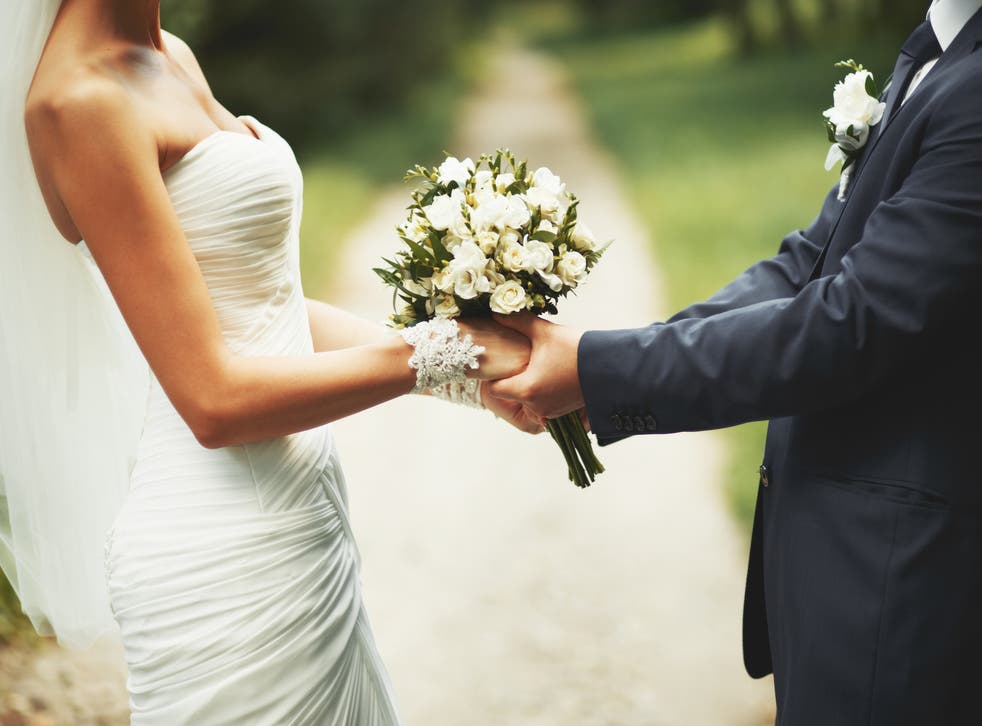 Some wedding traditions such as the first dance and the exchanging of rings are here to stay - while others like rustic mason jar decor are much more fleeting.
Unfortunately, the prevalence of Pinterest and Instagram in the wedding-planning stage only contributes to the short-lived popularity of "trendy" wedding ideas - until what was popular a month ago becomes unavoidably and unbearably overdone.
To gauge the most overdone wedding trends of 2018, The Independent asked wedding planners what trends they are tired of seeing.
These are the trends wedding planners think it's best that engaged couples avoid when planning their special days.
Over-the-top wedding cakes
Hamish Shephard, the founder of Bridebook.co.uk, told us that over-the-top wedding cakes are over.
He said: "The humble iced fruitcake wedding cake is long gone due to Instagram wars for that perfect cake shot. From drip cakes and naked cakes, then onto doughnut walls and eight-foot macaroon towers, and recently even Meghan Markle's 154lb deconstructed lemon and elderflower wedding cake! The cake is now an iconic trend that is becoming increasingly competitive."
Decorated walls
According to Robin Weil of weddingplanner.co.uk, there has been a focus on walls in 2018 as "both doughnut walls and flower walls seem to be everywhere!"
Beginning with the flower wall Kanye West gave Kim Kardashian West for Mother's Day, it seems floral and dessert-inspired backdrops are officially over.
Dramatic bridal entrances
Dramatic bridal entrances have also had their moment in the spotlight for far too long. According to Shephard, "we've seen it all".
"From a bride literally being ballooned into the ceremony to being walked in by a dressed-up dinosaur, the bride's entrance has become yet another aspect of the wedding that can be blown up to unimaginable heights.
"We are all for breaking tradition, like the growing trend of brides walking themselves down the aisle (as eight per cent of UK brides did in 2017), but maybe save the dinosaurs for the amusement park," he said.
Groomsmen matching gone too far
Although it is typically expected that groomsmen will wear matching or complementing shades of the same colour, Weil told us that a new trend - already overdone - sees groomsmen matching their beards.
While a bushy ill-maintained beard isn't wedding appropriate, nor is a streamlined look that sees the groom and his groomsmen looking like clones of one another.
Too many bridesmaids
"Bridesmaid armies" have also taken hold over weddings - upping the typical one or two bridesmaids to a congregation of pastel-dressed friends.
Shephard told us: "The 'bridesmaid army' trend swiftly came over from the US and has taken hold of wedding parties everywhere in the UK. Gone are the days of one or two bridesmaids, or even flower girls, as the more the merrier mentality has been the preferred choice."
In addition to being overdone, technical problems can arise when too many bridesmaids are extended an invitation to join the bride at the altar.
The Ten Best Romantic Wedding Locations

Show all 10
"Having four to eight bridesmaids looks great for photo-ops but can sometimes take away from the ceremony as they get crammed up by the altar," Shephard told us.
However, the trend is already changing thanks to Meghan Markle - "we're already seeing Meghan's decision to have no adult bridesmaids and to opt for flower girls instead shifting this perspective towards a more low-key bridal party."
Light-up letters
Although they continue to be popular year after year, Weil included light-up letters in her roundup of overdone trends.
Whether they are spelling out the bride and groom's initials, their wedding hashtag of choice, or "congratulations," it might be time to retire the decor.
Register for free to continue reading
Registration is a free and easy way to support our truly independent journalism
By registering, you will also enjoy limited access to Premium articles, exclusive newsletters, commenting, and virtual events with our leading journalists
Already have an account? sign in
Register for free to continue reading
Registration is a free and easy way to support our truly independent journalism
By registering, you will also enjoy limited access to Premium articles, exclusive newsletters, commenting, and virtual events with our leading journalists
Already have an account? sign in
Join our new commenting forum
Join thought-provoking conversations, follow other Independent readers and see their replies