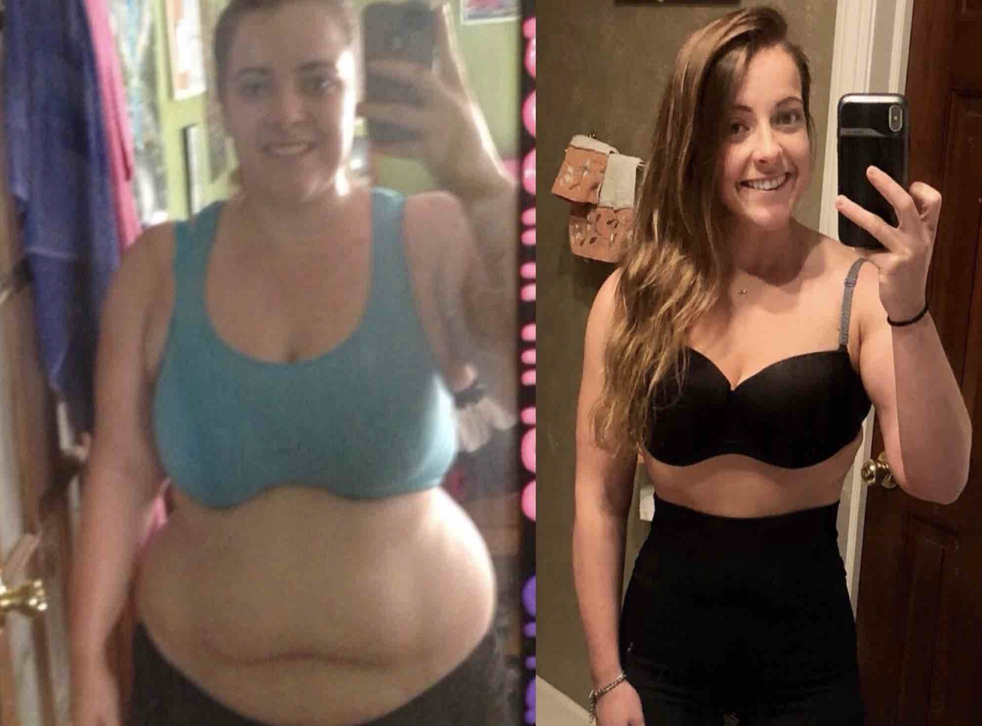 Woman crowdfunds for excess skin surgery after losing half her body weight
The full-time student now wants to compete in women's physique competitions 
A woman is crowdfunding cash so she can afford excess skin removal surgery - after she lost half her body weight thanks to her incredible lifestyle transformation.
Kayla Sue Cody, from Henrietta, New York, realised she wanted to make a change when she reached 280lbs at her heaviest.
"I was 280lbs, smoking cigarettes, drinking a lot socially and very depressed," Cody told The Independent. "I needed a life change, so I decided I wanted to get gastric bypass surgery."
After receiving the approval from her doctor to undergo the surgery, the full-time student was told she needed to first complete six months of nutrition and evaluations.
She immediately quit smoking and drinking and changed her diet because "there was nothing I wanted more than the surgery," she told us.
However, after three months of teaching herself nutrition, how to properly count calories, and how to maintain a healthy lifestyle, Cody realised she'd lost 30lbs on her own - so she decided not to go through with the surgery.
"I decided I didn't want the surgery and I could lose the weight on my own if I just worked at it," she said.
After a few years of hard work and dedication, Cody lost 60lbs - but struggled to keep it off.
A car accident in January of 2017 set her back significantly.
She told us: "I was out of work and unable to workout for six months and gained some of my weight back until I was back to 220lbs."
The exercise it takes to burn off high-calorie foods

Show all 10
When she was finally cleared to begin working out again by her doctor, her dedication to becoming healthy was renewed - "I stuck to my diet and exercise regimen strictly because I never wanted to gain the weight back that I worked so hard to keep off."
Now, she's lost a total of 140lbs - half her former body weight.
To ensure that she sets maintainable and achievable goals, Cody relies on a diet and exercise that works.
She counts calories and keeps her daily intake to 1,500 calories of foods such as eggs, oatmeal, chicken, greens, and other low-calorie foods.
She also works out five days a week, for one to one-and-a-half hours, and alternates 20 minutes of cardio with weight training.
"Every day I work out a different muscle group to give my body a chance to recover," she told us.
In addition to her diet and workouts, her most successful tip has been setting "small, realistic" goals for herself.
"I didn't go through my weight loss thinking I needed to lose 140lbs," she said. "I would set small, realistic goals to motivate myself and when I reached the goal, I would set a new one. I'd aim to lose 10 to 20lbs by a certain date and when I would reach that goal, I would set a new one."
Now, after reaching her goal weight after years of hard work, the full-time student wants to undergo skin removal surgery - the last hurdle in her journey.
Although she first assumed she would be able to lose the excess skin the same way she lost the weight - by exercising - multiple physicians told her it would be impossible without surgery.
As her new goal is to compete in women's physique competitions, Cody's excess skin is the only thing holding her back - so she started a GoFundMe page to help her afford the surgery, in addition to picking up a part-time job on top of her full-time one because "I've gone too far to let the skin removal surgery get in my way," she said.
"My ultimate goal is to be able to inspire other people to do the things I've done because there is nothing special about me and if I can do it, anyone can," Cody told us.
So far, she has raised $1,700 of her $10,000 goal. You can donate here.
Join our new commenting forum
Join thought-provoking conversations, follow other Independent readers and see their replies