The 175-page book dedicated to the unique carpets of pub chain Wetherspoons
Discovering that each branch of the pub chain has an especially designed carpet, writer Kit Caless has watched his 'wetherspoonscarpet' blog turn from a tongue-in-cheek project into a book with a cult following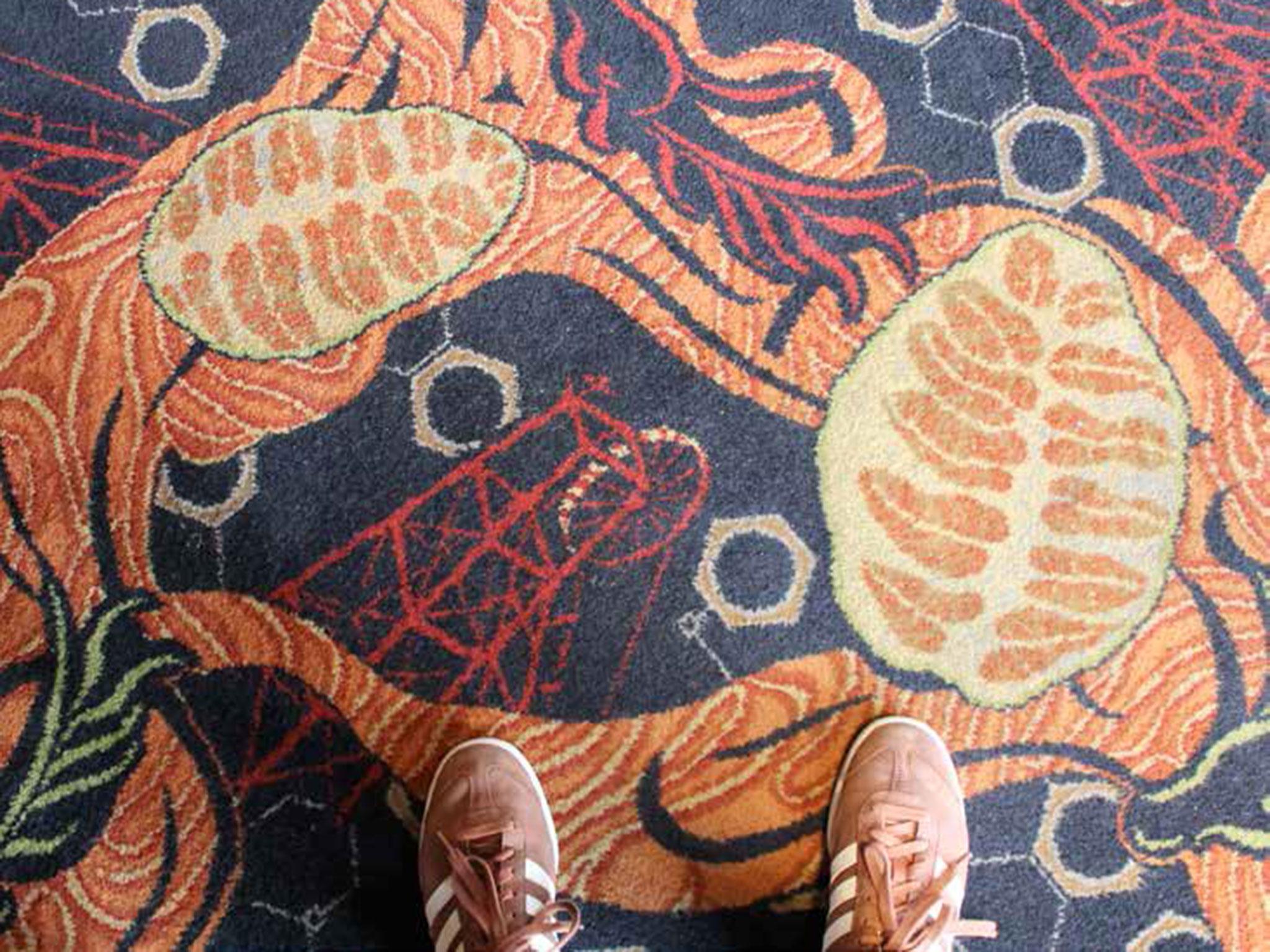 Wetherspoons pubs are loved for their cheap beer, syrupy cocktails, and themed dinner nights - less so for their eye-catching décor.
But, as a new book celebrates, what most punters miss beneath their feet is that each branch has a unique carpet design.
From the geometric pattern at Oxford's The Four Candles - in homage to comedian Ronnie Barker - to the mustard flooring at The Raven in Liverpool, inspired by a local artist who illustrated Edgar Allen's poem of the same name, each Wetherspoons carpet tells a story.
It was this realisation that prompted writer Kit Caless, who describes himself as the "shagpile Socrates" on Twitter, to document the designs of the chain's carpets in his "wetherspoonscarpets" blog.
The website, launched in July 2015, turned from a joke into a self-styled public art project after people began sending Caless photographs of designs from their local 'Spoon's.
Since then, he has visited 150 branches of the almost 1,000 outlets across the country. A choice selection of the most interesting have been made into a 175-page book "Spoon's Carpets: An Appreciation".
Spoon's carpets - In pictures
Show all 4
But who decreed that each Spoon's should have an individual carpet remains a mystery.
"The head of PR at Wetherspoons, who has worked with them for 30 years, said he didn't know the carpets were individual. They were as surprised as me. No one knows, and I don't think I'll ever find out."
The book is part tounge-in-cheek homage to Wetherspoons, part potted history of Britain - with a few tall tales thrown in for good measure.
"Some of the facts are made up. I want to see it as a way of looking at Britain and telling stories in the traditional folkloric way of pubs and drinking. The pub is afterall a space for shaggy dog stories."
As is inevitable when visiting over 100 pubs in a year, Caless has met some interesting characters. In Southampton, he was called a "big bagged c***" by a "big bloke and his big mates" after he knocked over his beer.
"He was like 'what are you doing?'. When I told him I was taking photos of the carpet he didn't believe me. I didn't stick around to find out what happened. I would have bought have him a new one if he was nicer," he laughs.
At the Benjamin Hunstman in Sheffield he was approached by "two proper lads in suits" as he was snapping his feet against the flooring.
"They were so excited. They requested to have their feet in the book. After I took the photo, one of them realised his shoes were really dirty and asked me not to mention it. The first thing I wrote in the book was 'look at this guy's dirty shoes'," he teases.
Now a veritable Spoon's connoisseur, Caless says his favourites are the Imperial in Exeter, inside a domed orangery in a former luxury hotel, and The Samuel Peto in a Romanesque building in Folkestone, which has a painted ceiling.
"It's like the Sistine Chapel of Wetherspoons. I took my mum there. She was like 'oh my God! It's incredible!'"
"Wetherspoons are like a blank canvas on which you can project yourself," argues Caless, who used to run a pub in east London. "They don't have music. The menu, it'll do. The drinks are varied but not massively adventurous, so you won't feel intimidated like you do in a hipster pub. You can come in alone to read the paper in a corner, or with ten people and be a bit loud on the other side."
"At the one in Hackney near where I live, I might find my friends in there, old Jamaican guys, old Irish guys, builders coming in for their 3pm pint. Old mothers meeting up and having a natter. Students. It's a real reflection of the local area. At each Spoon's in the country you get a feel for that town."
But having visited more than 100 branches, Caless says he doesn't intend to "collect them all" and pop into every one. "I've eaten a lot of Spoons food and drunk a lot of pints. I feel like I've got PTSD", he says.
"I'm not going to be like Steve Redgrave and say 'never again'. I might," he says, half joking, "if the price is right."
Join our commenting forum
Join thought-provoking conversations, follow other Independent readers and see their replies