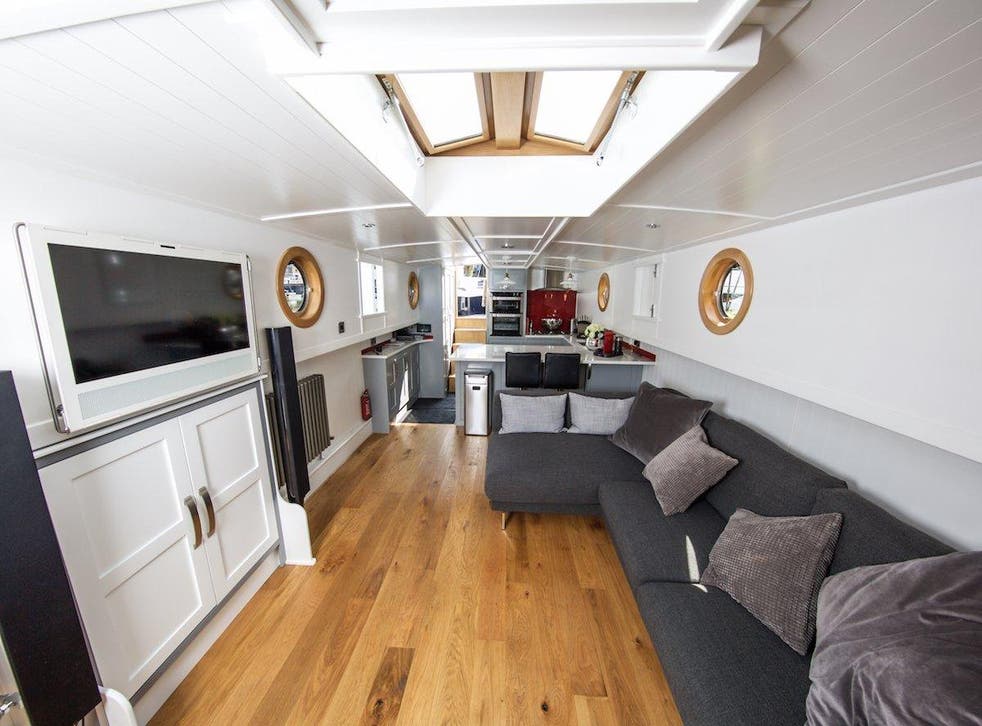 What it's like to live on a £300,000 houseboat in London
With one-bedroom flats in London costing as much as £1 million, buying property in the British capital can seem impossible.
To save money on his own London home, Alex Prindiville, CEO of the luxury car company Prindiville Motors, commissioned a team of manufacturers to design a two-bedroom houseboat moored at St. Katherine's Docks, where he lives with his family, for £300,000.
Based on his own home, the entrepreneur launched Prindiville Marine in April 2016, designing custom houseboats — which he calls "floating apartments" — for clients looking for more affordable property.
Developed by a team of 15 manufacturers based in Sheffield, boats start at £300,000 each and come fully furnished, with a supply of gas, electricity, and water. They can also be fitted with propulsion units so proprietors can go on cruises.
So far, the company has designed and sold four boats, making at least £1.2 million. It aims to build a total of 15 boats by the end of its first year.
Take a tour of Prindiville's houseboat to see what it's like inside:
Welcome to Alex Prindiville's home: a boat moored at St. Katherine's Docks in east London. The boat is accessible via the back, where there is a small outdoor section with seating for up to six people. This area is ideal for al fresco dining during the summer, Prindiville said.
After walking down a set of stairs, you get to the kitchen, which is fully equipped with a dishwasher, oven, gas hob, and other amenities.
Throughout the houseboat, the decor subtly adheres to a sailing theme. In the living room, there's a large L-shape sofa, wide-screen TV, skylight, and 13-inch porthole windows, positioned just above water level so that you can see ducks bobbing past, Prindiville said.
In addition to radiators, there's a wood-burning fireplace to ward off the cold during the winter months. The boat is also more spacious than most one or two-bedroom flats in London. "Most new builds — one or two-bedroom flats — are not even 1,000 square-foot," Prindiville told Business Insider. "This is bigger."
After walking down a long corridor...
...you reach the first of the two bedrooms: the kids' room, which comes with a bed, TV, and storage. While Prindiville's kids use this room, on custom-built houseboats, this space can be used as a study, guest room, or even a recording studio.
The bathroom — equipped with a double power shower, toilet, and sink — acts as a small wet room, Prindiville said. He explained that all the water is supplied by a 1,000-litre tank tucked away at the front of the boat. For a family of four, the water supply typically needs to be replaced once a month.
Located at the end of the boat, the master bedroom is spacious, with a large double bed, widescreen TV, and small desk, and ample storage space.
Fitted with propulsion units, the houseboat doesn't always stay stationary. Prindiville has taken small trips along the Thames on the boat, which has a 90 horsepower engine, running on a marine diesel tank, which he says lasts for over a year.
Read more:
• This chart is easy to interpret: It says we're screwed
• How Uber became the world's most valuable startup
• These 4 things could trigger the next crisis in Europe
Read the original article on Business Insider UK. © 2016. Follow Business Insider UK on Twitter.
Register for free to continue reading
Registration is a free and easy way to support our truly independent journalism
By registering, you will also enjoy limited access to Premium articles, exclusive newsletters, commenting, and virtual events with our leading journalists
Already have an account? sign in
Join our new commenting forum
Join thought-provoking conversations, follow other Independent readers and see their replies