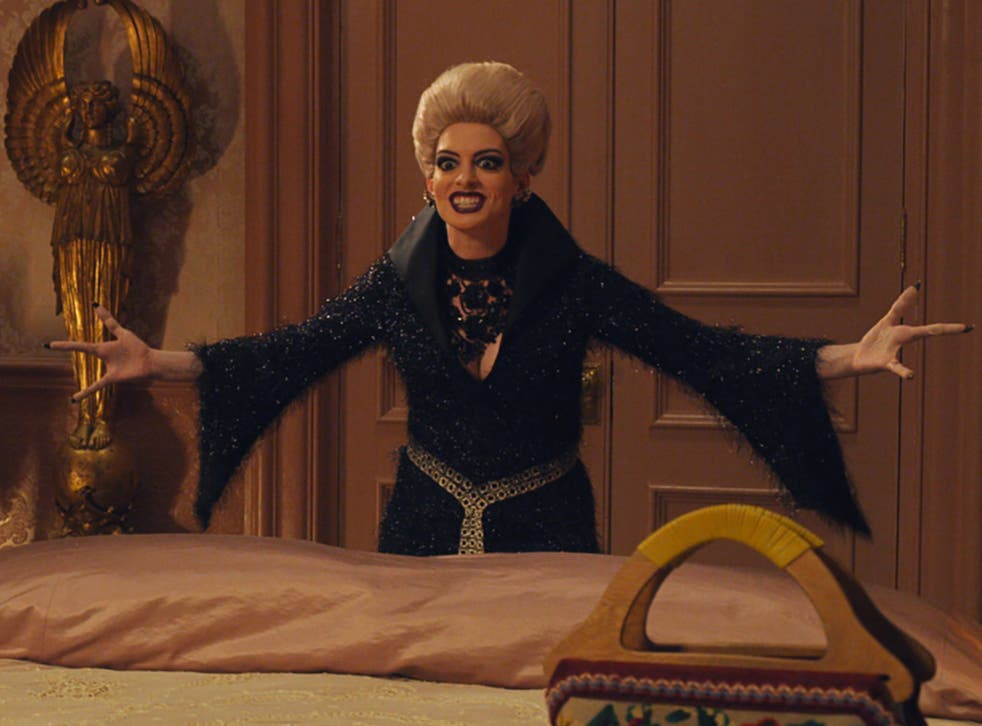 Disability campaigners criticise new Witches film for depicting villain with no fingers
Film 'shockingly out of touch with what's going on in the world', says charity
Joanna Whitehead
Wednesday 04 November 2020 14:16 Comments
Disability campaigners have criticised the new Roald Dahl film The Witches as stigmatising those with missing limbs.
In the new version of the popular children's book, Anna Hathaway, who plays the Grand High Witch, is depicted with missing fingers on her claw-like hands which she hides with gloves, a detail that is not part of the original text.
A trailer accompanying the film shows the star-studded cast giving a tutorial on "How to Identify Witches" and highlights claws and a lack of toes as typical characteristics of witches.
Following the film's release in the UK on 26 October, the hashtag #NotAWitch began trending on social media.
TV presenter and comedian Alex Brooker, who has upper limb differences, has joined a number of charities in condemning the adaptation.
The comic said: "As someone with missing fingers, it's made me so sad to see how this is portrayed as something to be scared of.
"The story is that the witches wear gloves to hide what is horrible underneath. I've been that kid who wanted to wear gloves to hide so it's heart-breaking to see that stigma reinforced for other children who have different hands to everyone else."
He added: "I know it's just a film, but I want disabled kids to celebrate who they are, not feel like they have the same hands as a fictional monster."
Children's limb difference charity Reach supported the comments, stating that the film had the potential to be "extremely damaging".
It said: "Many limb difference children and young people have a significant challenging time accepting being different, overcoming mental health and physical challenges that many others take for granted and being subjected to bullying."
The charity cited Strictly Come Dancing as a mainstream show where limb differences were now commonplace. In comparison, they described The Witches as "shockingly out of touch with what's going on in the world".
"Roald Dahl is a much loved British author around the world," it said.
"We think he would be equally as horrified about how one of his beautiful novels has been misconstrued at the cost of some very special and unique children," it added.
A Warner Bros. Pictures spokesperson told The Independent: "We the filmmakers and Warner Bros. Pictures are deeply saddened to learn that our depiction of the fictional characters in The Witches could upset people with disabilities, and regret any offense caused.
"In adapting the original story, we worked with designers and artists to come up with a new interpretation of the cat-like claws that are described in the book.
"It was never the intention for viewers to feel that the fantastical, non-human creatures were meant to represent them.
"This film is about the power of kindness and friendship. It is our hope that families and children can enjoy the film and embrace this empowering, love-filled theme."
Register for free to continue reading
Registration is a free and easy way to support our truly independent journalism
By registering, you will also enjoy limited access to Premium articles, exclusive newsletters, commenting, and virtual events with our leading journalists
Already have an account? sign in
Join our new commenting forum
Join thought-provoking conversations, follow other Independent readers and see their replies