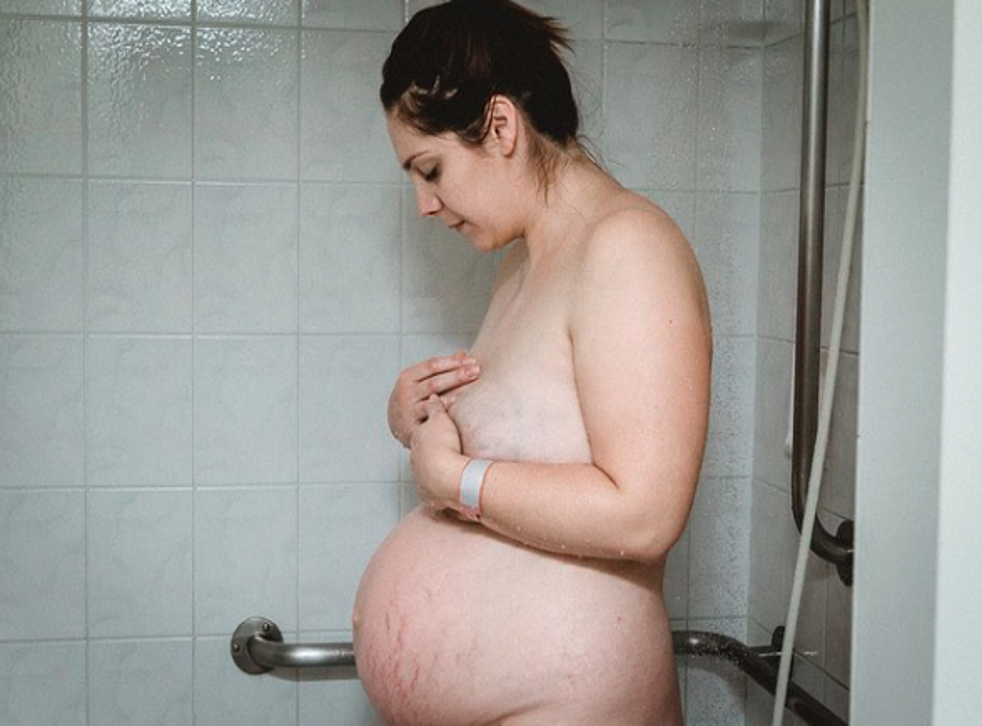 Woman shares photo of body hours after giving birth to expose reality of post-pregnancy figures
'I want other mums walking in my shoes to know that they're not alone'
A mother-of-three has shared a candid snap of her body just hours after giving birth to show how a post-pregnancy body really looks.
Elise Raquel, from west Australia, posted the picture of herself on Instagram in a bid to show her 30,000 followers what a real post-pregnancy body looks like in its "rawest and most vulnerable state."
Describing how she had felt the need to cover up after her previous births, Raquel said that despite the joy of welcoming a new baby, it always felt "strange to look down and still see a bump."
Pregnant TV weather presenter on online criticism: Your body is not for anyone to talk about
However, after giving birth to daughter Willa, she admits she has finally learned to be proud of her body including the extra kilos and stretch marks that came with each new arrival.
"It's not easy to go home with a baby and still have to wear maternity clothes. With my first I was adamant I would just "bounce back". But you know what, I didn't, I never have in fact," she wrote.
"It's taken me three babies, but I've finally realised this postpartum body isn't something to hide! I am beyond proud for what this body has given and sacralised."
The inspirational mum called on other women to celebrate their post-pregnancy bodies too adding, "I am NOT ashamed of my (many) new stripes and my postpartum body. And neither should you! Let's celebrate postpartum bodies, in all their glory."
Social media users quickly flooded the post with heartwarming messages, thanking Raquel for being so upfront and honest.
"I've gained some pretty mammoth stretch marks and quite a bit of weight this second pregnancy and i'm not going to lie, I've hated looking at them at seeing my body get bigger," one person wrote.
"However, after reading this you've made me think about everything in a whole new light and helped me to accept that every change is natural and beautiful."
Despite the influx of positive messages, Raquel notices that many people questioned her decision to share such a personal photo publicly on the internet. Tackling the subject in a recent post she wrote, "No one told me the reality of the fourth trimester. I had no idea you could still look so pregnant even after giving birth.
"Just like many women do, I too used to look up to the media, celebrities who would show off their supermodel like post baby bodies just weeks after giving birth! I thought that's how it would be for me too.
"This post baby picture that was painted in my head just wasn't realistic! I posted that photo because I wish someone had posted a photo just like mine when I was pregnant. I wish that someone had told me what realistically might happen to my body and to my mind.
"The fourth trimester is such a taboo topic. I want other mums also walking in my shoes to know that they're not alone."
Register for free to continue reading
Registration is a free and easy way to support our truly independent journalism
By registering, you will also enjoy limited access to Premium articles, exclusive newsletters, commenting, and virtual events with our leading journalists
Already have an account? sign in
Register for free to continue reading
Registration is a free and easy way to support our truly independent journalism
By registering, you will also enjoy limited access to Premium articles, exclusive newsletters, commenting, and virtual events with our leading journalists
Already have an account? sign in
Join our new commenting forum
Join thought-provoking conversations, follow other Independent readers and see their replies