The Independent's journalism is supported by our readers. When you purchase through links on our site, we may earn commission.
Woman's five-star eyeliner review saying it 'didn't budge' during car accident goes viral
'This product is truly amazing'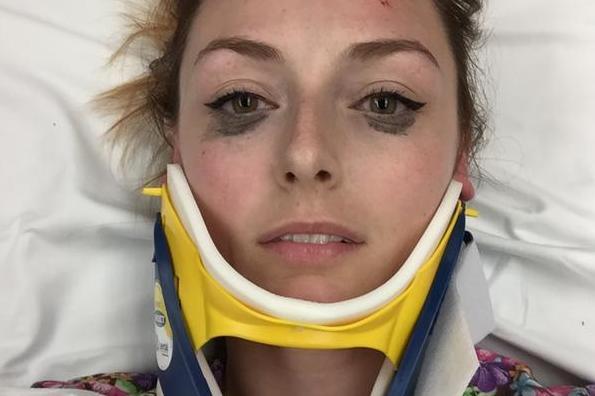 A woman has gone viral for posting a five star review of an eyeliner because she was in a car accident and it "didn't budge."
Registered nurse Shelby posted the review of Kat Von D's 'Tattoo' eyeliner on the company's website eight months ago.
She said: "This product is truly amazing. June 28th I was pulled over in my car calling for roadside assistance when a distracted driver hit me going 55mph. I was taken via ambulance to the ER where I remained for eight hours.
"My mascara was running down my face from crying and all other products had been wiped off in the transfer to the hospital. But not my tattoo eyeliner. I am posting a pick to show you, this product lasts and looks amazing through anything. Never buying any other liner again."
And she did indeed share a picture of her flawless eyeliner from her hospital bed, complete with neck brace and smudged mascara.
The review has recently gone viral thanks to Lahari Manchikanti, a student at the University of Florida, posting about it on Twitter.
After the pictures went viral, Shelby identified herself, saying: "It's me. Girl, when you find a good product, you have to share the info."
"As a registered nurse I work 12 hour shifts so if I do wear makeup, I need it to last. I had worn the eyeliner many times, but was still surprised it survive my 12 hour shift, an accident and some years!" Shelby told The Independent.
"I took the selfie to send to my mom who was worried and in case police would need it for evidence. I later posted it on Instagram to share my story and multiple people stated how well my eyeliner stayed.
"I wrote the review later on after people commented about it on my Instagram. I wrote the review eight months ago on her beauty site so I never thought anything of it. I rarely use twitter so when my notifications started going off I was so confused! Most people are supportive and laugh with me about it, which I appreciate."
And many people expressed their amazement at the review.
The eyeliner retails for $20 (£14), and many people have suggested that the brand give both Shelby and Lahari lifetime supplies.
Join our commenting forum
Join thought-provoking conversations, follow other Independent readers and see their replies