Celebrations as abortion is decriminalised in Northern Ireland

Show all 11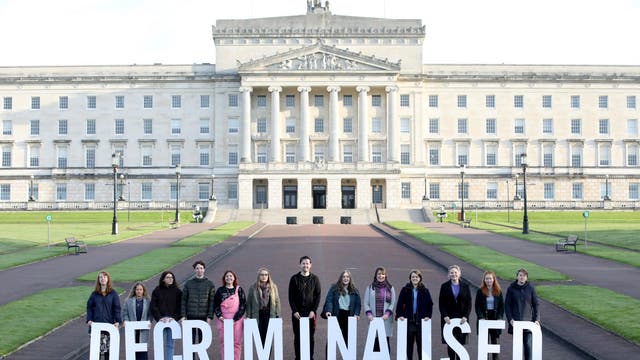 In pictures: Northern Ireland pro-choice campaigners celebrate as abortion is decriminalised
'All of us everywhere owe so much to so many women who have fought tirelessly for this'
Pro-choice campaigners in Northern Ireland have celebrated the decriminalisation of abortion in the region.
At midnight on Tuesday 22 October, abortion and same-sex marriage became legal in Northern Ireland following a landslide vote made by MPs in Westminster in July.
Abortion within the first 24 weeks of pregnancy was previously illegal in Northern Ireland in almost all circumstances, including in cases of rape and incest.
On Monday 21 October, several Northern Ireland assembly members returned to Stormont for the first time in three years in a last-minute attempt to prevent the decriminalisation of abortion in Northern Ireland.
Click through the gallery above to see pictures of pro-choice campaigners celebrating the landmark ruling.
The sitting at Stormont was held after a group of anti-abortion lawmakers signed a petition calling for abortion in the region not to be decriminalised.
The majority of the signatures came from members of the Democratic Unionist Party (DUP).
Pro-choice campaigners marched in Belfast and gathered outside Stormont as the assembly was held.
Last week, DUP leader Arlene Foster issued a statement in which she urged other members of the legislative assembly in Northern Ireland who oppose the "extreme liberalisation" of the region's abortion law "to step outside any party shackles" and join the DUP in "recalling the assembly".
Several Twitter users celebrated the decriminalisation of abortion in Northern Ireland, which coincided with the legalisation of same-sex marriage.
Support free-thinking journalism and attend Independent events
"I keep smiling at the realisation that in a few hours, women and girls will have the right to safe and legal abortion in Northern Ireland," one person tweeted.
"All of us everywhere owe so much to so many women who have fought tirelessly for this. Thank you."
Gay marriage and abortion finally became legal in Northern Ireland today," another wrote.
"All my love to everyone who fought for this, who marched, and who shouted. Today is yours.
Join our new commenting forum
Join thought-provoking conversations, follow other Independent readers and see their replies