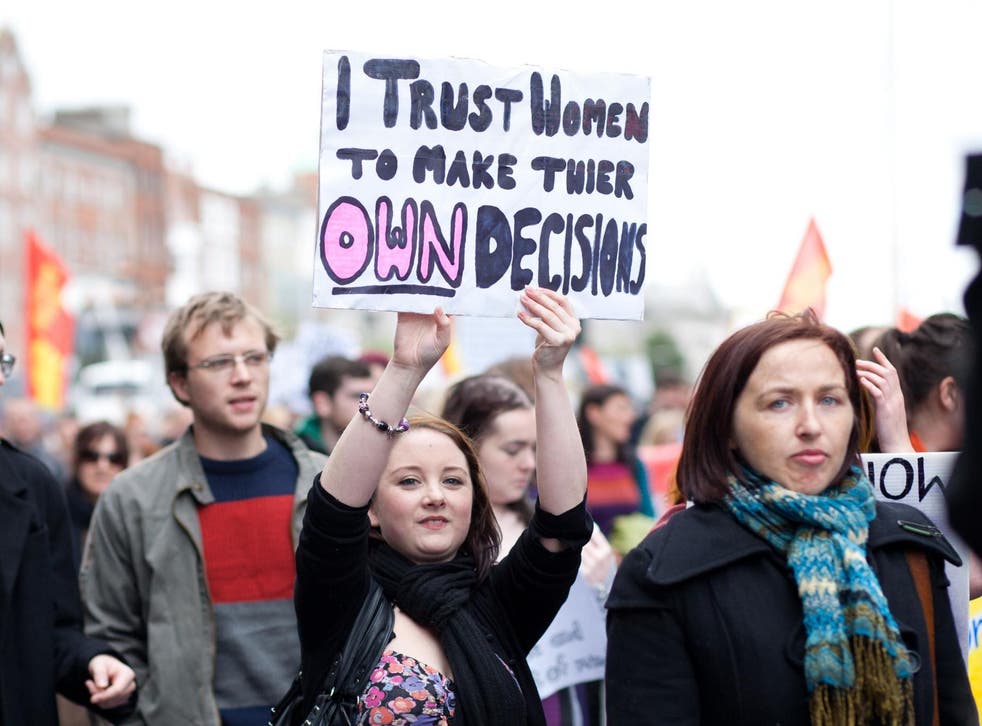 Belief that having an abortion leads to 'emotional harm' not true, finds study
Relief not regret is the most common response to having an abortion 
Sophie Gallagher
Monday 13 January 2020 12:55 Comments
Nearly all women (95 per cent) who get an abortion do not regret the decision, with the most common emotion experienced after the procedure being relief and not regret, says a new study.
The authors of the study, published in the journal Social Science and Medicine, say their findings should help dismiss the belief that women will suffer "emotional harm", or be "emotionally scarred", as a result of an abortion.
Professor Corrine Rocca, lead author, from the University of California said: "There was no evidence ever to say that [myth] was actually true", but that it had still been used as a reason to justify restricting access to abortion.
Currently in the USA multiple states require women to undertake mandatory abortion counselling and endure a 48-hour waiting period, during which they are given information about the negative impact of the medical procedure.
The landmark study is based on almost 1,000 women who sought abortions in 21 states around the USA – of whom 667 had the procedure.
It tracked their emotions around the decision, a week afterwards and for five years thereafter at six-month intervals, The women were surveyed a total of 11 times.
Celebrations as abortion is decriminalised in Northern Ireland

Show all 11
They asked participants if they had any emotions of sadness, guilt, relief, regret, anger or happiness, with relief being the most frequently experienced.
They found there were both "positive and negative" emotions over the first two years, but these declined and plateaued thereafter.
Even those who struggled to make the decision finished up supporting it, say gynaecologists.
Just over half (54 per cent) said the decision to terminate their pregnancy was very or somewhat difficult. The other 46 per cent said it was not.
Professor Rocca said: "This debunks the idea that most women suffer emotionally from having an abortion."
The authors say in future research should focus on the small percentage of women who do experience negative emotions or regret, and the specific factors that impact this situation.
Data published by the Department of Health and Social Care shows there were 200,608 abortions for women resident in England and Wales in 2018 – up four per cent on the 192,900 the previous year.
Last year a YouGov poll of more than 1,600 people in Great Britain suggested public attitudes to abortion are becoming more relaxed.
Less than three in 10 (28 per cent) wanted to reduce the limit or ban abortions altogether, compared with more than a third (35 per cent) in 2015.
Currently in England, Wales and Scotland, abortions can be carried out within the first 23 weeks and six days of pregnancy.
But later abortions are allowed in certain instances. These include if the mother's life is at risk or the child would be born with a severe disability.
If you live in Northern Ireland your abortion care will be restricted, but you can travel elsewhere to obtain one.
Register for free to continue reading
Registration is a free and easy way to support our truly independent journalism
By registering, you will also enjoy limited access to Premium articles, exclusive newsletters, commenting, and virtual events with our leading journalists
Already have an account? sign in
Join our new commenting forum
Join thought-provoking conversations, follow other Independent readers and see their replies