Angelina Jolie on supporting sexual violence survivors: 'You want to empower victims to speak'
'We live in this culture of impunity', the actor and humanitarian says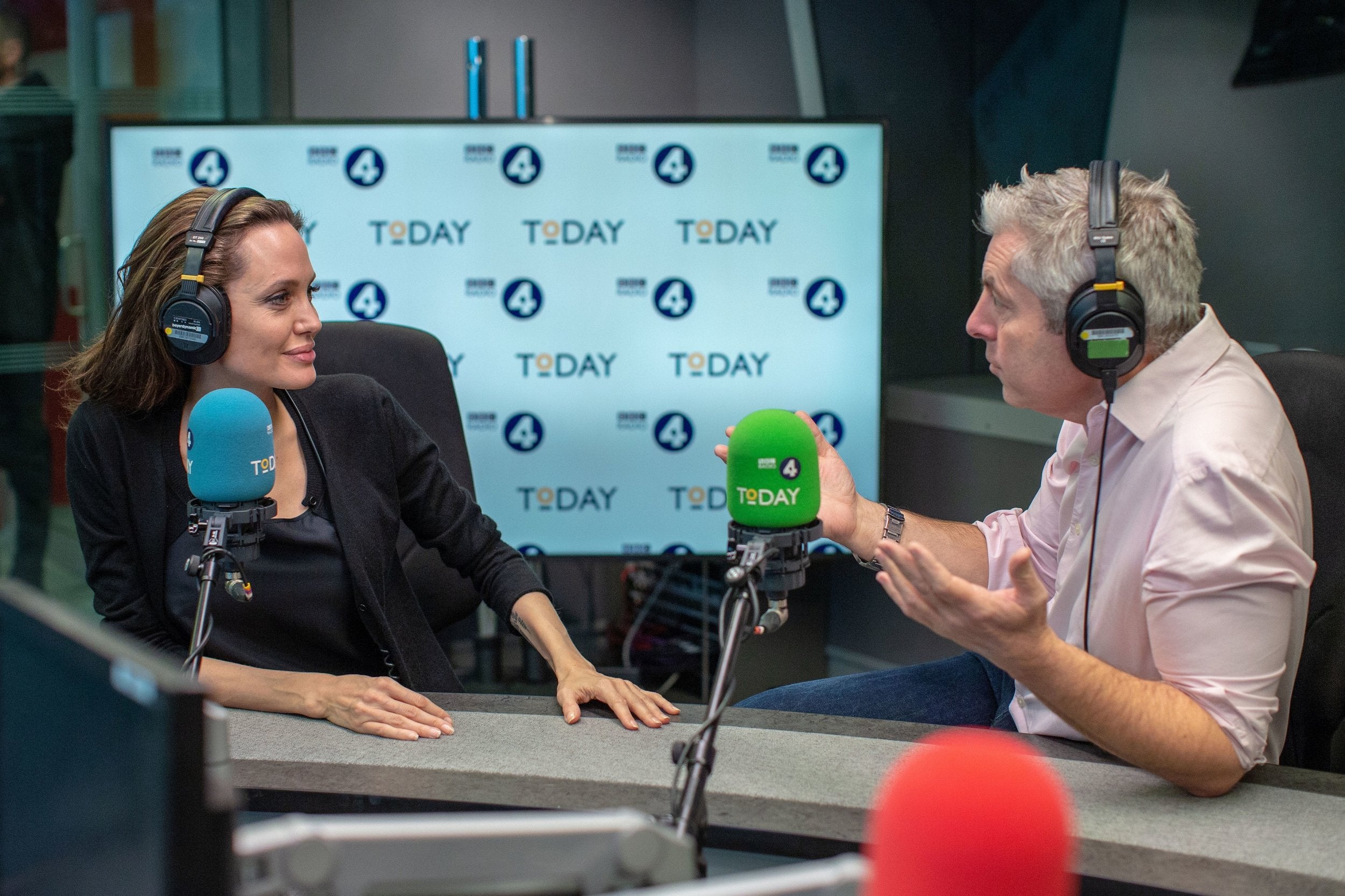 Angelina Jolie has discussed the importance of supporting sexual violence survivors while guest-editing BBC's Today programme.
In 2012 the actor and humanitarian launched the Preventing Sexual Violence Initiative (PSVI) in partnership with former foreign secretary William Hague.
Over the past six years Jolie has worked tirelessly with the organisation to raise awareness of the global issue, co-chairing the Global Summit to End Sexual Violence in Conflict in 2014.
While speaking with BBC Radio 4 presenter Justin Webb, Jolie spoke about how many perpetrators of sexual violence are able to get away with their crimes without any consequences.
"You want to empower victims to speak," she said.
"But then when these brave victims come forward, what happens often still around the world is some communities they still encourage the rapist to marry the victim."
She explained that women are frequently perceived as besmirched if they've experienced acts of sexual violence.
"In many communities, they treat the young woman as if she is now dirty," Jolie stated.
"Nothing happens to the men that commit these crimes. So we live in this culture of impunity."
India protests against sexual violence
Show all 20
Recent research commissioned by the End Violence Against Women Coalition concluded that "alarming" attitudes to consent and sexual violence may be contributing towards low conviction rates in rape trials.
The study found that a third of the British public believe if a woman has been pressured into sex, it isn't necessarily rape if no physical violence was involved.
In early December 2018, Jolie spoke with Marie Claire about why sexual violence is "not just a problem for women", emphasising that men must also be included in the conversation in order to break down the taboo that surrounds the subject.
"I don't just speak to my daughters. I speak to them with their brothers," she said. "That is maybe the first most important distinction.
"This is not just a problem for women, and the solution is working with women and men. And girls and boys."
During her appearance on the Today show, Jolie was also asked about whether she would ever consider running for US president.
The special envoy to the UN revealed that while she's not sure whether she's suited for the world of politics, she hasn't ruled it out.
Support free-thinking journalism and attend Independent events
"You know honestly if you asked me 20 years ago I would've laughed and I really don't know. I always say I'll go where I'm needed," she responded.
"I don't know if I'm fit for politics, but then I've also joked that I don't know if I have a skeleton left in my closet, so I'm pretty open and out there. For now I'll stay quiet."
Join our commenting forum
Join thought-provoking conversations, follow other Independent readers and see their replies