LIFESTYLE FEATURES
Soma Sara has an inbox full of allegations about sexual violence in the UK – it's time to listen
The appetite for conversations around violence against women and girls in the UK has been reignited in recent weeks, driven by the campaign Everyone's Invited. Harriet Hall meets founder Soma Sara to ask what can be done to tackle rape culture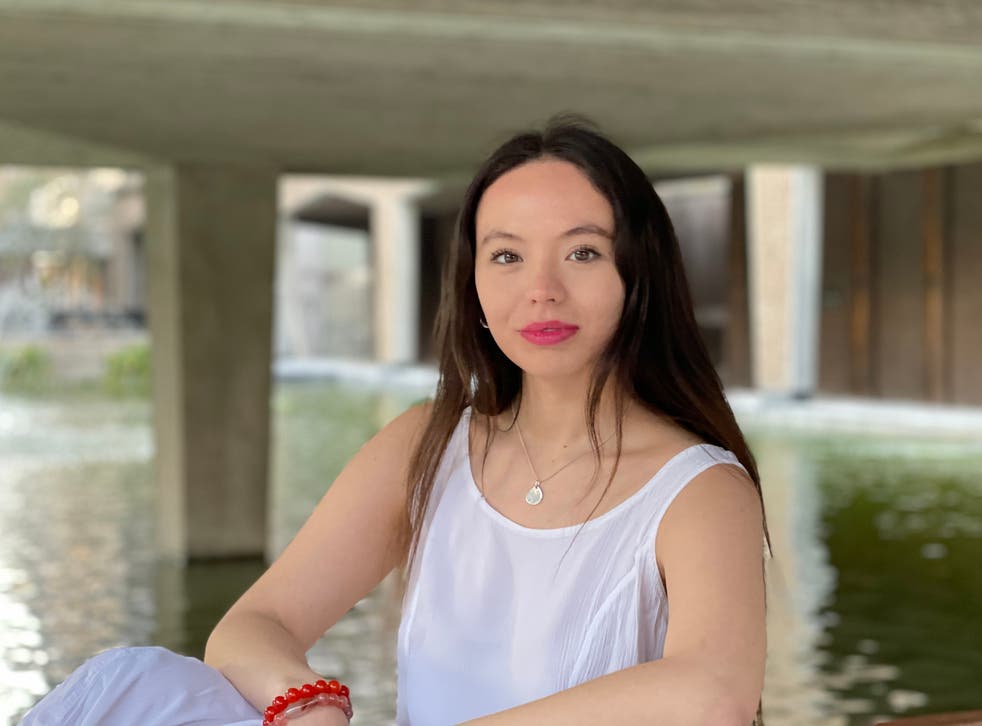 You've probably heard of Soma Sara by now – or at least you might recognise her face; the 22-year-old has dominated headlines for the last few weeks for her campaign Everyone's Invited, which asks people to call out sexism in schools across the UK via anonymous submissions. But when Sara first started talking about rape culture in the summer of 2020, her experiences were dismissed by many. "No one believed me, and no one wanted to listen," she tells The Independent.
Sara initially opened the discussion via a series of stories on her personal Instagram account, as a result of "lots of conversations with friends" that made her realise sexual violence had been rife throughout their teenage years – but they hadn't felt able to share what Sara calls these "hidden experiences" – or even name the problem – at the time.
Despite some resistance, the response to those initial Instagram stories – from friends and strangers, victims sharing their similar experiences of harassment and assault – was, Sara says, "overwhelming". They became the catalyst that led her to ask her followers to anonymously share their testimonies with her, setting up a website as a safe space "to create a more permanent platform for survivors to share their stories and raise awareness". Everyone's Invited had one clear goal: to expose the scale of sexual violence in the UK.
For 10 months, hundreds of women and girls shared their experiences – ranging from unwanted sexual comments, cyberflashing (the sending of unsolicited explicit images) and harassment, to sexual assault and rape, with girls as young as nine sending in their testimonies.
Women and girls started speaking out on the other side of the world, too. In February this year, Chanel Contos, a 22-year-old Australian woman living in London began separately collating the testimonies of thousands of accounts of sexual assault in Australian schools on her website Teach Us Consent. Contos launched a petition that called for sexual consent to be at the forefront of educational issues in schools from a young age. In the month since, the petition has garnered almost 40,000 signatures. Sexual violence, it seemed, was rife in schools across the globe.
Read more:
When 33-year-old Sarah Everard went missing while walking home in Clapham, London, on 3 March, and her body was later found and a murder investigation launched, a national outpouring of grief evolved into a wider conversation around women's safety. Many took to social media to describe the personal precautions they implemented – sharing their live locations with friends; gripping keys between their knuckles; wearing flat shoes they could run in – in order to feel safe from male violence. The appetite for conversations around violence against women and girls had been reignited.
Contos' campaign and the anger following Everard's death led Sara to post another Instagram call out on International Women's Day (8 March) and this time the responses came, not in their hundreds, but in their thousands. Sara and her team – "an incredible group of volunteers supported by a trauma-informed counsellor" – read every submission before posting. To date, over 11,000 people have now shared their experiences on the site – mostly women and girls, but a handful of boys and men, too. "It's been an extraordinary response. I don't think I could have ever imagined it to get to this stage, and I do know that this problem was huge, but even though I'm not surprised, it's still shocking," says Sara.
Everyone's Invited and Teach Us Consent are just two in a line of recent platforms that have encouraged women to share their experiences of a culture of sexism and sexual violence that appears to be endemic across the world – and begins during school years. Last year, anonymous Instagram accounts detailing allegations of sexual assault and harassment were launched by students from several prestigious UK universities, from St Andrews to Brighton, Durham and Queen's University Belfast.
As momentum started to build around Everyone's Invited, schools and institutions were named at which these incidents had allegedly occurred. Elite London independent boys' schools, St Pauls, Harrow, Westminster, Latymer, Eton College, Highgate and Dulwich College among them, were named in testimonies sent to the platform, inspiring students at the latter to write an open letter that detailed 100 stories from nearby girls' schools alleging revenge porn, sexual violence, and slut shaming, leading Joe Spence, headmaster of Dulwich College, to report several pupils to the police. A number of female students at Highgate, meanwhile, planned to stage a walk out after the school was accused of turning a blind eye to issues. The school has now appointed a former High Court judge to lead an inquiry into allegations.
Though the cultures described appeared initially to single out fee-paying schools, Sara explains this is likely due to her own demographic – having attended private school Wycombe Abbey School in Buckinghamshire, before studying for her undergraduate degree at University College London. Similar allegations have since been levelled at comprehensive schools (with some launching their own breakaway sites) and universities, leading to a conversation that saw Conservative MP Maria Miller come forward to say she was sexually assaulted at Brynteg Comprehensive school in Wales, describing it as a "routine part of life".
But Sara is keen to move the conversation away from finger pointing towards a broader discussion. "It's not about naming and shaming a person or a place or an institution, it's all about everyone taking that responsibility and choosing to engage in these conversations so we can better understand the scale of the problem and the complex web of behaviours that allow it to occur – that's where I think real change can happen."
These events are not happening in a vacuum, she says, but are part of a wider issue that has been referred to as a rape culture. Much like Laura Bates's Everyday Sexism Project, which the writer and activist launched in 2012 inviting women to share their experiences of sexist micro aggressions – anything from misogynistic jokes in the workplace to catcalling, pregnancy discrimination and harassment – Everyone's Invited seeks to highlight the pervasiveness of the issue and how seemingly small actions feed into a deeper misogynistic culture.
While the term rape culture initially elicited a negative response from people who dismissed it as "extreme or emotive", it refers to an environment in which sexual violence is trivialised or normalised. Sara says she took on board people's concerns but ultimately, "I didn't find that there was another term I could use because it's essentially about a culture and the consequence of this culture is rape; sexual violence."
What is it about our society that enables such toxic complacency around sexism to thrive? "It's so deeply ingrained, it's almost subconscious," says Sara. As a result, she says, "Women have kind of accepted that this is life – the micro aggressions, the unwanted touching, the sense of entitlement some people have to our bodies. We've accepted it for so long but it's not normal and it's not ok."
Her work has directly contributed to a groundswell of pent-up frustration and exhaustion from women and girls who have simply had enough. And people are listening.
After some incidents were reported, the Metropolitan Police launched an investigation in March, with officers reviewing the site's content and contacting some of the schools identified in testimonies. They are encouraging people to come forward and report incidents – and have worked with Sara to add a link to the site to report crimes directly to Scotland Yard.
Meanwhile, the Home Office and Department for Education have launched a victims and advice helpline, that launched on 1 April and will be run by the NSPCC, as well as an immediate review into claims of sexual abuse in schools, with Ofsted commencing a review of safeguarding policies in schools – both state and independent – that will take place until May.
Sara is encouraged by the progress. "To see the words rape culture in print, in the headlines, is a huge achievement for our campaign. To have people say that we've completely changed how they see things – it's incredible."
But while Gavin Williamson, the education secretary, described the allegations as "shocking and abhorrent", Jess Philips, shadow minister for domestic violence and safeguarding, said that the Department for Education has known about rape culture in schools for years, citing a WEC [Women and Equalities Committee] report that warned about the "significant issue" in 2016. Philips and shadow education secretary Kate Green are calling for "swift and decisive action" in the form of a national strategy that ensures "sexist or misogynistic attitudes towards women and girls are stamped out early".
Ultimately, Everyone's Invited was created to raise the spotlight on sexual violence by getting people talking. "For change to occur, it needs to be about conversation. That's why I'd love for everyone to talk to three people about rape culture today. Ask them about their experiences, talk to someone older, talk to someone younger, talk to your kids, talk to your mum. It's so important to understand the variety and complexity of what people go through."
What's happening now feels similar to the conversation that came about as a result of #MeToo, following allegations against Hollywood producer Harvey Weinstein in 2017. Since then, a number of individuals have come forward to speak about their experiences – and some even resulted in high-profile convictions, Weinstein among them, who was sentenced to 23 years for rape and sexual assault. For Sara, while #MeToo was an "incredible watershed moment for women" Everyone's Invited takes that idea further, targeting the environment that enables sexual abuse to be tolerated.
What she doesn't want, is for this current climate to become about cancel culture. "A lot of people shame and blame each other and that isn't productive, it doesn't move people forward. I'm trying to push people towards reconciliation and understanding. I don't want to isolate people."
For women and girls, sexual violence is all too familiar, but events of recent weeks have served as a catalyst for reigniting discussions. The death of Sarah Everard, the Met's handling of the Clapham Common vigil in her honour; allegations against individual schools and the thousands of online submissions as well as the introduction of a breakthrough misogyny bill have all formed part of a discussion around women's safety that has returned to the fore, bolstered by social media and a feeling that as a society, there is so much more to be done. Women and girls are speaking up about their experiences and finally, it seems as though people are listening.
If you have been affected by any of the issues in this article, you can contact Rape Crisis via their free helpline on 0808 802 9999 or on their website.
Register for free to continue reading
Registration is a free and easy way to support our truly independent journalism
By registering, you will also enjoy limited access to Premium articles, exclusive newsletters, commenting, and virtual events with our leading journalists
Already have an account? sign in
Register for free to continue reading
Registration is a free and easy way to support our truly independent journalism
By registering, you will also enjoy limited access to Premium articles, exclusive newsletters, commenting, and virtual events with our leading journalists
Already have an account? sign in
Join our new commenting forum
Join thought-provoking conversations, follow other Independent readers and see their replies