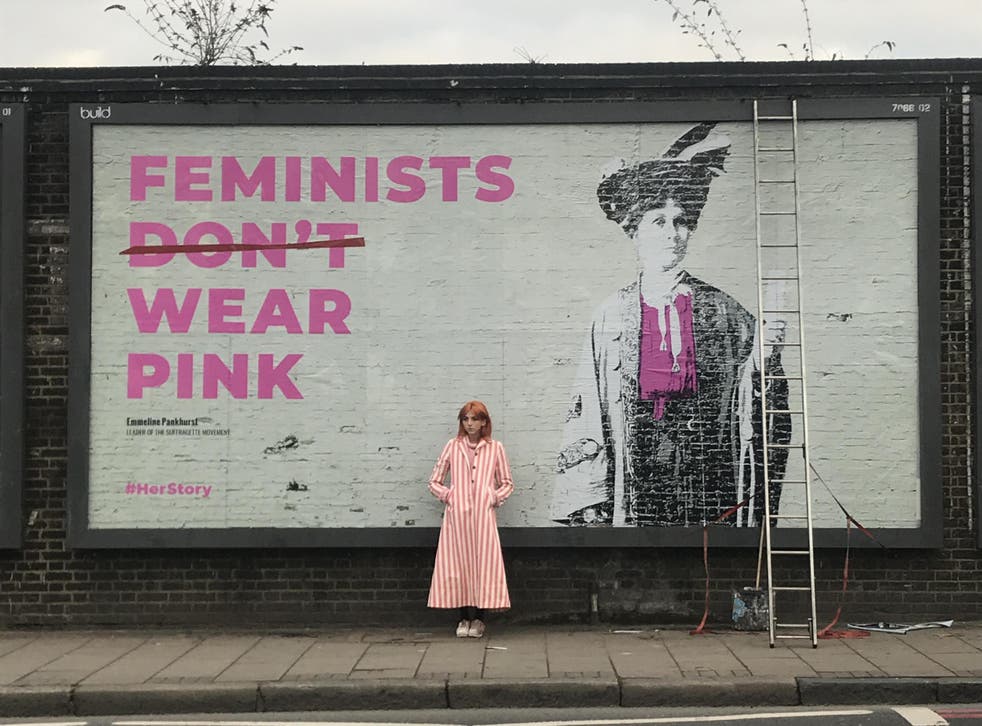 Feminist murals in London featuring Elizabeth I and Malala celebrate 100 years of women's vote
The project was led by Scarlett Curtis, whose pop-up for book Feminists Don't Wear Pink was torn down by Topshop in October 2018
Sabrina Barr
Saturday 15 December 2018 17:46 Comments
A feminist art organisation has been unveiling murals across London of accomplished women from throughout history to celebrate 100 years since some women voted for the first time in a General Election.
Scarlett Curtis, author of Feminists Don't Wear Pink, teamed up with art initiative Herstory to bring the campaign to life.
Renowned figures including Nobel Peace Prize winner Malala Yousafzai, Queen Elizabeth I, activist Gloria Steinem and suffragette leader Emmeline Pankhurst can be seen on the artworks, painted in black and white with a sole pink garment.
The idea for the project came about after Herstory founder Alice Wroe wrote a piece that was included in Curtis' book, which is a collection of essays about a variety of extraordinary women.
The pair first met a year ago during the UN's 'The Global Goals' summit in New York.
Curtis felt particularly inspired by the way in which Wroe was able to bring the stories of numerous incredible women to light with her art.
"I was blown away by the way she has been able to uncover so many amazing women from history that I had never heard of," she tells The Independent.
"When Alice tells these women's stories you can't help but get excited."
From there the collaboration between Feminists Don't Wear Pink and Herstory was born with the aim of celebrating the achievements of women on a particularly significant day.
"We wanted to include a mix of feminist icons and women who should be feminist icons but whose stories are less well known," Curtis says.
"Women like Elizabeth I, Sojourner Truth, Emmeline Pankhurst and Sophia Duleep Singh overcame oppression at a time when everything in the world stood against women being powerful and we owe so much to them.
"It was also so important to me to have some of the greatest feminist thinkers included in our project.
"Bell Hooks, Gloria Steinem and Audre Lorde shaped the way we talk about feminism today, especially intersectional feminism and I'm so glad we got to put them up."
Feminist murals in London celebrate 100 years of women's vote

Show all 10
Fifty artworks of women have been put up in London as part of the project, many of which can be found in east London.
A number of people have already spotted them in various locations, and have been sharing their delight with Curtis.
"People have been really loving them, especially young women," she says.
"There are 828 statues of important people across the UK and only 80 of these are of named women.
"It's so important that women and girls get to see themselves reflected in positions of power and honour and that was one of the main reasons we wanted to do this project!"
In October 2018, an event promoting Curtis' book was due to take place at Topshop's flagship Oxford Street store.
However, the pop-up was "torn down" hours before the shop was due to open, with many criticising the high street store over the way in which it dealt with the incident.
Feminists Don't Wear Pink was published in partnership with UN charity Girl Up, which provides girls and young women around the world with leadership development training in order to make them feel confident and empowered.
Support free-thinking journalism and attend Independent events
Curtis will be working with Girl Up in 2019 on a number of events in addition to continuing her Feminists Don't Wear Pink podcast, where she interviews inspiring women about what feminism means to them.
Register for free to continue reading
Registration is a free and easy way to support our truly independent journalism
By registering, you will also enjoy limited access to Premium articles, exclusive newsletters, commenting, and virtual events with our leading journalists
Already have an account? sign in
Join our new commenting forum
Join thought-provoking conversations, follow other Independent readers and see their replies