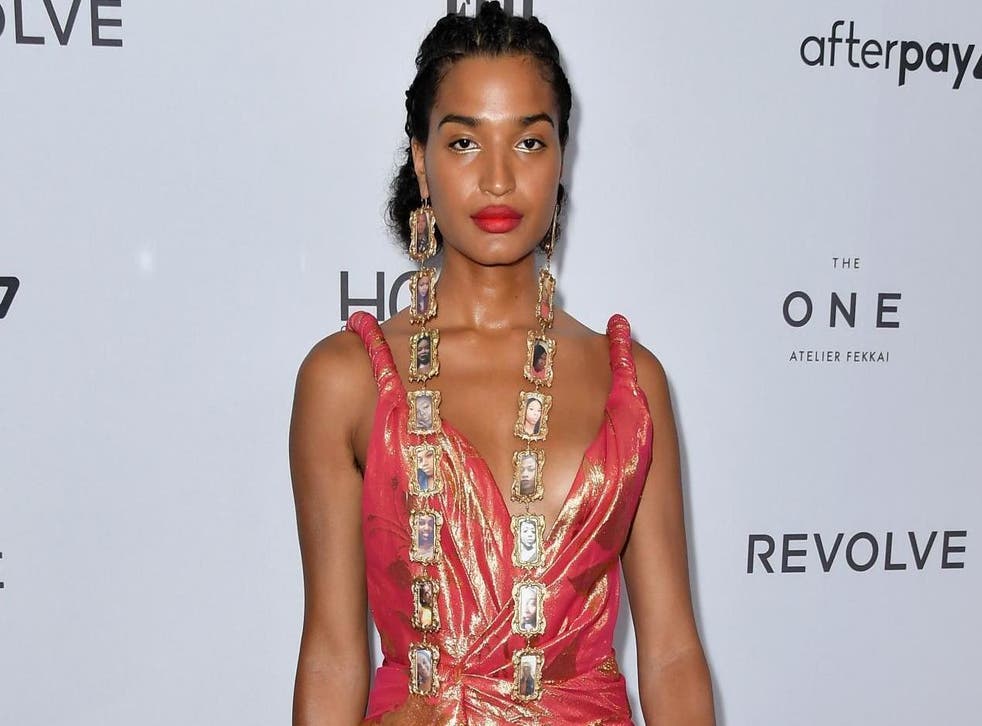 Indya Moore paid tribute to murdered trans women with red carpet look
'Trans people deserve safety, acknowledgement, and respect'
Indya Moore has paid homage to the lives of all the American trans women who have been murdered in the US this year with a pair of bespoke earrings.
On Friday, the star of Golden Globe-winning drama Pose attended the Daily Front Row Fashion Media Awards wearing a shimmering pink and gold Oscar de la Renta gown that featured dramatic draping.
To complete the look, the 24-year-old model and actor chose a pair of baroque-style drop earrings that resembled gilded picture frames.
Created in collaboration with jewellery designer Areeayl Yoseefaw, the frames attempted to make a powerful sartorial and political statement in support of trans women and against the violence they face.
Explaining the meaning behind the earrings on Instagram, Yoseefaw said they were intended as an "altar" to bring awareness to the 17 trans women who have been murdered this year in the US alone.
London Pride 2019: Best pictures by The Independent

Show all 60
Yoseefaw added: "The issue is so pressing that after creating the earring, and three days before the event, Bailey Reeves, a 17-year-old girl from Baltimore was killed."
While it was too late for Yoseefaw to add Reeves to the earrings, the designer created a custom clutch bag for Moore to carry which featured her image in a matching frame.
After walking on stage to accept the award for Cover of the Year – Moore became Elle's first transgender cover star earlier this year – the actor shared the meaning behind the special earrings they were wearing.
"This year, sixteen known women were taken from us," they said. "On this day that I'm celebrated and awarded for being visible, I decided to bring them with me, I'm wearing them on my ears as earrings."
Moore continued: "Trans people deserve safety, acknowledgement, and respect. Not just when we're on the cover of magazines, but when we are in the streets, when we are poor, when we are sex workers. When our hair 'aint laid. When we can't afford Louis Vuitton. Or when we can't get access to a hormone shot. And especially when we are dying."
Following their speech, the entire room of guests gave Moore a standing ovation.
The actor shared a similar message on Instagram the following day, writing: "Just like me, these women dared to exhaust their freedom to exist by being visible, however, instead of being celebrated they're punished for it.
"While we make up 0.6 per cent of the American population, the life expectancy of a trans woman and femmes is 35 years old. That means simply that I may not live past 35 simply because I'm black and trans. Existence that requires bravery is not freedom. A life that requires bravery is not free."
In July, the 12th known transgender person to violently die in the US this year was found fatally shot in South Carolina.
Chase Glenn, the executive director of the Alliance For Full Acceptance in North Charleston, said that 29-year-old Denali Berries Stuckey was the third known black trans woman murdered in South Carolina since 2018.
According to the Human Rights Campaign, all the trans victims in 2019 have been black transgender women.
Join our new commenting forum
Join thought-provoking conversations, follow other Independent readers and see their replies