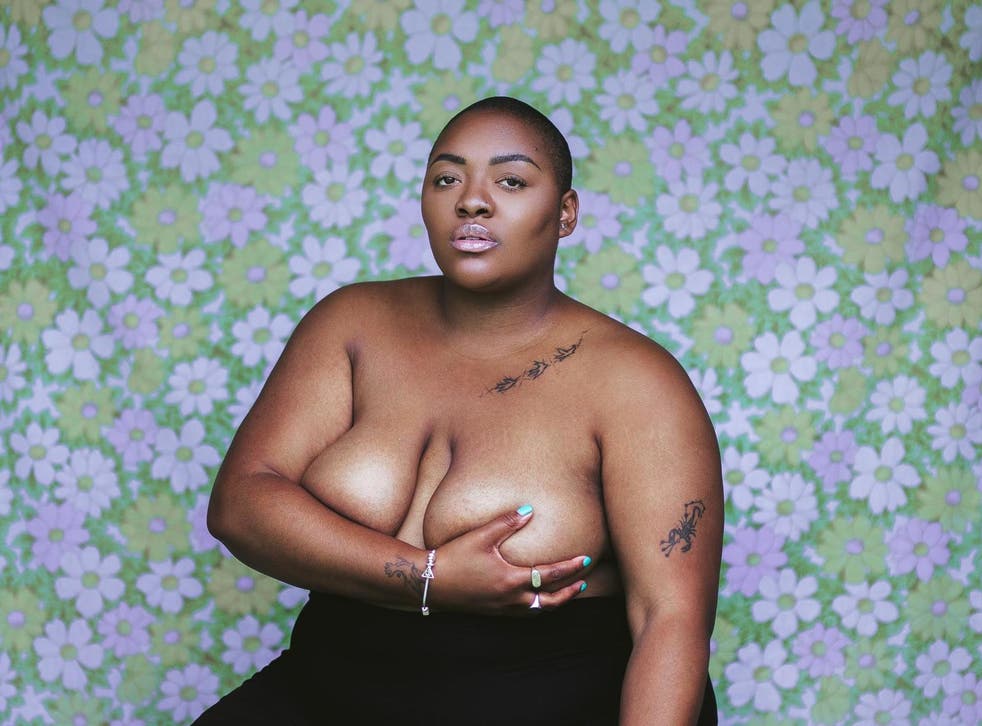 Instagram to review nudity policy after campaign by black plus-size influencer
Nyome Nicholas-Williams has been campaigning to have her topless photos reinstated on the platform with the hashtag #iwanttoseenyome
Leer en Español
Instagram has agreed to review its semi-nudity policy after a successful campaign by black plus-size influencer Nyome Nicholas-Williams, called #iwanttoseenyome.
In early August, Nicholas-Williams, who goes by @CurvyNyome on the platform, shared a topless picture of herself sitting on a chair, wearing cycling shorts and covering her breasts.
The image, taken by photographer Alex Cameron, was taken down for supposedly violating nudity guidelines, and Nicholas-Williams was warned her social media account could be suspended if the image was reposted.
On 4 August, Nicholas-Williams wrote on her Instagram: "Why is my body always being censored?! It's always Black women with bigger bodies and I am tired, I am out here sharing my art and trying to normalise ALL body types and I keep getting shut down at every turn but don't worry I'll keep doing my thing though."
Later she wrote: "Black people and our bodies are not for white consumption!"
Following repeated calls by Nicholas-Williams for them to be reinstated – a petition was started calling on Instagram to "stop censoring fat black women". It gathered 15,000 signatures in less than a month.
The petition said: "It has come to light recently, (although this is of course a systemic problem) that instagram is actioning discriminatory censoring against images of plus sized people and especially people of colour; even though they don't go against their community guidelines [sic].
"Meanwhile more 'socially accepted' images of slim white women, such as the images shown on Playboy's instagram are being left up," it continued.
Nicholas-Williams says Instagram has now apologised for taking the image down and restored it. Images are flagged to Instagram's reporting system through a combination of manual review and AI technology.
On Friday Nicholas-Williams shared a screenshot of an email, from Instagram, which detailed the policy section that the picture was flagged under.
It reads: "We don't allow breast squeezing as it is often associated with pornographic content, but we know we've made mistakes in how this has been enforced.
"To help address this, we've shared new guidance with our review teams to help them better distinguish between squeezing breasts and simply holding or covering them."
She captioned the screenshot: "This is the face of a policy change maker! Instagram has started up reviews on how they assess semi-naked pictures. We made enough noise that chance had to be made.
"I just got off the phone with Instagram and changes will be made but there is still work to do as this is guidance with their review teams, I will be ensuring this progresses and comes to be a full policy change. This is the first step but look I did y'all. Black plus-size bodies aren't going anywhere!"
She also thanked Stephanie Yeobah, a fellow black plus-size influencer who had a meeting with Instagram on 20 August and raised the issue.
In a post on Twitter Yeobah said she told the platform: "I mentioned that fat bodies are subject to extreme hypersexualistion and that we should not have to pay the price artistically for how society views bigger bodies.
"They agreed with me and because of the huge visibility that stemmed from @curvynyome and the overwhelming support she received, they have changed their policy and are also retraining their staff on the topics of bigger bodies and nudity."
A spokesperson for Facebook, who own Instagram, told The Independent: "Our policies are designed to ensure content on Instagram is appropriate for people as young as 13, while allowing a diverse and global community to express themselves.
"This can be a hard balance to strike, and that means there are times when our policies fall short. We don't allow breast squeezing as it is often associated with pornographic content, but we know we've made mistakes in how this has been enforced.
"We value this community on Instagram and it is never our intention to silence their voices or bodies."
Register for free to continue reading
Registration is a free and easy way to support our truly independent journalism
By registering, you will also enjoy limited access to Premium articles, exclusive newsletters, commenting, and virtual events with our leading journalists
Already have an account? sign in
Register for free to continue reading
Registration is a free and easy way to support our truly independent journalism
By registering, you will also enjoy limited access to Premium articles, exclusive newsletters, commenting, and virtual events with our leading journalists
Already have an account? sign in
Join our new commenting forum
Join thought-provoking conversations, follow other Independent readers and see their replies