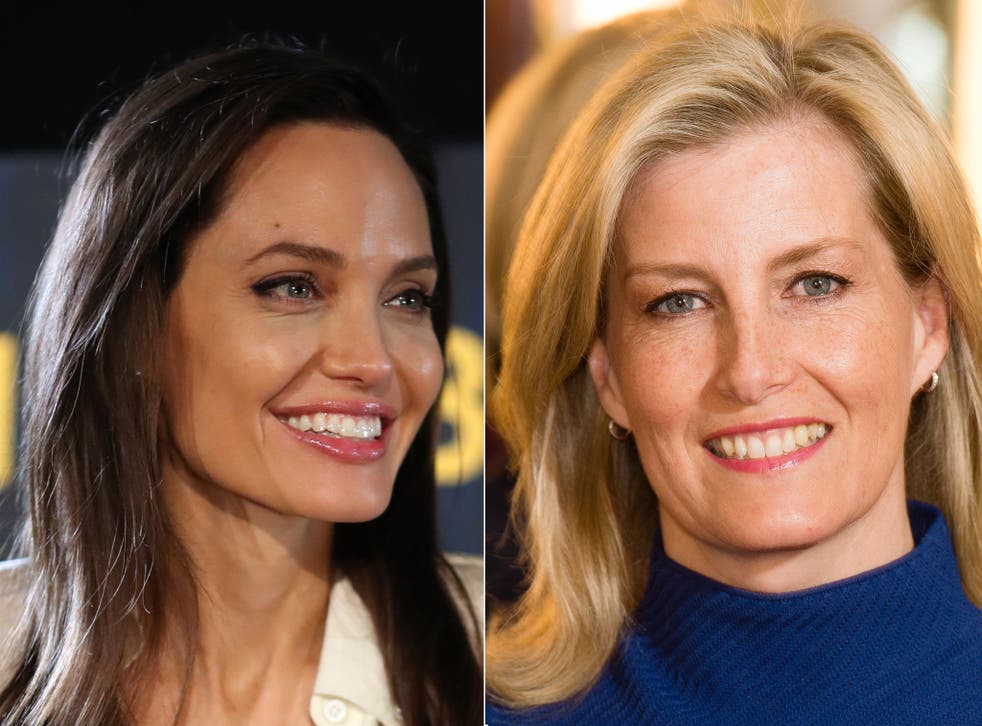 International Women's Day: Countess of Wessex joins forces with Angelina Jolie to combat sexual violence
The mother-of-two revealed she will be working with two organisations that support victims of sexual violence in areas of conflict
The Countess of Wessex has teamed up with Angelina Jolie ahead of International Women's Day to tackle sexual violence.
Sophie Wessex, 54, announced that she is working with the Preventing Sexual Violence in Conflict Initiative (PSVI), which was launched in 2012 by Jolie and former foreign secretary William Hague, to support victims of conflict-related rape and sexual exploitation.
PSVI, which is part of the Foreign and Commonwealth Office, specialises on helping women, men and children in war zones in countries such as South Sudan, Syria and Iraq.
Rhys-Jones met the Hollywood actor in November at the organisation's Fighting Stigma Through Film festival in London.
Writing for The Daily Telegraph, she explained how important the work of organisations like PSVI is, also mentioning the Women, Peace and Security initiative, which was founded 20 years ago to help women in areas of conflict.
International Women's Day Designer T-Shirts

Show all 6
"Against a backdrop of ugly headlines for women, revelations of sexual exploitation, and the abuse suffered by those in war zones, it is easy to overlook the pioneering work of change-makers," she writes. "Brave women that stand for progress, even when their physical security and basic aspirations are under threat."
Calling for women to play a bigger role in peacekeeping, she added: "Only when women and men work alongside each other as equals will the world see sustained improvement in conflict resolution and a reduction in sexual violence in conflict."
Wessex went on to explain how she plans to support such measures.
"I am now taking an active role in championing the UK's work on Women, Peace and Security and the Preventing Sexual Violence in Conflict Initiative," she adds.
"The initiative works to tackle stigma, support survivors – including children born of wartime rape – strengthen justice and accountability, and prevent conflict-related sexual violence. The consequences of conflict do not go away when the guns are laid down."
The Countess concluded her piece with a special nod to International Women's Day, which takes place on Friday 8 March.
"This International Women's Day I will be celebrating the brave work of women using their voices to resolve conflict, counter gender violence and build peace," she says.
It's not the first time Rhys-Jones has used her platform to advocate for gender equality and women's rights.
In 2014, she founded the Women's Network Forum, which supports women in the workplace.
She is expected to formally announce her support for the two initiatives on Friday at a reception for "Women Peacebuilders" held at Buckingham Palace.
Read her letter in full here.
Join our new commenting forum
Join thought-provoking conversations, follow other Independent readers and see their replies