103-year-old Julia 'hurricane' Hawkins wins gold in 100-metre race
103-year-old Julia 'hurricane' Hawkins wins gold in 100-metre race
Hawkins didn't start running until she was 100 years old
"Hurricane" Hawkins might sound like the name of a new weather phenomenon on the horizon but it's actually the nickname of a 103-year-old runner who just won gold in a senior racing competition.
At the 2019 Senior Games in Albuquerque, New Mexico on Tuesday, Hawkins won gold medals in both the 50-metre dash and the 100-metre race in the women's 100-plus division.
The National Senior Games Association, the non-profit organisation that runs the Senior Games, states that the runner is now the oldest female competitor in the US.
"I'm thrilled I did as well as I did but I didn't do as well as I have done," the mother of four told Good Morning America (GMA).
"I don't know if it's because I'm older, or maybe it was the atmosphere."
Best pictures from Marathon des Sables 2019

Show all 20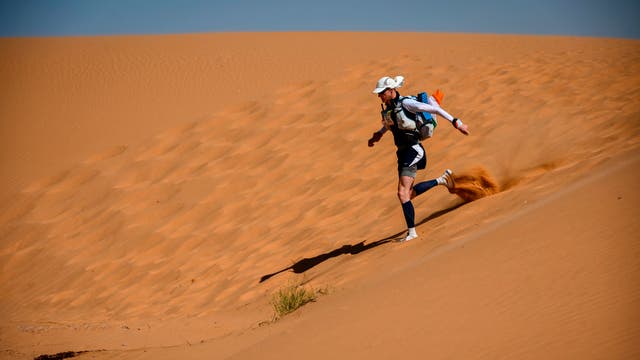 Last year, the "Hurricane" – who has three grandchildren and three great-grandchildren – set a world record for the 100-metre distance in her age group.
In an interview with the news station, Hawkins – who didn't start running until the age of 100 – shared some words of wisdom for people who may think it's too late to pick up the sport.
"Realise you can still be doing it at this kind of an age," she stated.
"I just keep busy. I keep moving. I don't do any exercises particularly. I used to, but I don't think I need to anymore."
The runner also revealed that she keeps all of her gold medals she's accumulated over the years.
"[I keep them] here and there. I've got a good many," she said of her medals.
"My husband made a box for me to keep them."
On the possibility of entering another race, Hawkins said: "You never know."
Earlier this year, the London Marathon saw a record number of runners take to the street of the capital to complete the globally-renowned race.
A record 42,906 started the race on Sunday morning, with 42,549 crossing the finish line on The Mall opposite Buckingham Palace.
The oldest male competitor at this year's London Marathon was 85-year-old Ken Jones, from Strabane, Northern Ireland.
Jones is one of just 11 "Ever Presents" who has run in every London Marathon since the event began in 1981.
Support free-thinking journalism and attend Independent events
Meanwhile, the oldest female participant, Eileen Noble, celebrated her 84th birthday on the day of the race.
"Other elderly people may just socialise with one another but I'm able to run with all different age groups and that does make you feel younger," Noble said.
Join our new commenting forum
Join thought-provoking conversations, follow other Independent readers and see their replies