The Independent's journalism is supported by our readers. When you purchase through links on our site, we may earn commission.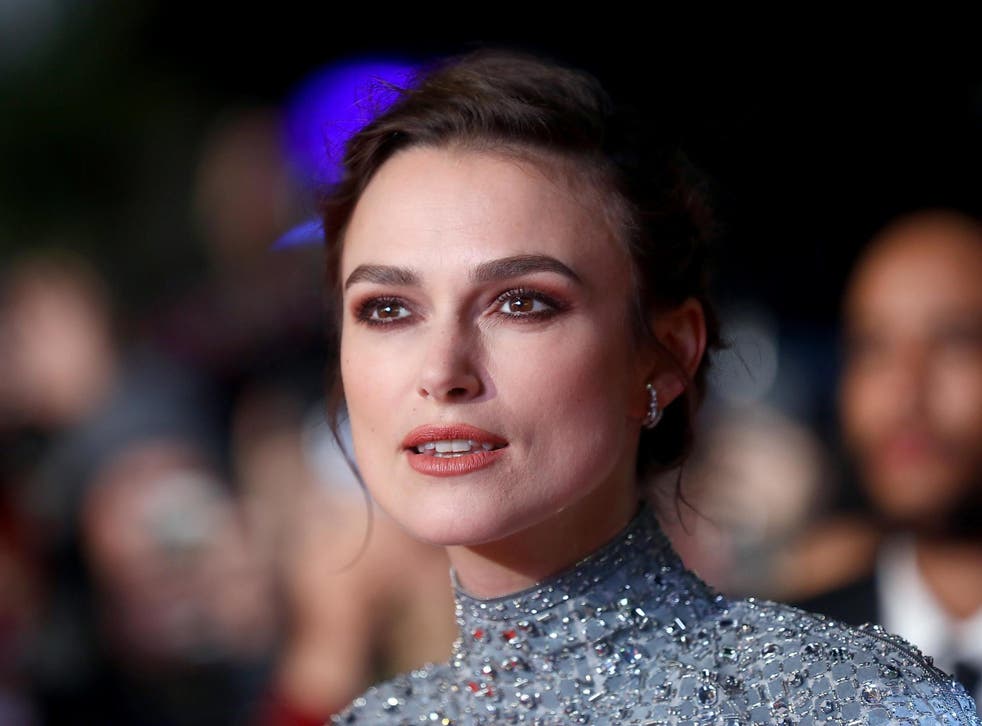 Keira Knightley was 'pleased' when her daughter pointed out lack of consent in Disney film
Actor previously stated she had 'banned' her daughter from watching films such as Cinderella and The Little Mermaid
Keira Knightley has described how proud she felt of her daughter for calling out lack of consent in a Disney film, saying she "can't tell you how pleased I was".
In October 2018, Knightley made headlines when she revealed that she had "banned" certain classic Disney films from her household.
Speaking on The Ellen Show, the Oscar-nominated actor said that her daughter Edie was not allowed to watch Cinderella because the character "waits around for a rich guy to rescue her", adding that The Little Mermaid was also off limits because the character should "not give [her] voice up for a man".
In a new interview with Porter magazine, Knightley admitted that her four-year-old daughter has since watched "all" the previously-banned fairytale films.
"She's watched them all now," the Pride and Prejudice star said with a "groan".
Nonetheless, Knightley stated that when watching the 1959 animated feature Sleeping Beauty, her daughter pointed out that Prince Phillip kisses an unconscious Aurora without her consent at the end of the film.
"When watched Sleeping Beauty, she said, 'It's not OK that man kissed her without her permission!' I can't tell you how pleased I was," the 34-year-old said.
"If I don't do anything else, I've managed to drum that in!"
Knightley has two daughters with her husband, Klaxons bandmember James Righton. Their second daughter, Delilah, was born in September last year.
During her interview with Porter, the Atonement actor also spoke about how she doesn't believe it should be "newsworthy" if she earns more money than her husband.
The best placards from #March4Women 2020

Show all 20
Knightley explained that when she was growing up, it was "never an issue" when her mother earnt more than her father.
"A lot of the time, my mum was earning more than my dad and that was never an issue," she said.
"I mean, sometimes he earned more, sometimes she earned more. I was not raised to think that was anything other than normal."
Knightley described her "shock" when she discovered "there are actually articles saying how much [my partner] earned and how much I earned, because it's newsworthy that a woman could possibly earn more".
"That's what our national newspapers are telling girls – that you have to feel guilty about doing well if it's making a man feel uncomfortable, which it doesn't with my husband and it didn't with my dad. But yet our society is telling us that's what it should be," she stated.
Knightley is playing feminist activist Sally Alexander in upcoming comedy-drama Misbehaviour, which depicts the events of the 1970 Miss World competition.
The event sparked protests by Women's Liberation activists and ended with Miss Grenada Jennifer Hosten becoming the first black woman to be crowned the winner of the competition.
Register for free to continue reading
Registration is a free and easy way to support our truly independent journalism
By registering, you will also enjoy limited access to Premium articles, exclusive newsletters, commenting, and virtual events with our leading journalists
Already have an account? sign in
Register for free to continue reading
Registration is a free and easy way to support our truly independent journalism
By registering, you will also enjoy limited access to Premium articles, exclusive newsletters, commenting, and virtual events with our leading journalists
Already have an account? sign in
Join our new commenting forum
Join thought-provoking conversations, follow other Independent readers and see their replies