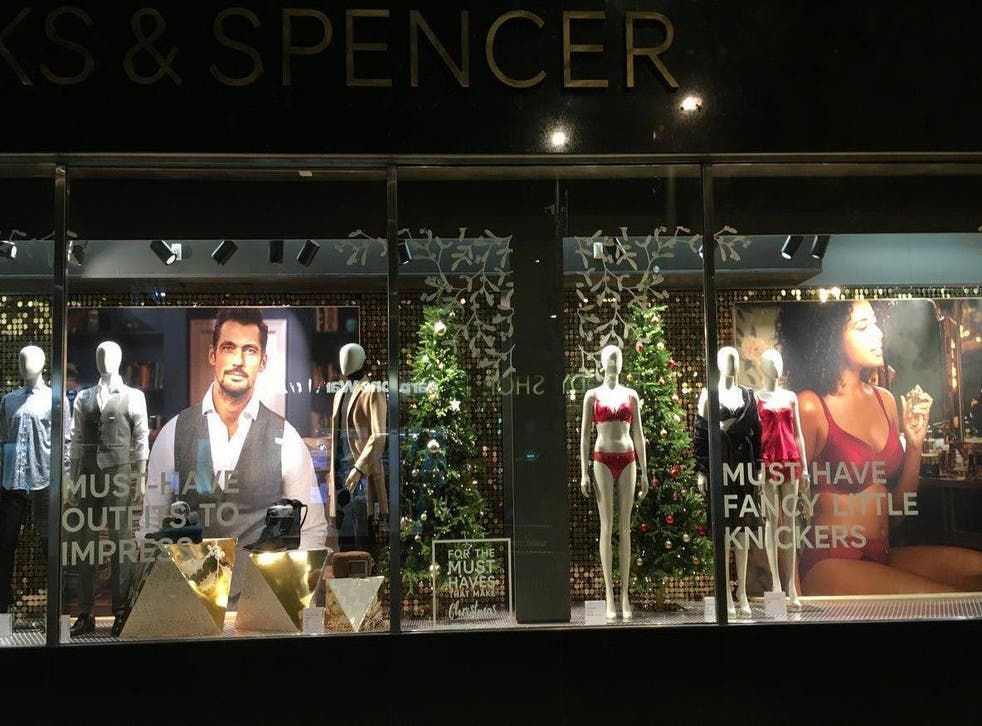 Marks and Spencer criticised for 'sexist' window display with women in 'fancy little knickers' and men in suits
People have described the display as 'outdated' and 'clichéd'
Marks and Spencer has come under fire for its Christmas window display, which sees women posing in "fancy little knickers" alongside men clad in suits.
The windows form part of a wider campaign that present a series of festive "must-haves" and the contrast between the suggestions for both sexes has sparked outrage.
One shopper spotted the display in Nottingham and said she was "embarrassed" by the retailer's tag lines, which suggest that women need "fancy little knickers" this Christmas while men need "outfits to impress", as modelled by David Gandy, who is pictured in an adjacent window display.
Sian ​Steans, who is a member of the Nottingham Feminist Action Network, told HuffPost UK: "As a feminist and a mother to a young daughter I felt embarrassed that I had to yet again explain why women are depicted with so little respect."
Steans decided to take action and sent the image to the organisers of FiLia, which is dubbed the largest annual feminist conference in the UK and took place in October.
They concurred that the window displays were offensive, writing on Twitter: "To be clear: @marksandspencer believe that the 'MUST HAVES' are: For MEN: 'outfits to impress'. For WOMEN: 'fancy little knickers'. Imagine for a moment if those window displays were reversed. Go on M&S .... we are watching. PS Who signed this off? #sexist #marksandspencer."
Since it was posted on Sunday, the tweet has garnered more than 1,600 likes and 661 retweets, with many people concurring that the British retailer has missed the mark with the window displays, which form part of its wider Christmas campaign starring Holly Willoughby.
"So often feel like I've gone back in time at the moment. Men encouraged to be powerful and women encouraged to be sexy. Ever heard of #MeToo," wrote one person.
"I despair sometimes," added another. "I like nice knickers. I even buy them. But to juxtapose the aspirations of men and women in this manner is enraging."
Holly Willoughby stars in M&S Christmas Advert 2018 Must-Haves
In response to the criticisms, an M&S spokesperson said, "M&S sells more underwear, in more shapes, sizes and styles, than any other retailer, especially at Christmas.
"We've highlighted one combination in our windows, which are part of a wider campaign that features a large variety of must-have Christmas moments, from David Gandy washing up in an M&S suit through to families snuggling up in our matching PJs."
Join our new commenting forum
Join thought-provoking conversations, follow other Independent readers and see their replies