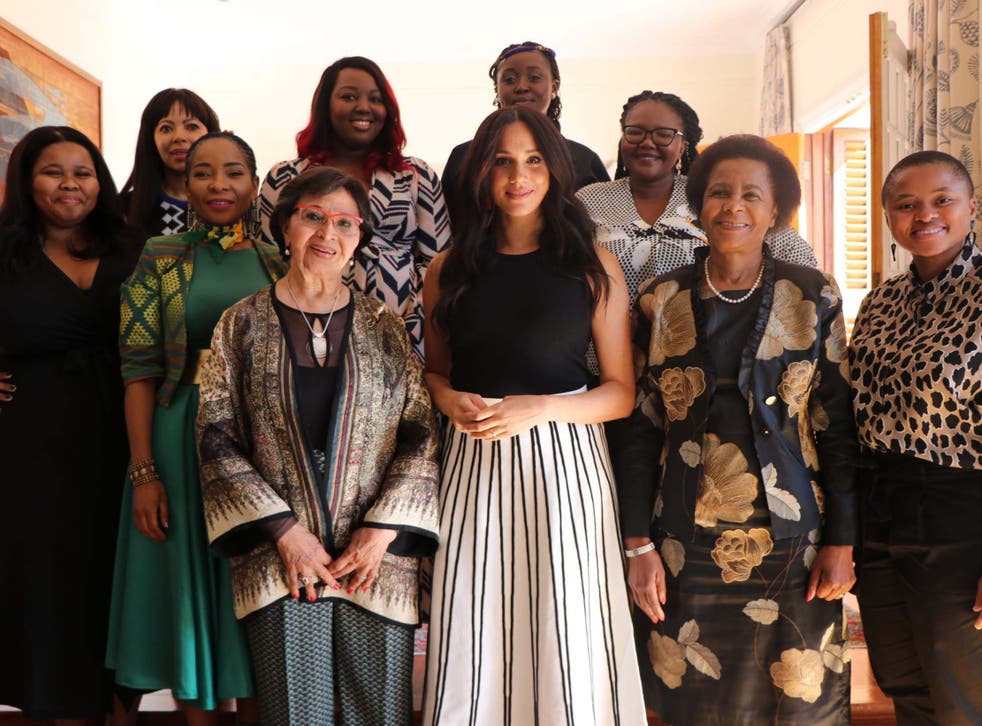 Meghan Markle holds meeting with inspiring women about gender inequality
'It weighed heavily on my heart to see the countless violations against women'
The Duchess of Sussex met with a group of inspiring women during her royal tour to discuss gender inequality.
In a post shared on the Instagram account she shares with her husband, it was revealed the meeting was held last week in the South African city of Cape Town.
Dr Mamphela Ramphele, an anti-apartheid activist attended the meeting alongside Lindiwe Mazibuko, the first non-white person to become parliamentary leader of the South African Democratic Alliance.
Sophia Williams-De Bruyn, one of the founders of South Africa's anti-apartheid movement, also met the royal.
As an 18-year-old in 1956, Ms Williams-De Bruyn helped to lead a march of 20,000 women outside the Union Buildings in the city of Pretoria in protest of segregation.
"In the lead up to this tour it weighed heavily on my heart to see the countless violations against women, and I wanted to spend my time on the ground learning about the situation at hand," Meghan wrote on her Instagram post.
"Issues of gender inequality affect women throughout the world, independent of race, colour, creed, or socioeconomic background."
Meghan added that she had with women "from all walks of life" on her African tour, including the first female rabbi in Cape Town, community activists and parliamentarians.
"In sitting down with these forward thinkers, it was abundantly clear – it is not enough to simply hope for a better future; the only way forward is 'hope in action'," she wrote.
She described her meeting with the female pioneers as an "incredibly powerful moment", having advocated for women and girls' rights throughout her life.
"The leadership and strength shown by these women is remarkable, and at a time when the issue of gender and gender-based violence is at the forefront of people's minds, I hope their voices will resonate and not only give comfort but also create change," she said.
"This is not just a South African issue, this is a global problem that can only find solution with the attention and work of everyone, regardless of gender, status, politics, race of nationality."
All Meghan Markle's outfits during royal tour to South Africa

Show all 22
Earlier this week, the duchess visited the memorial of a University of Cape Town student who was raped and murdered last month.
Meghan tied a yellow ribbon on the memorial for 19-year-old Uyinene Mrwetyana, which read: "Simi kunye kulesisimo", which translated from the local language Xhosa means: "We stand together in this moment."
The death of Ms Mrwetyana sparked several protests against gender-based violence in South Africa.
To learn more about gender-based violence services, you can visit the website for charity Refuge here.
For all the latest news on the royal tour, click here.
Join our new commenting forum
Join thought-provoking conversations, follow other Independent readers and see their replies