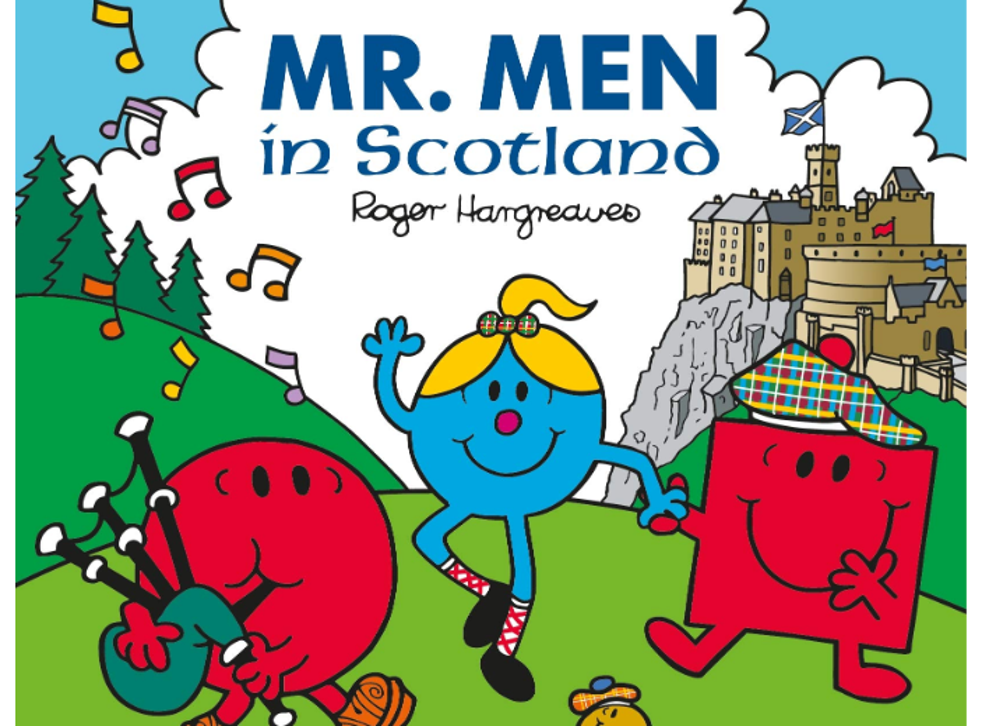 Are 'Mr Men' books sexist? Male characters accused of mansplaining
'Mr Clever sighed. It was going to be a very long day'
Sophie Gallagher
Tuesday 03 December 2019 17:51 Comments
The children's book series 'Mr Men' is at the centre of a new sexism row after a PhD student said one of the male characters should have his name changed to "Mr Mansplain".
Shelby Judge, 24, a teaching assistant who studies literature and feminism at the University of Glasgow, took to Twitter to express her frustration with the books written by English author Roger Hargreaves.
Judge was in the gift shop at Stirling Castle with her husband Tom when she saw the special edition copy of the book called 'Mr Men in Scotland'.
She shared a photograph of one page, where Mr Clever and Miss Curious are visiting the Forth Bridge. The page reads: "Little Miss Curious wondered what had happened to the First, the Second, and the Third bridges.
"Mr Clever explained that it was named after the River Forth. Little Miss Curious thought for a moment. 'So what happened to the River First, the River Second and the River Third?' she asked.
"Mr Clever sighed. It was going to be a very long day."
Judge captioned the image with the words "Mr Mansplain" and used the hashtag #everydaysexism, which is used to record everyday instances of sexism in society.
Thousands march against sexism

Show all 5
Mansplaining is defined as the explanation of something by a man, typically to a woman, in a manner regarded as condescending or patronising.
Judge told The Independent: "My original tweet was intended as a tongue-in-cheek comment on the page in 'Mr Men' go to Scotland. It was intended to just point out, somewhat jokingly, that the children's story was relying on tired gender stereotypes of exhaustingly stupid women and exasperated, erudite men."
But people on Twitter were quick to criticise Judge for her response, with one saying: "I'm sorry, but could you leave Mr Men out of your line of fire please? I really don't think the Mr Men books are the issue in the grand scheme of things."
Another took issue with her use of the term 'mansplain', saying: "So if it had been the other way around would you still complain? Why is this extract inherently sexist? It isn't. It's fiction. These are just characters. Explaining things to the other gender isn't sexist. Having a Mr Mansplain however, that would be a bit sexist wouldn't it?"
Judge says she does understand this is a "very minor thing" and not a "pressing issue" but maintains it is another example of how "normative gender roles are impressed upon children during their formative years".
She added: "I am absolutely no expert on Mr. Men and I have never claimed to be, so I wouldn't want to make generalisations about the whole series. However, when you see children's stories like this relying on tired gender stereotypes, it's important to flag it up. It tells young children that girls are much more stupid and dull and exasperating than young boys."
Other scenes in the book include Mr Tickle pestering the Loch Ness Monster, Miss Splendid visiting a mill, Mr Uppity visiting Edinburgh castle, Miss Greedy eating haggis and Mr Noisy playing the bagpipes.
Publishers Egmont UK said in a statement: "In Mr Men Scotland, the many Mr Men and Little Miss characters in the book get up to their usual antics.
"The book is a celebration of Scotland and its unique heritage sites."
This isn't the first time the series, which was written by Hargreaves from 1971 onwards, has been criticised for alleged sexism.
Mr Men has previously been criticised for alleged sexism, over the marital title given to female characters, and the negative traits given to the Little Misses, including "Bossy".
In 2018 MP Emily Thornberry appeared on ITV's Good Morning Britain to discuss the 'Little Miss' books and said: "I don't like this thing about being little.
"Why is it that you have Mr Men, and then Little Miss? Do you see what I mean? There is something about women being less."
As of 2015 there were 85 Mr Men and Little Miss characters in the series, which has sold over 100 million copies worldwide in 28 countries.
The Independent has contacted Egmont UK for further comment.
Register for free to continue reading
Registration is a free and easy way to support our truly independent journalism
By registering, you will also enjoy limited access to Premium articles, exclusive newsletters, commenting, and virtual events with our leading journalists
Already have an account? sign in
Join our new commenting forum
Join thought-provoking conversations, follow other Independent readers and see their replies