Pamela Anderson writes essay defending Julian Assange
'This is about the rape of justice'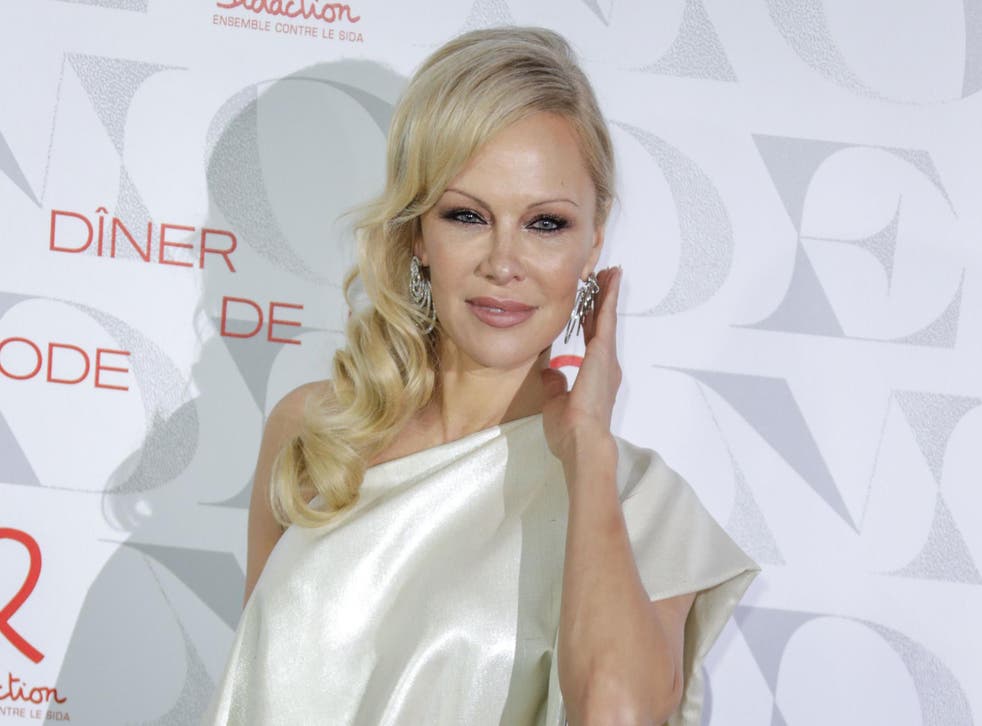 Pamela Anderson has written an essay on her website in defence of WikiLeaks founder Julian Assange, who is currently facing detention from Swedish prosecutors over a rape allegation first made against him in 2010.
Anderson has been vocal about her support for Assange, who she described as "an innocent person" when she visited him in prison earlier this month, wrapped in a grey "free speech" blanket.
Now, the former Baywatch star has used her own experience of sexual assault to further her defence of Assange and insist that she "would never defend a rapist."
"Today, I want to speak out as a woman," Anderson begins. "A woman who has survived rape and sexual abuse. A woman who knows how cruel men can be, and how deep the wounds in a woman's soul. To this day, I remember the excruciating pain.
"To this day, I can feel the agony. To this day, their faces keep haunting my sleep – a fate shared by countless women worldwide."
Key moments for Julian Assange

Show all 9
In 2010, two women separately accused Australian-born Assange of rape and sexual assault in Sweden. He denied the allegations and insisted he had consensual sex with both accusers.
The sexual assault inquiry against Assange was dropped in 2015 when the statute of limitations passed.
On 13 May, Swedish prosecutors announced they'd be reopening the rape case, which was shelved in 2017 because Assange had taken refuge in the Ecuadorian embassy in London to avoid extradition to Sweden and the prosecutors were unable to formally notify him about the allegations, which was necessary in order for the case to proceed.
Ecuador withdrew its asylum in April and Assange was promptly taken to Westminster Magistrates' Court and sentenced to almost a year in prison for skipping bail in 2012.
If Sweden's request for detention is approved, it would be the first step in a process to have the 47-year-old extradited from the UK.
In her essay, Anderson urges readers to "never forget the danger of error, and the power of false accusations" before describing Assange as "a friend whom I love dearly" whose health, she says, is "crumbling" as a result of the accusations he faces.
Anderson goes on to describe the ongoing investigation as "grotesque", adding, "this is not about justice for rape. This is about the rape of justice".
Later in the essay, she touches on the need for an "ethical discussion" on "the legitimacy of leaking government secrets, and on related questions of privacy, safety and national security".
"But then let's create a proper forum, invite everybody and talk about it," she adds before urging people to "pause and think" before drawing their own conclusions about the Assange investigation.
The alleged victim's lawyer, Elisabeth Massi Fritz, said her client was deeply grateful for the Sweden's decision to reopen the case.
Julian Assange: Swedish prosecutors reopen investigation into rape allegation made against Wikileaks co-founder
"Today we got great news," Fritz told reporters, adding, "no one stands above the law [and] the legal system in Sweden doesn't give a special treatment to anyone".
Sarah Green, co-director of the End Violence Against Women coalition, has criticised those who portray Assange as a victim.
"He's always benefited from his cult hero status, painting himself as a victim and being very righteous," she told The Guardian. "Yet this is about rape, it's what he is accused of. It's extremely serious."
Register for free to continue reading
Registration is a free and easy way to support our truly independent journalism
By registering, you will also enjoy limited access to Premium articles, exclusive newsletters, commenting, and virtual events with our leading journalists
Already have an account? sign in
Register for free to continue reading
Registration is a free and easy way to support our truly independent journalism
By registering, you will also enjoy limited access to Premium articles, exclusive newsletters, commenting, and virtual events with our leading journalists
Already have an account? sign in
Join our new commenting forum
Join thought-provoking conversations, follow other Independent readers and see their replies