Oscars 2019: Period. End of Sentence filmmakers talk of importance of fighting menstruation stigmas following win
'A period should end a sentence, not a girl's education'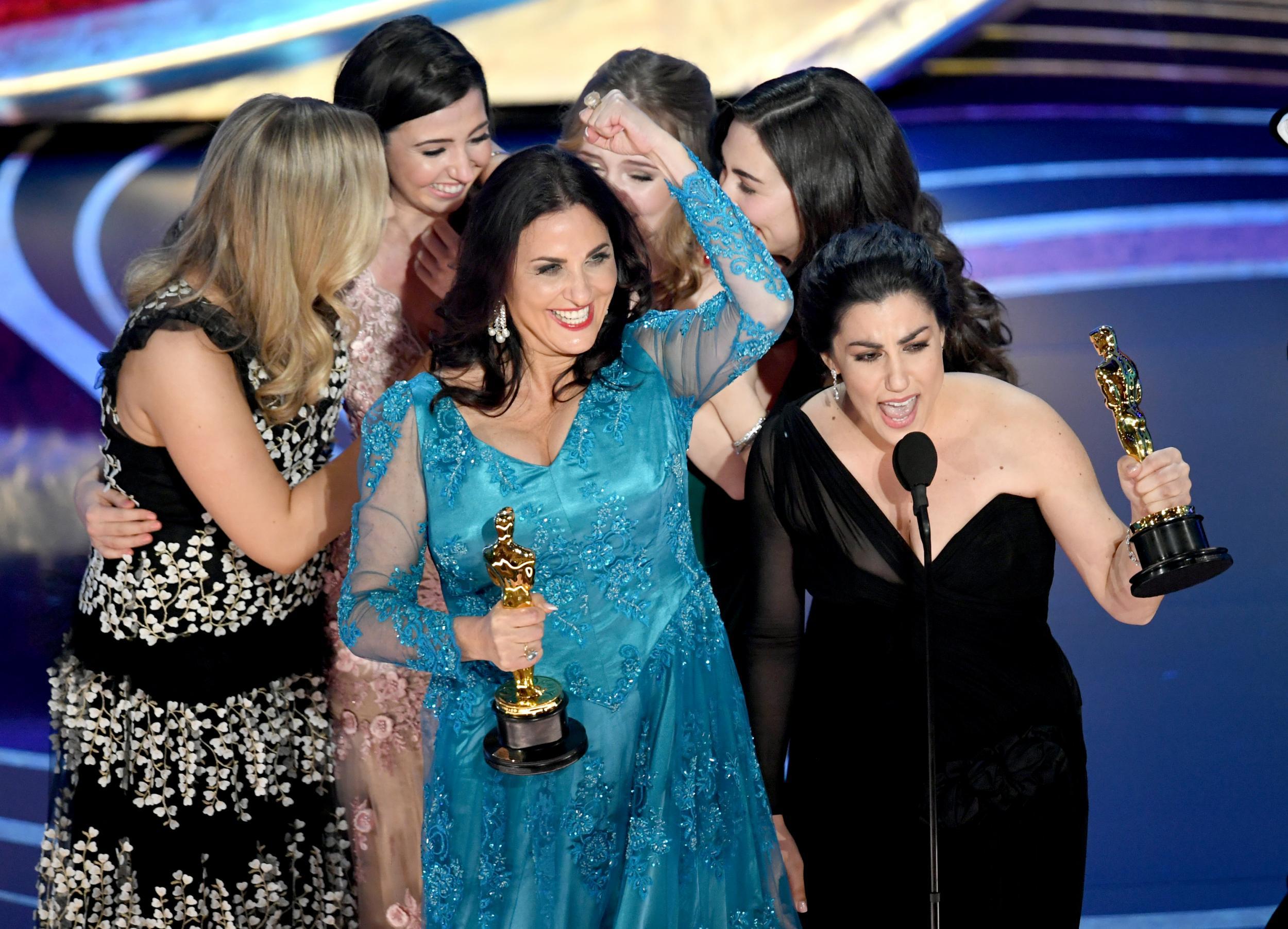 A group of female filmmakers behind an Oscar-winning documentary have spoken about the importance of ending stigmas around menstruation.
On Sunday 24 February, the 26-minute Netflix documentary Period. End of Sentence received the Oscar for Best Documentary (Short).
The film documents a group of women who use a machine to make low-cost sanitary pads in a village in central India's Hapur district in a bid to improve female hygiene, women's empowerment and development.
Filmmakers Rayka Zehtabchi and Melissa Berton took to the stage at the Dolby Theatre to accept the award for their film.
Bursting into tears as she held her Oscar gong, 25-year-old Iranian-American film director Rayka Zehtabchi said: "I'm not crying because I'm on my period or anything!
"I can't believe a film about menstruation just won an Oscar!"
Oscars 2019: Best dressed guests on the red carpet
Show all 46
During their speech, Zehtabchi and producer Berton emphasised the importance of speaking openly about menstruation and feminine hygiene around the world.
"A period should end a sentence, not a girl's education," concluded Berton.
According to TIME, in the two years since the machine was set up in the Indian village, the women involved in the project have now taken their sanitary products to about 40 nearby villages.
A second machine was reportedly recently installed in the nearby village of Sudhna.
A recent report found that 20 per cent of Indian girls drop out of school after reaching puberty.
Meanwhile, 88 per cent of menstruating women living in the country use home-grown alternatives to sanitary pads such as old fabric, rags, and sand.
Period. End of Sentence. Official Trailer
Following the filmmakers' win, Twitter users congratulated the women behind the project and shared messages about the need to rid society of taboos surrounding menstruation.
One user wrote: "Highlight of my day. Watching Period, end of sentence, win an oscar and the auto subtitles translating Menstruation into 'mens station'."
"A short documentary about #periods has won an Oscar!! 👏🏻👏🏻 "periods should end a sentence, not a girl's education". We can't agree more. #OSCARS," added another.
One fan tweeted: "Film about mensuration just won an Oscar! Let's please be done freaking out when women and girls talk about having #periods #Oscars"
One user commented: "#periodpower So happy that a film on #periods just won the #Oscar!!"
Despite the praise for the Oscar win, some users were angered that a film about menstruation won the award.
"Just turned on the #Oscars for exactly one minute. Caught the tail-end of a speech about "menstruation equality" and feminism. And this is why Trump won," wrote one user.
Another commented: "Menstrual equality?????? Ummm….no thank you!"
The film beat fellow nominations Black Sheep, End Game, Lifeboat and A Night at the Garden to the accolade.
Join our commenting forum
Join thought-provoking conversations, follow other Independent readers and see their replies