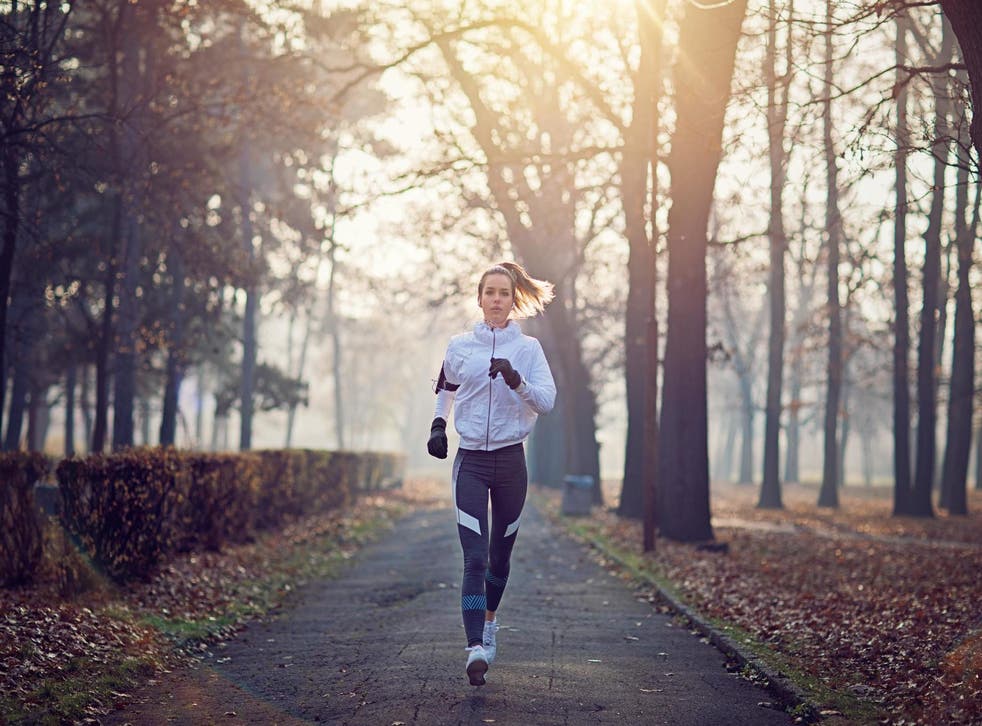 Police tell women to avoid harassment on a run by jogging in groups, backlash ensues
'It's another example of how male violence is used to control and restrict all women'
A police force has been criticised for encouraging women to run in groups to avoid being sexually harassed.
Avon and Somerset Police launched its #JogOn campaign, which is aimed at men and women, on 21 January in partnership with anti-harassment group Bristol Zero Tolerance in a bid to help people feel safe while running outdoors.
Detective superintendent Marie Wright said: "Unfortunately, we know that some people, usually women, can feel uncomfortable, intimidated or scared to go out for a run, especially in the winter when the nights are longer and there is less opportunity to be outdoors during daylight.
"Exercising in a group can be a great way to help you feel safe, keep you motivated and deter threatening behaviour, so why not join your local running club?"
Behind the scenes at Deontay Wilder's gym

Show all 6
Crime commissioner for the force, Sue Mountstevens, added that she hopes #JogOn will empower women to run outside without being scared or intimidated.
"Being catcalled or harassed while out exercising should not be the norm," she said.
But the initiative has been condemned by a leading women's rights campaigner, who described it as just another way of "controlling women".
Karen Ingala Smith, chief executive of Nia, a charity dedicated to ending violence against women, told The Daily Telegraph: "It is probably a pragmatic decision for women to make but I don't think it's right - it's another example of how male violence is used to control and restrict all women."
Bella Mackie, author of Jog On: How Running Saved My Life, concurs, telling The Independent: "I'm thrilled to see the Avon and Somerset police taking harassment against female runners seriously. Many of their tips are very sensible, and we should all be aware of our surroundings when running, especially in these darker months.
"But I'm slightly concerned at the emphasis being so heavily placed on the women who run. Many people can't or don't want to run in a group, and the police advice prioritises this."
A more beneficial campaign might've been to target those who harass female joggers, Mackie suggests, as opposed to one that implies it's the runner's responsibility not to get harassed.
"I'm also not hugely confident that runners who report harassment will have their cases followed up – police resources are stretched already," she adds.
Writer Vonny LeClerc described the campaign as "hugely exclusionary" on Twitter.
"Not everyone has someone to run with," she wrote.
"Not everyone wants to run with other people. Work on the sexually violent men." Others responded by saying that they prefer to run alone.
However, Wright tells The Independent that the campaign was in no way about asking women to change their behaviour.
"It is about empowering people to exercise safely, free from harassment, intimidation or worse, assault," she says.
"Avon and Somerset Police are one of only a handful of forces who record hate crimes and incidents that target a victim's gender and our partnership with Bristol Zero Tolerance, who have done a lot of research in this area, has informed our messaging.
"It's also important to note that the campaign is not solely aimed at women, as we know that men experience this type of behaviour as well. When we launched the campaign with a local running group last week, one of the run leaders, James, told us how he had felt intimidated while out running when a group of youths followed him on their bikes.
"At that launch, I also told the group how I go out running at night, on my own, and how I want everyone to feel able to do this as well. Some runners were surprised that I would do this and I explained that I won't alter my behaviour because I feel threatened by men, but that I might, for example, stick to lit roads and only have one ear bud in so that I am aware of what's going on around me."
The #JogOn campaign is a direct response to concerns and reports of harassment from runners in Bristol, Wright adds.
It follows findings from Bristol Zero Tolerance's Street Harassment project, which called for first-hand experiences from men and women who have felt harassed while exercising.
One respondent said they had been followed by a man while running.
Another explained that it's a fairly frequent occurrence: "It's mainly being shouted at in the street when on my bike – either derogatory comments about my weight or sexual comments.
"I have also been grabbed by men reaching out of car windows whilst I cycle."
Bristol Zero Tolerance has published a toolkit on responding to gender-based harassment, which includes details on how to report incidents to the police and what bystanders can do to help. Read more here.
Join our new commenting forum
Join thought-provoking conversations, follow other Independent readers and see their replies