The Independent's journalism is supported by our readers. When you purchase through links on our site, we may earn commission.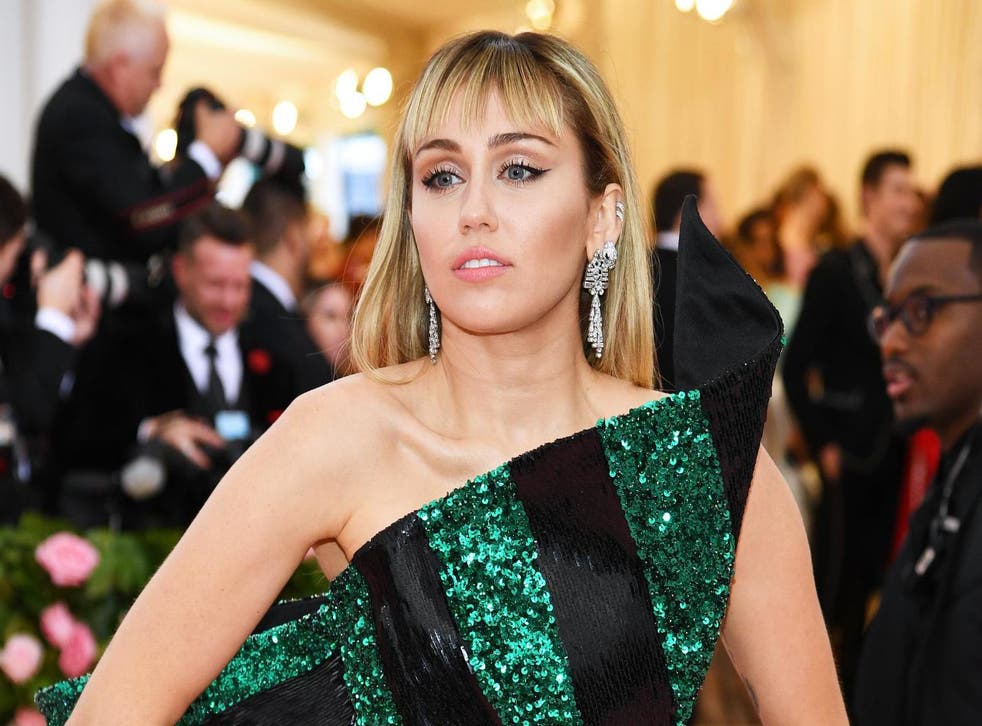 US abortion ban: Celebrities speaking out against new laws, from Miley Cyrus to Sadiq Khan
London mayor condemns US abortion bans in new video
From Rihanna to London mayor Sadiq Khan, several high-profile individuals have been using their platforms to publicly condemn the new abortion bans being instated in the US as of late.
Last week, Louisiana became the latest US state to pass new legislation restricting abortion rights.
Georgia, Arkansas, Mississippi and Ohio have all passed similar so-called "heartbeat bills" this year.
Meanwhile, Alabama passed legislation banning abortions in almost all circumstances, including in the event of incest or rape.
Here are some of the celebrities calling out the new abortion bans in the US:
Miley Cyrus
On 4 June, the singer posted a photograph showing her support for reproductive health care service Planned Parenthood.
The 26-year-old musician posted a picture of herself licking a cake iced with the words "abortion is healthcare", writing: "Very special collab with @plannedparenthood @happyhippiefdn @marcjacobs TO BE ANNOUNCED veryyyyyy soon! #WomensRightsAreHumanRights #DONTFUCKWITHMYFREEDOM [sic]."
In just an hour after sharing the image the post garnered over 1m likes from the singer's followers.
Rihanna
On 16 May, Rihanna shared a compilation photograph on Instagram of the male legislators who voted to ban abortion in Alabama.
"Take a look. These are the idiots making decisions for WOMEN in America," the singer wrote in the caption.
Rihanna also called out Alabama governor Kay Ivey, the Republican who signed the near-total abortion ban into law on 15 May.
"SHAME ON YOU!!!!" the fashion designer added.
Lady Gaga
Following the passing of the Alabama abortion bill, Lady Gaga shared a message of solidarity with her followers on Twitter.
"It is an outrage to ban abortion in Alabama period, and all the more heinous that it excludes those [who] have been raped or are experiencing incest non-consensual or not," the A Star Is Born star wrote.
"So there's a higher penalty for doctors who perform these operations than for most rapists?"
Gaga added that the new abortion law is a "travesty", saying that she will "pray for all these women and young girls who will suffer at the hands of this system".
Billie Eilish
In a recent interview with Variety, singer Billie Eilish said the new abortion bans in the US make her feel "red" with anger.
Eilish, who was born in California, said she can't bear to look at her phone following the new restrictions on abortions in US states including Alabama, Georgia and Missouri.
"I have no words for the b*****s in the f***ing White House," the 17-year-old said.
"It's so unbelievable. It makes me, like, red. It makes my ears f***ing steam out of my head."
Sadiq Khan
Sadiq Khan's message for Donald Trump about how women ought to be treated globally
London mayor Sadiq Khan has criticised Donald Trump in a new video, in which the Labour politician condemns the recent abortion bans being enforced in the US.
To coincide with the US president's UK state visit, Khan filmed a video with Elle UK, in which he outlines how Trump's views are not in line with those of the British population.
"What we are seeing in the USA is a rolling back of the reproductive rights of women," Khan said.
"We've got a situation now where some states in the USA are making it almost impossible for women to have the right to an abortion."
Khan concluded the video by stating that "all of us should be feminist, and that means men and boys too".
Sophie Turner and Jessica Chastain
X-Men: Dark Phoenix co-stars Sophie Turner and Jessica Chastain recently told Sky News that they will not work in US states which enforce strict abortion laws.
Chastain said: "I'm not going to work in a state that discriminates", explaining that she's signed a letter which says she's not going to work in any US state that "denies rights right women, for the LGBT+ community, for anyone".
Turner added that she's also signed the letter, revealing that she hadn't informed her agents of her decision.
"They're going to be like: 'What? You can't work in these states?' Yeah I can't work in these states."
Some people have pointed out that Turner worked in Northern Ireland while filming Game of Thrones, where abortion is illegal except in certain circumstances such as if a doctor has deemed it necessary to save the mother's life.
Emma Watson
On 16 May, Emma Watson shared a post on Instagram in which she urged her followers to support organisations fighting to give women the right to safe and legal abortions.
"Last week, a bill was signed into law in Georgia that is a near-total ban on abortion. This marks the fourth "heartbeat" law to be passed in the United States in the last year - a name that is designed to be emotive," the actor and activist wrote in the caption.
"Georgia's bill stands out for going one step further in including personhood language, criminalising not just abortion providers, but also pregnant people for having abortions or even miscarrying. Today, Alabama passed its own law banning abortion except when the health of the mother is at risk. We remember that Savita Halappanavar died in Ireland with the same law on the books."
Watson continued, also highlighting the fact that many people in living in Northern Ireland are forced to travel to the British mainland to have abortions as otherwise they would be unable to.
"These laws won't stop women and pregnant people from having abortions, or from making the best decision for their bodies and families, it will just mean they are forced to do so unsafely and with stigma," the HeForShe gender equality campaigner said.
Ellen DeGeneres
On 16 May, talk show host Ellen DeGeneres expressed her opposition to the abortion bans on Twitter.
"I stand with the women in Alabama, Georgia, Kentucky, Mississippi, Ohio, Missouri, and everywhere, who have the right to decide what happens to their bodies, as we all do," DeGeneres stated.
Amber Rose
Following the passing of the near-total abortion ban in Alabama, model Amber Rose shared a post on Instagram which included statements made about abortion and rape by politicians who supported the bill.
One of the quotes, credited to Indiana politician Richard Mourdock stated: "Even when life begins in that horrible situation of rape, that is something that God intended to happen."
"This is so sad and honestly do they think that abortions still won't happen?" Rose wrote in the caption.
"This will just result in back alley abortions where women can really hurt themselves and possibly die.
"Let us have a right to choose what we do with our bodies with safe medical professionals," Rose added. "These men and women are disgusting! I'm completely outraged! #womensrights."
Busy Philipps
On the day that the Alabama abortion bill was passed, actor and talk show host Busy Philipps encouraged her Twitter followers to share their abortion stories using the hashtag "#youknowme".
"One in four women have had an abortoin," Philipps tweeted.
"Many people think they don't know someone who has, but #youknowme.
"So let's do this: if you are also the one in four, let's share it and start to end the shame."
Philipps' tweeted has garnered almost 3,000 comments, and has been retweeted more than 11,000 times.
Hilary Duff
On 17 May, actor Hilary Duff shared a couple of images on Instagram demonstrating her stance with regards to the abortion bans.
One of the pictures featured the slogan: "Uteruses before duderuses", while the second featured the message: "77 per cent of anti-abortion leaders are men. 100 per cent of them will never be pregnant".
Cara Delevingne
"No caption needed," model Cara Delevingne wrote in the caption of an Instagram post, which featured an image with the same message written multiple times in a row: "Men shouldn't be making laws about women's bodies".
Reese Witherspoon
Big Little Lies star Reese Witherspoon described the recent US abortion laws as "abhorrent" on Twitter, saying she's "beyond upset" by the outcome of the new legislation.
"We cannot tolerate this attack on women's fundamental rights," the actor tweeted.
Alyssa Milano
On 10 May, Alyssa Milano called on women to take part in a sex strike in protest of abortion being banned in Georgia.
"Our reproductive rights are being erased," the Charmed star tweeted.
"Until women have legal control over our own bodies we just cannot risk pregnancy.
"JOIN ME by not having sex until we get bodily autonomy back."
Milano's comments sparked a debate among her followers, with some arguing that her message implied that women only have sex as a favour to men.
When asked by someone how long the sex strike should last, Milano responded: "I mean, I don't know. I sent a tweet last night I haven't really thought much past that this morning."
Northern Ireland abortion protest in Westminster

Show all 7
To find out how you can support women in the American states where abortion has been banned, click here.
Register for free to continue reading
Registration is a free and easy way to support our truly independent journalism
By registering, you will also enjoy limited access to Premium articles, exclusive newsletters, commenting, and virtual events with our leading journalists
Already have an account? sign in
Register for free to continue reading
Registration is a free and easy way to support our truly independent journalism
By registering, you will also enjoy limited access to Premium articles, exclusive newsletters, commenting, and virtual events with our leading journalists
Already have an account? sign in
Join our new commenting forum
Join thought-provoking conversations, follow other Independent readers and see their replies