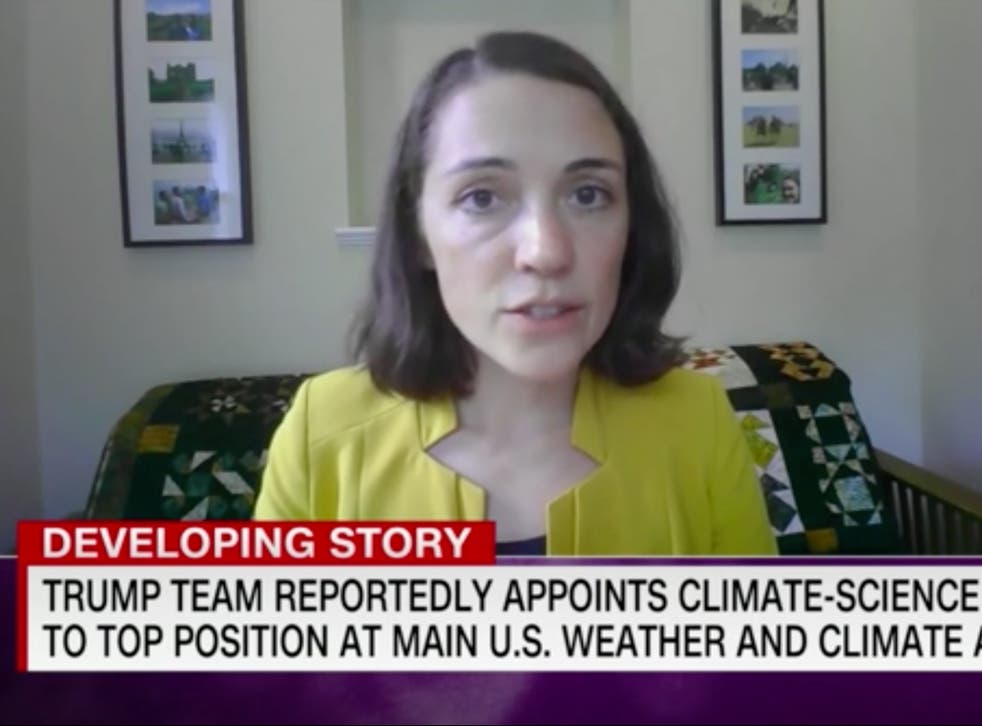 Environmental engineer's photo reveals the reality of parents working from home amid ongoing pandemic
'Thank you for this honest glimpse into a real home that houses children,' one person tweeted
A scientist and PhD environmental engineer is being praised for sharing an honest representation of the realities of working from home with children amid the coronavirus pandemic.
On Monday, Gretchen Goldman, the research director for the Center for Science and Democracy, appeared on CNN virtually to discuss a recent appointment to the National Oceanic and Atmospheric Administration.
However, as she later revealed on Twitter, her appearance on TV, where she could be seen wearing a yellow blazer, did not show the full picture.
Following the interview, Dr Goldman shared a screenshot from the TV appearance, as well as another photo showing her sitting in a room filled with children's toys.
In the second photo, Dr Goldman can be seen speaking into her laptop, which has been placed atop a chair on top of the table to create a makeshift desk.
The rest of the scientist's outfit, which consisted of a pair of black shorts and sandals, can also be seen.
"Just so I'm being honest," Dr Goldman captioned the photos, adding the hashtag #SciMomJourneys.
The comparison photos, which have been liked more than 221,000 times, prompted an outpouring of gratitude for Dr Goldman's transparency.
"This unfiltered glimpse into your reality is so important for the mental health of working moms in a pandemic. If they only see the left image it can be very disheartening. The right image allows them to have a knowing laugh and cut themselves some slack," one person commented.
Another said: "This wins the internet. Thanks for sharing this marvelous piece of honesty. I wish I was that bold."
"This is extremely relatable content," someone else tweeted.
The photos also prompted others to share photos of what working from home looks like for them, with many of the photos resembling Dr Goldman's makeshift workspace.
"Same here," one person responded, sharing a photo of the toy-filled room they used to conduct a virtual TV appearance.
In follow-up tweets, the environmental engineer took the opportunity to open up about the difficulties parents are facing during the pandemic.
"This is going viral because of the comic relief. But I want to be clear that parents are being put in an impossible situation now and it will derail entire careers, especially for moms," she wrote. "Moms in science are used to juggling parent and work duties. Here's a time I gave public comment at the @EPA with my one-month-old while I was on maternity leave.
"The pandemic is exacerbating inequities and struggles that parents - especially moms and especially moms of colour - have long felt. Our entire support network has been ripped from under us.
"Parents shouldn't be gaslit into thinking they can hack their way out of this. We can create a facade of professional Zoom backgrounds but the problem is much bigger and it shouldn't be on us to fix it."
Dr Goldman concluded the thread calling on "political leaders, our institutions, our employers" to step up and "ensure that parents in STEM and other fields aren't taking career penalties" before linking to a list of recommendations for employers she wrote.
"In the meantime, shout out to my fellow moms getting it done, with or without the support we need," she added.
Join our new commenting forum
Join thought-provoking conversations, follow other Independent readers and see their replies