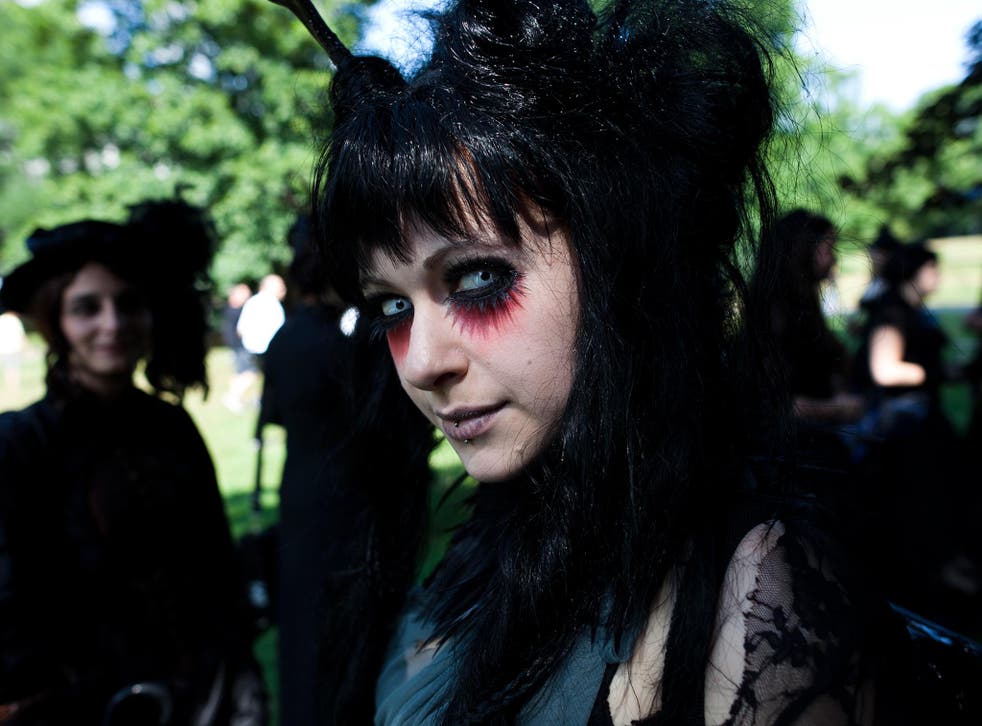 World Goth Day: Shedding some light on the darkness of a much-maligned subculture
To mark World Goth Day, Kashmira Gander explores the origins of a misunderstood but enduring subculture 
Most pop subcultures are doomed to die – or if not, to persist in tragic parody like a bunch of middle-aged mods at a Butlin's reunion. Quite right, too. They tend to coalesce around clusters of young people in reaction to the prevailing zeitgeist, then fade away as the object of rebellion changes, and time spent preening and building a music collection is eaten up by responsibilities. And before you know it, you're an adult.
Thus, since it's no longer 2007, few are now inclined to slip into some neon and describe themselves as Nu Rave. And just as revisionist historians now claim that only a tiny minority were actually swinging in the Sixties, so, in a decade, we'll be debating whether the now-maligned hipsters, identified by facial hair and a penchant for niche coffee – even existed at all.
However, there is an exception. Goth has, rather ironically, survived to become one of a handful of subcultures fully established in the mainstream consciousness. A layman could easily identify a devotee by their funereal aesthetic (black nail polish, Victorian-inspired clothes and black-lined eyes). And Goth hasn't merely endured, but is thriving on a global scale. Around 20,000 people a year attend the Wave-Gotik-Treffen music festival in Leipzig, Germany; the biennial Whitby Goth Weekend attracts thousands to the seaside town described in Bram Stoker's Dracula. And DJ Cruel Britannia – the co-founder of World Goth Day, a yearly celebration – says it's particularly popular in Brazil, even in the Amazon.
Inspired by a BBC Radio 6 Music documentary on all things Goth, which happened to air on 22 May, Britannia and fellow DJ martin oldgoth (who doesn't like capital letters) established the occasion eight years ago. In a MySpace blog, he declared that Goth Day should be marked, for example, by "people wearing their Goth finery to work for a day… or contacting local radio stations to request airplay of songs related to the Gothic subculture".
The Goth scene has its antecedents in pre-punk acts such as Alice Cooper, and UK proto-punks The Damned. And it was the late-Seventies post-punk bands, such as Bauhaus, The Cure and Siouxsie and the Banshees, who created its music, often characterised by languorous instrumentals or pounding drums. However, Goth is notoriously hard to define, says Dr Xavier Aldana Reyes, senior lecturer in English Literature and Film at Manchester Metropolitan University.
"The culture relies on the principle of bricolage, borrowing from Victorian, pagan and occult iconographies, among many others," he says – with mourning, decay, decadence and memento mori being prevalent. It also borrows heavily from Gothic literature (and film), which has had a long run – from Frankenstein to Tim Burton – and generally includes such tropes as sinister labyrinthine castles, cemeteries and ruins, vampires, ghosts, and curses.
Back in the day, it was considered dangerous for young people to become too absorbed in such themes (as depicted in Jane Austen's Northanger Abbey). Perhaps it was the olden-days equivalent of shutting yourself in your bedroom with a Cure album. I do know that a decade ago, like many teenagers, I identified with many aspects of Goth, which later led me to discover a scene which seemed fearless.
It was a time when fashion favoured "glamazon" WAGs with fake boobs, coiffed hair and tanned skin. But I was fascinated by a scene where men wore black lipstick and eyeliner, and women were accepted whether they squeezed into tight corsets or worse baggy black hoodies and jeans. As a teenage girl, Goth offered an escape from a mainstream culture that obsessed about female bodies and sex. How will your curves fill out? Are you frigid or a slut? Goth culture seemed instead to value intelligence, and to engage with the inescapable constants of existence. The music was disturbing and sometimes shocking, but it was unafraid and complex in contrast to the polished illusion of pop, that seemed in danger of shattering at any second.
With hindsight, I can see I was more of a part-timer, just as taken with the tight jeans and vision-impairing hairstyles of emo (a dirty word in Goth circles). So for a deeper understanding, I contact Lisa Buttery, now 25 and an artist working for a social enterprise at Brighton university, but 10 years ago the arch-Goth in our group: a trusted source of information on the best music or where to buy niche-band T-shirts in the days before everything was available online. While I quite often sported a scruffy mullet, skinny jeans and Converses, she wore spikes, aggressive New Rock boots and intricate make-up: black tears streaming from her eyes one day, tendril-like patterns on the sides of her face the next. I was in awe of her and others who I thought of as the "pure Goths", brave enough to embrace alternative culture on another level.
Now she says she wonders whether she is, or ever was, a Goth, and questions the use of such labels. "As a teen I got called a Goth more times than I could possibly count – so much that I just grew to accept, own and love it," she says. "But there were times growing up when I felt so isolated and different that Goth gave me great comfort. For me, Goth is a feeling, it's a way of thinking and being, it's finding beauty in darkness and destruction. When I look at bones or dead flowers or a ruin, I see beauty and potential to live on in a new way."
Recalling how difficult it was to source her favourite clothing or music, she now celebrates the fact that Goth culture is easier to access than ever before. She also believes perceptions have changed since the tragic murder of Sophie Lancaster, who was attacked in Bacup, Lancashire, in 2007 simply because of her Gothic appearance. In this, she has backing from Dr Catherine Spooner, Reader in Literature and Culture at Lancaster University, and currently writing a book about the teenager's killing. "Goths are presented in media coverage less as weirdos and outsiders and more as bright, creative middle-class kids expressing themselves in their chosen way." she says.
And Dr Paul Hodkinson of Surrey University, an expert in youth culture, agrees. "I think the Sophie Lancaster incident has probably helped many people to realise that, rather than being a 'threat', Goths often are more likely to be on the receiving end of hostility," he says. "Although the culture is subversive in some respects, I think it is very important to note that Goths are very 'normal'. They are perfectly well-adjusted people with similar motivations, dreams, everyday lives and ongoing highs and lows to everyone else."
In pictures: Gothic festival in Germany

Show all 10
Experts agree that the sometimes fragmented scene has responded to Sophie's death by coming closer in solidarity. But almost 40 years after its emergence, it is becoming harder to pin down exactly what Goth is. Not only does it overlap with aspects of punk and metal, it is also constantly assuming new incarnations, including "chola Goth" in Mexico and, fleetingly, so-called "health Goth".
And then, of course, it is regularly commandeered by the fashion business, with magazines declaring that everyone from Victoria Beckham to (more recently) Kim Kardashian has "gone Goth". Dr Spooner believes this is because Goth culture is inherently cyclical, and therefore lends itself to the nature of fashion. "Gothic is fundamentally about the idea of revival – about the past coming back," she says.
That why people in their fifties – the original Goths – continue to enjoy the scene alongside its newest members. No stake or silver bullet will kill their faith. "Put simply, Goth isn't a 'phase'" says Tim Sinister, who runs The Blogging Goth website. "It's not some adolescent rebellion Goths will 'grow out of'."
DJ Cruel Britannia agrees. "Goth endures because it's the very nature of most people to have a 'dark side'; be it a curiosity in the macabre through books, or an interest in history, or through a particular style of music that appeals to them. Goth in itself has evolved constantly and diversely, much like any other music-based subculture, such as the heavy metal or the dance music scene. Having said that, Goth has always kept its identity, no matter what shape it takes over the years."
The future for Goth, it seems, is far from bleak.
Join our new commenting forum
Join thought-provoking conversations, follow other Independent readers and see their replies