Interview
Yewande Biala thought she was unique in never having had an orgasm – then she made a film about it
The writer, biochemist and former 'Love Island' star was 21 when she discovered that it wasn't just men who could orgasm. Seven years later, though, she remained unable to climax herself. As she explores 'the orgasm gap' for Channel 4, she speaks to Katie Rosseinsky about shame, faith and the amount of women just like her
Wednesday 30 August 2023 06:30 BST
Comments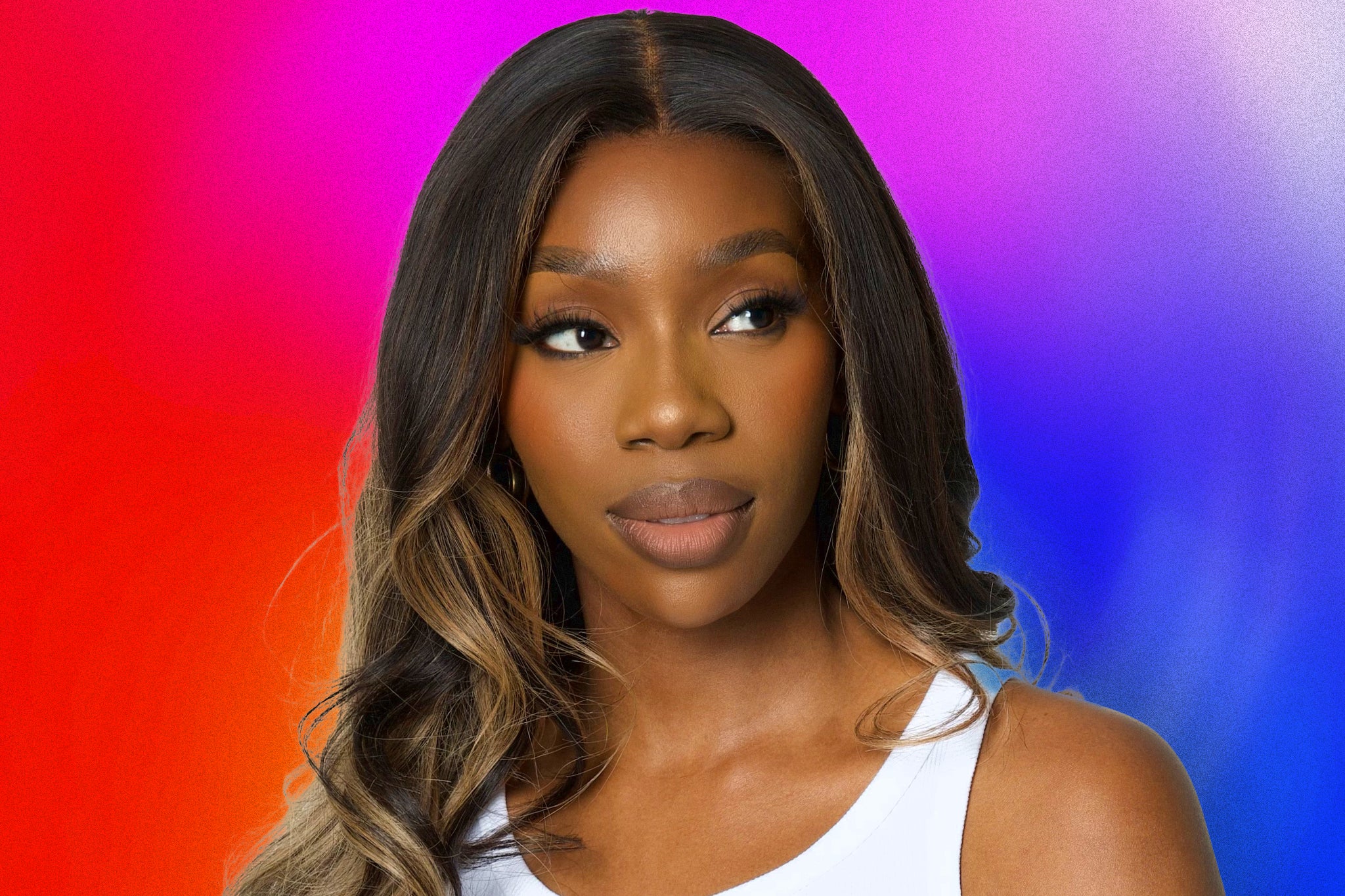 Yewande, you are an orgasmic woman!" In a scene from Channel 4's new documentary Secrets of the Female Orgasm, sex coach Lacey Haynes crouches on the floor of her studio, whispering this mantra to a recumbent Yewande Biala. The former Love Island contestant can't help but dissolve in laughter. Her giggles are one part awkwardness, one part cynicism. "It's funny because I don't believe it," she tells Haynes.
Biala, 28, is a trained biochemist who appeared on the ITV dating show in 2019 and has since written an essay collection, Reclaiming, which tackles subjects such as colourism, mental health and social media. She is also among the estimated one in eight women who have never been able to climax, and in this one-off programme, her first foray into TV presenting, she embarks on "a very personal journey" in an "attempt to enjoy my first ever orgasm", she explains at the start of the show.
That "journey" involves attending one of Haynes's "p***y gazing" workshops, an experience that Biala describes in one scene as "quite frankly mortifying". When we chat over Zoom, her camera is turned off after a long day of press, but it's not hard to imagine her face consumed by retroactive embarrassment when she discusses some of those more out-there filming experiences: the show also sees her meeting with researchers at the University of Essex in an attempt to map her libido, and getting a crash course in sex toys. Perhaps it's because we watched her dating travails in the villa for weeks on end ("I was always a little bit timid," she says of her Love Island stint), but speaking with her feels a bit like getting an update from a refreshingly straight-talking friend.
Secrets of the Female Orgasm also explores the "orgasm gap", the disparity in sexual satisfaction between men and women in heterosexual relationships: 95 per cent of men have an orgasm during sex, versus 65 per cent of women. Even in our apparently sexually liberated age, female sexual pleasure remains a taboo topic; in the documentary, Biala admits it wasn't until she was 21 that she learnt that women could orgasm. "We don't really talk about sex enough compared to men," Biala tells me, as "there's always this shame around enjoying sex." She adds that this is something drilled into women from a young age, when "no one wants to ever be like, 'Oh, I'm interested in sex', because they'd all call you a slut". But at the same time, there's also some stigma around not enjoying it enough. "I asked my friends if they'd had an orgasm and everyone was like, 'Oh my god, yeah – what the hell?' And it made me feel like I'm the only one," she says.
Those feelings of shame almost prompted her to turn down the Channel 4 project completely. The producers behind Secrets of the Female Orgasm contacted her with the idea for the documentary back in 2020, shortly after she revealed she'd never climaxed (the subject came up during a frank discussion on the Reality Check podcast with her Love Island co-stars Amber Gill and Anna Vakili). Her initial response? "Absolutely not." She was, she explains, "just too shy – I just could not imagine myself talking about sex". But when the company got back in touch two years later, she "was in a different place" – and wanted to interrogate the unease that had caused her to turn the offer down in the first instance. "I was more interested to find out why I was so uncomfortable with doing the show, [and] why I had so much shame around sex."
Towards the start of her documentary, Biala is seen sharing a message on her Instagram account, asking her followers whether they'd experienced similar struggles. "I posted the story and I turned off my phone for 24 hours," she recalls (like many influencers, she has two phones, with one dedicated to social media). When she switched it back on the next day, she tells me, she was "genuinely shocked" by the sheer volume of responses. "I didn't expect anyone [to get in touch] because who's going to reply to some random story about orgasms?" she laughs. "Who the hell would do that? I was like, 'everyone's gonna think I'm a massive weirdo.'" Instead, the "supportive" replies showed her: "Oh my God, I'm not an anomaly. There's nothing wrong with me." One of the young women who contacted her was 25-year-old Sarah, who appears in the documentary, explaining that she actually isn't that bothered about not being able to orgasm, and fosters intimacy in her long-term relationship in other ways (her attitude differs from Biala's, but both views are presented equally.)
The medical term for the inability to have an orgasm is anorgasmia; the condition is thought to affect 10 to 15 per cent of women. But the doctor Biala visits during the show is wary of giving her a straightforward diagnosis after she reveals that she has never tried to masturbate. This, we learn in the documentary, is a consequence of her deeply religious upbringing: Biala's family, who moved from Nigeria to Ireland when she was three years old, are strictly Catholic. She grew up believing that masturbation was "the worst thing in the world for women", she explains to me, and it was stigmatised as the preserve of "women who are sex-hungry". At the same time, she recalls, it was seen as "fine" and "natural" for men; the double standard created "a really horrible narrative". For all the endearingly awkward jokes she makes in the documentary ("It's just so impractical, do you not think?" she ponders when a sex educator presents her with one particularly massive device), she also admits on the show to feeling "fear when I think about masturbation".
Better sex education, Biala says now, would have helped to remove some of that discomfort: instead, from an early age, her teachers sent out a signal that the subject was a deeply uncomfortable one. "I remember my primary school teacher finishing [a lesson], and she was mortified – another teacher came in and I could see her eyes roll," she tells me. "I could just tell that they'd talked about what we were going to talk about. And she was so happy [when] she got through it that we actually all had ice cream afterwards. She made it seem like it was so hard for her to talk about it." That episode "set the tone", then secondary school lessons were "all just about the reproductive system, more of the biology – it's not about pleasure, it's not about what you should do or what you should try, or about those shame aspects. I think that's a really important thing to talk about in schools".
But to get to the root of her current anxieties around sex, Biala knew she would need to have a difficult conversation with her mother, Biliki. It took her three months to even tell her mum about the documentary, holding off until she "absolutely needed to"; the resulting discussion between the two women is undeniably difficult to watch. I won't spoil what happens in their showdown, but looking back, Biala says she found it difficult to reconcile the gulf between the beliefs her mum shared on camera and the strict attitudes inculcated in her as a teenager (when she was 15, she reveals in the documentary, she was grounded for a whole year because her parents mistakenly believed she was sexually active).
Biliki is a social worker, Biala explains, and likes having theoretical conversations about weighty topics – just never with her. "Everything I was hearing was new to me," she says. "I was like, 'how can you say that when you told me sex was the worst thing you can do before you get married?'" She hasn't brought up the subject with her mum since the cameras stopped rolling. "I'm so much of an avoidant person, and I just get worked up really easily," she admits. "I just didn't want to have that conversation again."
That aside, what is her attitude to sex like now, months after filming finished? "Shame doesn't just randomly get up and walk away," she says. Although she believes she has "definitely changed as a person" she doesn't think it would be honest or helpful to pretend that there are any simple fixes when it comes to addressing deep-rooted anxieties about sex.
"It'd be a lie to be like, '[the shame] is all gone, I'm this new person', because that's not the way it works, and I don't want people to think that's the way it is," Biala adds. "You don't not have an orgasm, feel all the shame for years and then three months later, you're this brand new sex-positive orgasm master – it doesn't work like that. And I don't want people watching it who were on that same journey to think, 'oh, she's done it in a week or two weeks, and there's something wrong with me'." Unlearning a lifetime of shame is "going to take a lot of time", she says – "but I'm definitely working in the right direction."
'Secrets of the Female Orgasm' is on Channel 4 on 31 August at 9pm
Join our commenting forum
Join thought-provoking conversations, follow other Independent readers and see their replies