You Get Me? Photographer captures young British Asian Muslim men to break down stereotypes
Mahtab Hussain is inviting people to re-think how they see young Asian men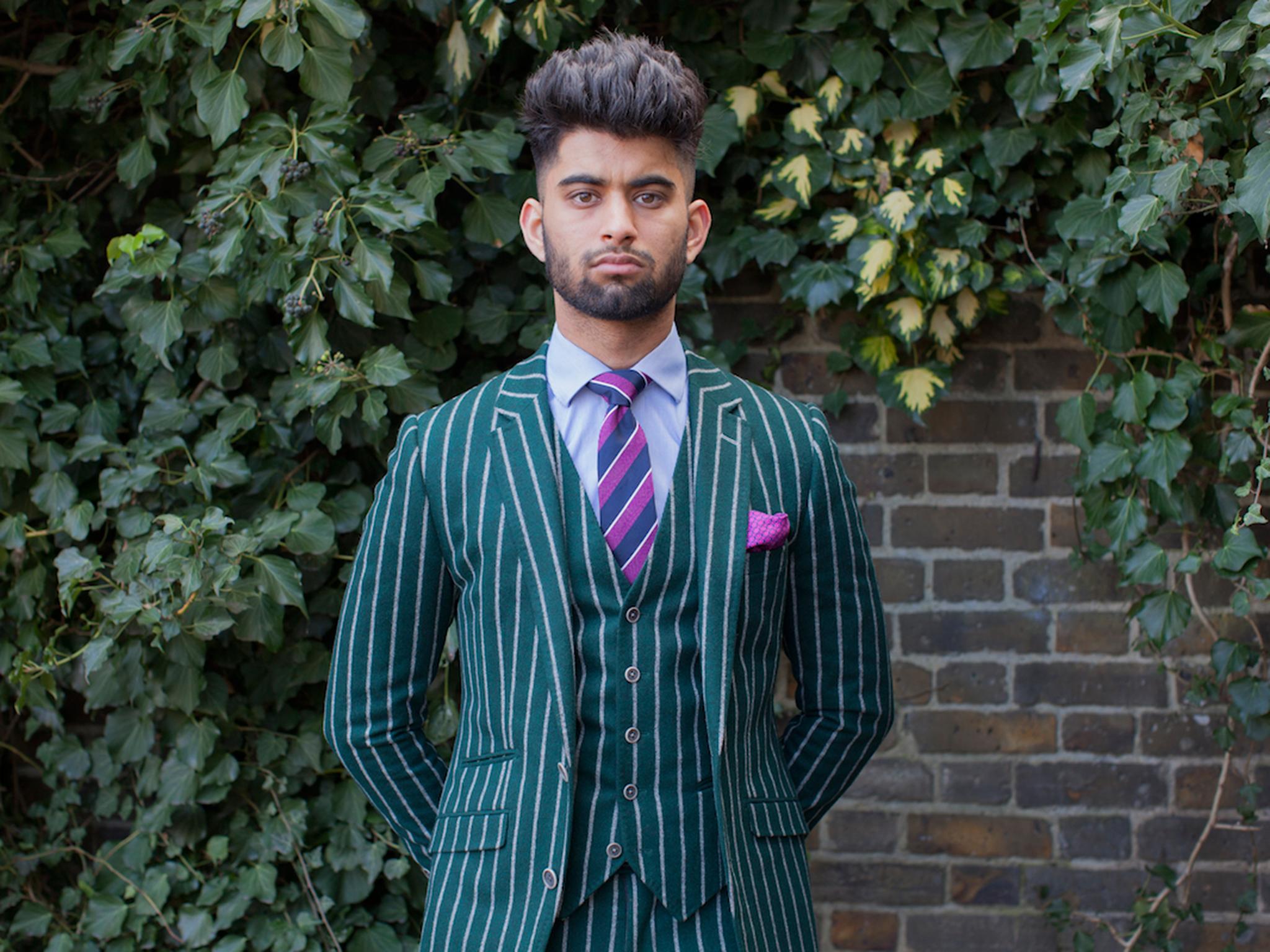 While photographer Mahtab Hussain was working at the National Portrait Gallery in London, he was struck by how poorly represented Muslim British Asians are in Western fine art portraiture. At the same time, he saw how boys and men like himself are widely labelled as terrorists, extremists and sexual predators, because of the colour of their skin.
To help offer an alternative to that hurtful and harmful narrative, Hussain approached strangers in streets across England and asked them if he could take their portrait. The result is his project 'You Get Me', which depicts British Asian men not as some violent, homogenous group, but as diverse can capable of being soft, thoughtful and vulnerable.
Hussain spoke to The Independent about his experiences of racism and his struggle to change perceptions of men like himself.
You Get Me? by Mahtab Hussain
Show all 9
Why did you decide to document the British Asian experience?
In 2008, I was working at the National Portrait Gallery in London and hugely enjoying the museum, gallery and art scene generally. I was constantly visiting exhibitions and shows but struggled to find work that reflected my experiences as a British Asian. It was hard to come to terms with the fact that I was invisible in these spaces, spaces that I love and hold so dear in my life. I thought I would find those artists while working in a museum environment, but shockingly I never did, so in middle of 2010 I decided to swap sides and become an artist to help bridge this gap.
How tough has it been to be a British Asian post 9/11?
9/11, happened in 2001, that was 17 years ago. These young men who are now in their early twenties have had to endure a plethora of attacks from the media and government since then. And all they know is that this country hates them. That they are criminals, a terrorist, an Isis sympathisers, a threat to society, sexual groomers, who beat their women and quite possibly may one day kill their own sisters in the name of 'honour'. This is just a small list but imagine how damaging it is to one's sense of self. I was lucky to be born at a time when negative Muslim news, bias and propaganda did not fill our news channels, and I often think about how the youth today cope with the pressures of the media and exist in a political environment which they feel is heavily weighted against them. It must be so difficult to be born into a world that actively tells you you do not belong, that inherently you are a problem and danger to wider society.
I remember showing Mark Sealy, Director of Autograph ABP, the work eight years ago, and at that time I thought we were in a bad place then. But today with what feels like increasing terrorist activities at home, and the formation of ISIS abroad with its influence felt globally, the community is more heavily labelled as extremist. The Asian grooming gangs were hugely negative too of course, and so now we carry the rapists and paedophiles label as well. And the statistics of Muslims in British prisons is pretty alarming, since we make up 14.6 per cent of the overall prison population, even though our total population in the UK is roughly 4.8 per cent. And because we are demonised in pretty much every facet of society, deemed criminals in every way, we are consequently not allowed a voice. Instead we are generically labelled as sympathisers to extremist views and actions which is categorically untrue. That counter narrative, of the community being normal is almost impossible to find.
But on lighter note, I do believe things are changing. I feel society has had enough of hearing this constant negative narrative that all Muslims are bad people, and crucially, individuals from the community are starting to stand up to racist and xenophobic attacks, so I am hopeful.
Where did you find your subjects and how did you direct each shot?
All my sitters where chance encounters, and I feel the locations helped amplify the performance quality in the portrait as I feel the type of portrait made on the street could not easily be replicated in a studio setting. The street is where these men perform their identity and masculinity aware of others around them. I questioned what being a man mean to these men, why they have to be so tough and act so hard, why can then not show the softer side of what a man can be, their vulnerabilities.
I often asked my sitter to given me their portrait to visually articulate what they want to say to the wider audience. But doing this I helped empower them and give them an alternative voice that they so desperately needed, a chance to be represented.
Have you ever experienced any racism in the UK?
I experienced direct racism for about 10 years of my life from the age of seven to 17. At the time I was living in an area called Druids Heath in Birmingham, and were the only Asian family living there. Over this period questions were asked about my race and difference, why I was here, how I should go back home. I was the butt of many racists' jokes and at the time the Iraq war had just begun and my surname Hussain also connected me as the enemy.
For 10 years I hated being a "paki" and being brown, because it brought all this unwanted violence. However on the flip side, when I moved back into "my community" I experience another form of discrimination. This time I was ridiculed for my views, the way I spoke, my culture even. I was told I was too British, too English, the word Paki was replaced with John or Fish and Chips. This form of discrimination was actually more difficult to handle because they were going beyond the surface of my skin and appearance, my brown people were challenging my core being.
What do you want people to take from the name 'You Get Me'?
The phase, "you get me?", came about when I was transcribing the interviews but also widely in the many conversations I had on the streets. That phrase kept repeating itself, so it seemed fitting to give the series that title.
Some say it's a quintessentially black expression, and in a way I'm commenting on this too and questioning why many young British Asian males associate themselves with the black urban experience. For me, there are many reasons why this has taken place, but the core of it concerns representation. Just as I needed to look towards black artists to feel a sense of connection in the art world, I believe the men and boys I encounter, also connect with the black urban experience, and in particular, hip-hop which talks about poverty, hopelessness and the struggles of life, it gives them a sense of collective belonging in Western society.
I think what solidified this connection, the taking on of the black experience, were the towering figures of Malcolm X and Mohammed Ali, two great black, Muslim icons who articulated, within an Islamic context, the struggles of black and brown communities and their continual fight against oppression and the injustices living in the white man's world. Having both embraced Islam, they were inextricably connected to the 'brotherhood', and so in a way, the black experience became part of our experience too, we were together in this fight to be seen as human beings, as equals. But back then, at the peak of these two great men, Asians had no one in mainstream society to look up to, and I argue, they still don't today.
But the phrase embodies it all too. It can be seen as aggressive and or confrontational, however it expresses a glimmer of vulnerability too, that uncertainty when voicing one's thoughts and opinions, asking the real question. Do you understand me? Do you truly know where I'm coming from because it seems that no one does…
What do you hope viewers will take from the project?
In the exhibition you will see that these men have a strong sense of their masculinity, these men are clearly proud by the way they have groomed themselves, there is a beauty in these portraits. Certain sitters allow the viewer to gaze upon them, while others challenge what they are looking at. Do you see them as men? Are they British men, Asian men or Muslim men? Can you dare to see them as fine art portraits, (because that is where I stand), worthy to hold such a title, or are they documentary, because black and brown men photographed in their own spaces by black and brown artist can be nothing but documentary. These are the types of debates I would like the work to have along with everything we have talked about today because art galleries and museums are sophisticated spaces to hold such complex and challenging narratives.
You Get Me is showing for free from 5 May to 1 July at Autograph ABP, Rivington Place, London. The book will be published in June.
Join our commenting forum
Join thought-provoking conversations, follow other Independent readers and see their replies