Denmark ready to 'fight' Republic of Ireland for World Cup spot in crucial play-off second leg
Defender Andreas Bjelland says his team can match Ireland's famed tenacity on Tuesday night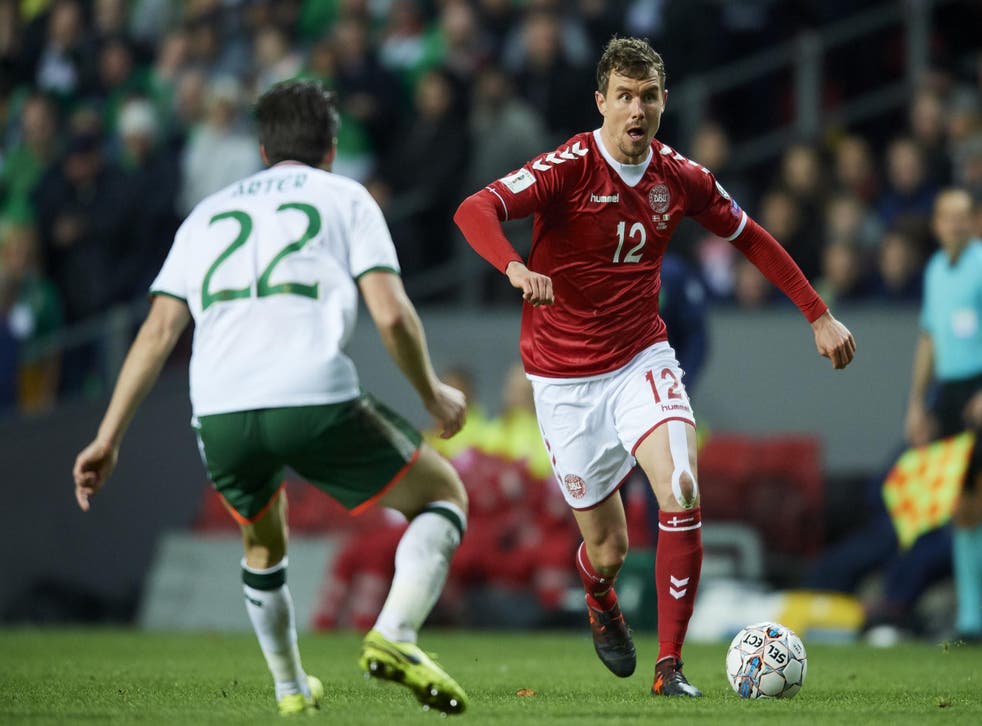 Denmark defender Andreas Bjelland says his team have "the fight to match" Ireland ahead of their World Cup play-off second leg in Dublin on Tuesday. Saturday's 0-0 in Copenhagen saw a lot of discussion and respect from the Danish side about Ireland's famed spirit and defiance, but that led to a response with centre-half Bjelland insisting that his team can match them for that tenacity if required.
The Denmark manager, Aage Hareide, meanwhile said he expects Ireland to sit back deep similarly to the first leg, and believes one strike could be enough to send Denmark through, given that it would be an away goal.
"We have the fight to match them," Bjelland said. "We will fight with them if they want to fight."
Hareide similarly backed his players when it was put to him that Irish midfielder David Meyler had said Denmark just don't have the "character, heart and desire" that Ireland do.
"My thought is that he doesn't know the players," Hareide said. "When I started, I didn't know the players. I know them. Our player are spread out around Europe. They don't get that far if they don't have the heart to play football.
"We must try to get a goal, that is our main aim. It will be more difficult [for them] to get back in the game. That will make them even more eager to defend but we know one goal can be enough.
"We will build on what we did in Copenhagen, which was very good. We had the ball a lot and created chances but sometimes you don't succeed. In the match we had 587 passes - 85 per cent to a Danish shirt. Ireland have 206 passes and had 60 per cent. So we had to make the game and we expect to do the same here."
Hareide disputed the idea Ireland would step out and take the initiative in the second leg, after playing so defensively in Copenhagen.
"If you look at the stats, nothing seems to go in that direction, they played better away from home and scored more away. 2-2 with Serbia, and winning in Wales [1-0] those are the key matches. I don't expect them to go higher. They just want us to make the mistake. I don't have the patience for that."
Amid all the praise for Irish spirit, there was some implicit criticism for their style from Danish quarters. Hareide however defended Martin O'Neill, who also happened to be his landlord and team-mate at both Norwich City and Manchester City in the 1980s.
"I think it's a matter of finding a way. I knew him as an attacking outside-right who wanted to see the ball. Celtic [who O'Neill managed between 2000 and 2005] were a very attacking team. I think he found his way with Ireland. You saw Northern Ireland [v Switzerland], these games have their own lives. Martin experienced a good qualification last time. They played well against France in France [for Euro 2016]. You stick to that way of handling a team. He's a good manager and wants to win. So do I."
Asked whether Denmark had done anything to prepare for a penalty shoot-out, meanwhile, Hareide responded: "Nothing".
Register for free to continue reading
Registration is a free and easy way to support our truly independent journalism
By registering, you will also enjoy limited access to Premium articles, exclusive newsletters, commenting, and virtual events with our leading journalists
Already have an account? sign in
Register for free to continue reading
Registration is a free and easy way to support our truly independent journalism
By registering, you will also enjoy limited access to Premium articles, exclusive newsletters, commenting, and virtual events with our leading journalists
Already have an account? sign in
Join our new commenting forum
Join thought-provoking conversations, follow other Independent readers and see their replies