How Covid divided a nation
Old cracks, now deepened by Covid, will take decades to overcome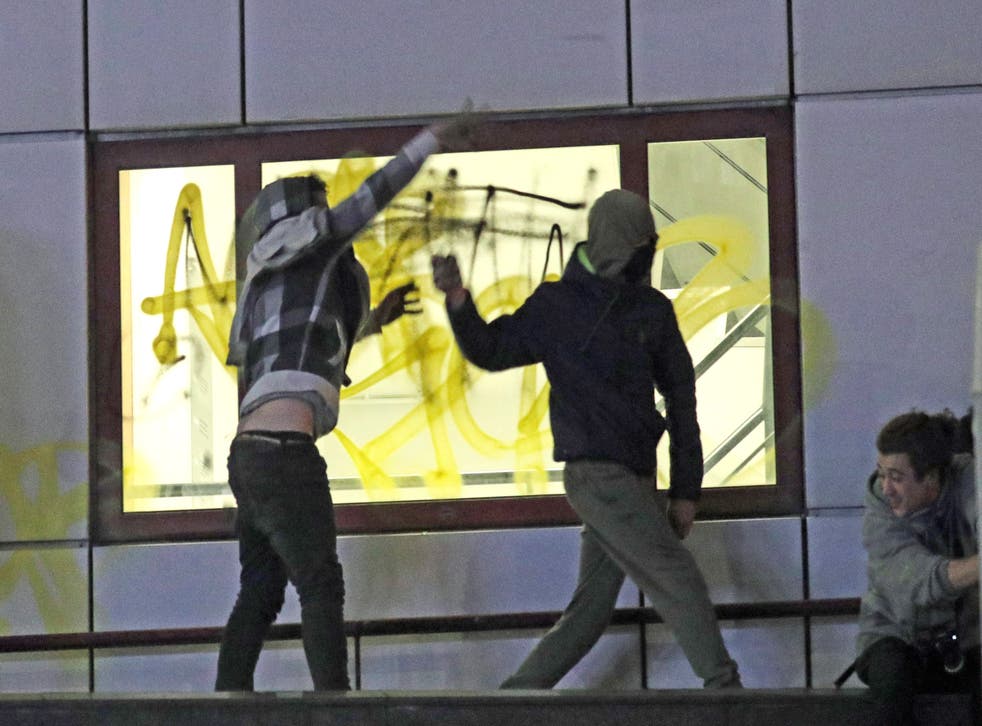 A year ago the world changed. It won't ever be the same again.
At first glance, it seems like an experience so universal in its impact that we were uniquely united in battle against Covid.
Regardless of who we are, from where, with what titles to our names or experiences under your belt, we have adhered with remarkably little resistance to the same basic rules over the same 12 month period.
A series of massive cash injections, including the latest extensions of support announced in the Budget mean crisis-related government spending specifically relating to households and firms alone has reached £186bn. That's roughly the equivalent of £6,700 per household.
"Taken as a whole, this scale of action has – inevitably imperfectly – achieved the central economic task of government policy in a pandemic: significantly insuring households and firms against the income shock that would otherwise have followed the huge virus-induced slump in economic activity," notes think tank the Resolution Foundation in its deep dive into the personal financial impact of the last year.
"The result is that the worst recession for 300 years has seen the smallest rise in unemployment of any recession in living memory - barely 1 per cent. Amazingly, household income has been broadly similar in 2020 to its 2019 level in aggregate despite GDP falling by almost 10 per cent."
Which doesn't sound too bad.
But the truth, with 12 months worth of in-depth data to track the changing fortunes of a nation's worth of individuals now under our belts, is that the divisions are deeper, the fragmentation more severe, and the consequences set to be far longer lasting than most of us could ever have imagined this time back in 2020 - a lifetime ago.
We knew very early on that circumstances did not bode well for certain demographics, including the female half of the population, younger adults and those with low earnings.
"Those with the least power in the labour market – such as those on atypical and insecure contracts or from certain ethnic minority groups – have also been more likely to have experienced job loss or a fall in earnings," the Resolution Foundation warns.
This week we found out that with industries employing a large proportion of young working adults particularly hit by Covid restrictions, a staggering 88 per cent of the payrolled jobs lost in the last year happened to those under the age of 35, to cite just one breath-taking stat among many.
That figure alone has prompted speculation over the fuel behind recent civil unrest, itself prompted by significant fears over new police powers to restrict the kind of peaceful protests hitherto enshrined in our wider democratic process.
Even those of us without a handy degree in anthropology recognise a society at risk of fragmenting under unequally distributed pressures when we see it. Meanwhile, among 50-64 year olds the number of payroll jobs has increased since the start of the pandemic according to the latest data from the Office for National Statistics.
But though the last year has exacerbated an already deep-seated and, on the whole, sadly accurate sense of disproportionate distribution of wealth, prospects and financial security across the generations, the young aren't the only ones whose pre-existing financial cracks have been ripped open by Covid and our response to it.
Well before a city in China became infamous for the chaos that ensued, those not on a payroll in the first place - regardless of their age - were already worse off financially, thanks to massive policies like the workplace pension that claimed to boost the long term savings of the 'workforce' with government handouts but somehow forgot about the 15 per cent of that workplace that wouldn't receive them.
This week, after a year of remarkably slow-to-materialise help at a fraction of that offered to employees, came news that the total number of self-employed people has fallen by 660,000 in the last year – equivalent to more than one in eight self-employed people leaving the sector.
Research from the Association of Independent Professionals and the Self-Employed (IPSE)
has shown the devastating impact of the pandemic on the finances of those freelancers who remain – particularly the more than 1 million who are still excluded from government support a year on.
More than a million freelancers – around a fifth – have had to take on credit card debt to get by, while one in seven have had to use their overdrafts to cover everyday costs.
There has also been a staggering 341 per cent increase in the number of self-employed people claiming Universal Credit during the last year: up from 47,000 to 206,200.
"The targeting of the Self-Employed Income Support Scheme (SEISS) has been dreadful, and the failure to fix it once it was clear that this crisis would last is inexcusable: as a result, about 1.5 million people (three in-ten self-employed workers) have seen lower profits as a result of Covid-19 but have not been eligible to receive a grant through the scheme," the Resolution Foundation says.
There was also a particularly worrying drop of 8 per cent in the number of disabled self-employed people – a group that had seen continuous growth over the last decade.
Indeed, 70 per cent of all disabled people have seen their work negatively impacted by the pandemic, including furloughing and redundancy.
"DIsabled people need a long-term solution, not just a stopgap and it's disappointing that once again they have been left out of the government's offer," said Gemma Hope, director of policy for disability charity Leonard Cheshire, speaking in response to the recent Budget.
"We cannot be said to be levelling up the country if inequalities are widening for disabled people… The barriers facing disabled employees and jobseekers are structural – they won't disappear when the current crisis ends.
"Disabled people should be able to expect fairness and equality in work, starting with a disability inclusive recovery plan from the government," she added. 
"We must plan for the coming years, not just the coming months, to really end disability discrimination in employment."
And then there are families.
A survey of Action for Children's frontline staff found the parents and children it looks after are now "at breaking point - some suicidal".
More than 90 per cent of parents are worried about not being able to afford food - today and in the future - followed by heating and then household bills.
One key worker said: "So many more families are out of work and with the children at home there's the increase in costs. Families can't afford warm clothes for children, we've spent emergency funds on beds for children sleeping on the floor [and] these are not the most vulnerable in society, they are newly in need because of the pandemic."
"Families who were buying extra things in their weekly shop to contribute to a foodbank are now relying on foodbanks themselves," another reported.
"The scale of the hard stop to economic activity that lockdowns have delivered has been difficult in all countries, but the threat to family incomes was particularly acute in the UK given the weak social security safety net, volatile incomes and a large self-employed population," added the Resolution Foundation.
With a typical fall in income of 40 per cent, many families have fallen out of work and onto benefits or have fallen through the gaps in government support.
"The refusal to revisit the exclusion of legacy benefits such as Jobseeker's Allowance and Employment and Support Allowance from the £20 per week Universal Credit uplift is hard to defend given the duration of the crisis and the evidence, as we discuss later in this note, that costs have risen for low-income families," accused the think tank.
Several factors – from children being at home more of the time and changes in supermarket pricing structures to the closure of support services - have made it more expensive to live on a low-income through the pandemic. By September 2020, 36 per cent of low-income households with children had needed to increase their spending during the pandemic, compared with only 13 per cent of higher income households without children.
The combined effect, the Resolution Foundation has found, is that many higher-income households have seen spending fall through a lack of commuting costs, or reduced spending on leisure and hospitality, but some low-income households have been forced to spend more just to get by.
Legacy
As this week's Debt Awareness week takes on new significance, debt charity StepChange is warning that 2.5 million people are now facing 'a financial crisis due to the impacts of coronavirus'.
Almost a fifth of all those whose financial situation has been affected by Covid have experienced at least one form of hardship since last March, including going without meals and rationing basic utilities.
Approximately 5.6 million people have fallen behind on essentials or have borrowed to make ends meet - an increase of a million people since the start of the pandemic. The charity estimates the impact of Covid alone has pushed them into almost £11bn of arrears and borrowing.
The charity is now warning that legacies including mass renter evictions once the eviction ban is lifted are inevitable without further government action.
And that is just one example of one immediate impact. Elsewhere, warnings are filtering through about much longer term legacies that will disproportionately affect some in society for the rest of their lives.
Just under half of all single mothers - whose average incomes have dropped to just £16,890 since the start of the pandemic compared with the national average of £27,376 - won't now get any retirement income top up from the government because they don't earn enough to qualify for automatic enrolment, warns NOW: Pensions.
Forget the lively debate about who exactly would foot the potential burden of future taxation to pay for the last year's emergency funding for a moment, this is just one example of a knock-on that could mean up to 400,000 women face an old age in poverty decades after Covid intensified the discrepancies in support and social security a system that was already out of balance.
As the recovery gets under way we should absolutely recognise the successes of some incredible economic measures alongside the success of a vaccination programme that will help deliver recovery as well as save lives.
But the failure by government to act fast enough on several occasions in the last year has brought about higher mortality rates, longer lasting restrictions and deeper economic damage, leading to greater inequalities among households.
The lower your income the more likely you are to emerge from the first year of Covid with a reduced income and higher debts. The higher your household income already was last March, the better the chances that the last year has served to insure you against future events.
"More broadly the crisis has shone a light on the state of 21st Century Britain: from employment conditions for low earners, the neglect of health and safety at work, the way in which inequalities experienced by different groups translate into bad health outcomes, and growing intergenerational gaps," warns the Resolution Foundation.
"So while the Covid-19 pandemic has touched everyone, lower-income families have borne the brunt of the crisis in terms of their lives and livelihoods. This should not be forgotten as we look to rebuild post-pandemic Britain."
Join our new commenting forum
Join thought-provoking conversations, follow other Independent readers and see their replies