How to give without giving away
JustGiving has come under fire for taking a significant cut of the funds raised for the family of PC Keith Palmer, but it's far from alone
Felicity Hannah
Wednesday 29 March 2017 11:37 Comments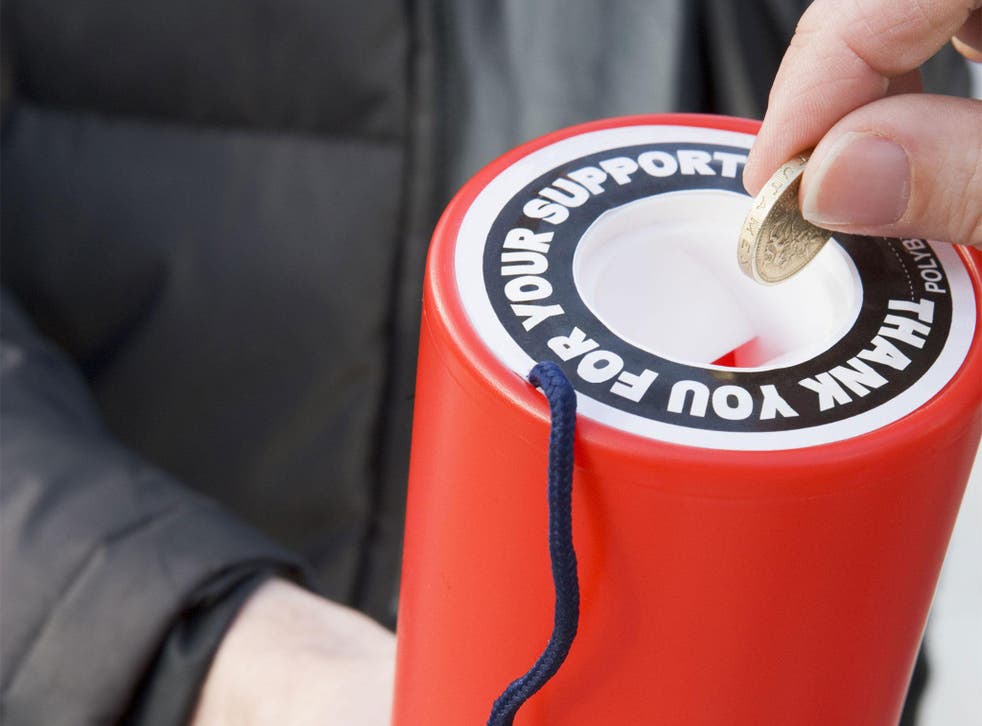 Last week's devastating Westminster attack left 5 people dead and a shocked nation reaching for their wallets to donate to the family of Keith Palmer, the valiant police officer who confronted Khalid Masood as he attempted to enter Parliament.
A JustGiving donations page was quickly set up and by the time it closed on Monday had raised an impressive £736,328 in donations for his family, far surpassing the £250,000 goal.
JustGiving faced criticism over its 5 per cent administration fee, which it collects from all donations made through its site. The website made a voluntary donation of £10,000 to the fund; however, its fee on such a successful campaign will amount to more than £36,000.
Clearly some givers were surprised to hear that the site would take a slice of their generosity and there was a groundswell of disapproval.
A spokesperson for the website said in response: "There have been questions about the fact that JustGiving charges for its service. We are honoured to be chosen to host millions of campaigns each year; saving children with cancer, funding pioneering surgery, remembering loved ones, building community projects, transforming education.
"All of these causes are deserving and each pays a transparent 5 per cent fee which is fully reinvested in innovation to ensure that the next person in need who comes to JustGiving can raise more than on any other platform."
Certainly without websites such as JustGiving there would be fewer donations. It's much easier to give by paying with a card than to make a BACS transfer or post a cheque.
However, the issue does highlight that choosing the right donations website can make a considerable difference to the amount of money that goes to the good cause in question.
Giving the most
Different donations pages charge different amounts. Most charge a percentage of the amount raised as an admin fee, others levy card charges and even demand that charities registered with them pay a monthly fee.
For example, JustGiving is a profit-making website and charges registered charities a subscription charge of at least £15. If a donor paid £10 using a card and included Gift Aid on their donation, the charity would receive £11.70 out of a £12.50 total.
The website MoneySavingExpert tallied up the various donation websites costs and deductions and reports that MyDonate passes on the most, taking just 15p off a £10 Gift-Aided donation. The website is funded by 1 per cent of BT's profits so it is free for charities to use and just levies a card-processing fee.
It's followed by Charity Choice, which charges a 25p fee to process card payments but passes on the full remaining amount. Givers are invited to pay the fee themselves, allowing the charity to receive the full amount, and it's free for charities unless they choose to upgrade to the premium service.
Virgin Money Giving is one of the more popular sites and it is a not-for-profit venture, taking 2 per cent of donations as an admin fee. That means that if you donated £10 with Gift Aid, the charity would receive £12.15 – although the charity in question would also have paid a one-off fee of £120 to register.
It is vital that fundraisers and donors regularly check what the cut is, as it can change. Social donation platform Givey, for example, used to be transaction fee-free but now charges a 5 per cent fee, levied on top of the donation – ie if you give £10 it adds 50p to the total. However, the full donation is handed on to the charity.
Donations websites are now big business and there's considerable choice, at least for those launching campaigns. And, as the PC Palmer page has shown, for a popular cause the difference in fees can run to 10s of thousands of pounds.
Genuine giving
Sadly, no matter how worthy a cause there are always fraudsters who are willing to exploit it. A fundraising page raising money for the family of Aysha Frade, another victim of last week's attack, had to be taken over by JustGiving amid concerns it had been created by a convicted fraudster.
However, websites that allow individuals rather than charities to collect money can only go so far to ensure they are genuine causes. Most urge givers to read the description carefully in order to be confident that they are genuine and deserving.
JustGiving tells donors that it will verify the identity of a crowdfunding page creator and undertake the necessary checks before transferring funds to them, however it warns that it cannot guarantee they will use the funds for the purpose stated on the page.
"If you have any doubts as to how the money will be spent then you should contact the JustGiving Crowdfunding page owner directly to seek reassurance. It is your sole responsibility, as a user of the website, to ensure that the cause stated to be supported on a relevant JustGiving Crowdfunding page is one that you wish to support."
Giving via a donations page may be easier, but it does not absolve the giver of responsibility to check their money is going to the cause they want.
Register for free to continue reading
Registration is a free and easy way to support our truly independent journalism
By registering, you will also enjoy limited access to Premium articles, exclusive newsletters, commenting, and virtual events with our leading journalists
Already have an account? sign in
Join our new commenting forum
Join thought-provoking conversations, follow other Independent readers and see their replies