Don't let medical bills be your après ski
Hitting the slopes this festive season? Don't forget your travel cover – or count the cost, say Chiara Cavaglieri and Julian Knight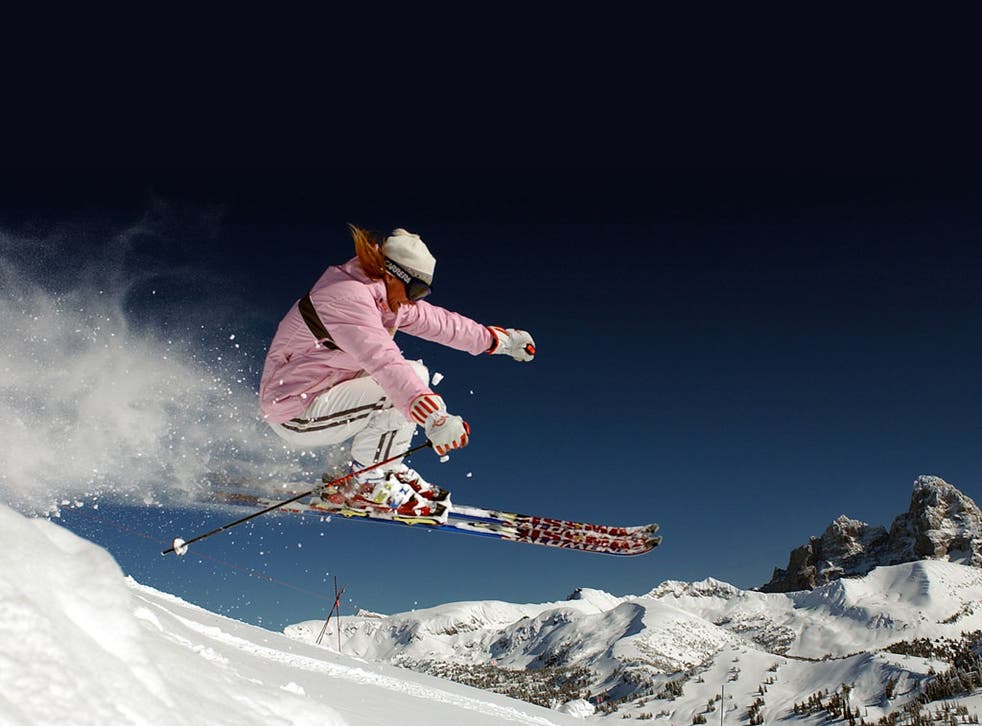 After the mildest autumn on record, the snow is finally falling in the Alps and beyond. And it's just in time, as Christmas is the traditional start of the European ski season when thousands of Britons hit the continent's slopes.
All too often though what starts as a dream trip to enjoy the powdery snow can end in a painful sojourn to the emergency ward. Even something as innocuous as twisting an ankle can require medical treatment that can run into thousands of pounds. Break something more serious or need an airlift or medical repatriation and costs can rocket. Yet despite this risk, many sports enthusiasts are willing to chance it; a recent Aviva study found that three in five skiers (58 per cent) failed to add on winter sports cover to their travel insurance.
"This is taking a massive financial gamble. There are few of us who could afford to pay a medical or mountain rescue bill after an accident," says Matt Reid, a director of travel insurer Protectyourbubble.com who in the last ski season dealt with a claim that totalled £14,452.
Figures from Bupa Travel Assistance show that the average cost per claim is £917 in France, £785 in Switzerland and at the very top of the list, £6,335 in the United States. Anyone daring to ski without comprehensive insurance in the US is playing with fire. A serious injury is likely to cost an astronomical amount of money; being treated for a fractured leg, for example, could lead to a bill of up to £40,000.
In EU countries – plus Norway, Switzerland, Liechtenstein and Iceland – if you're holding a European Health Insurance Card (EHIC) you will be entitled to medical treatment within state-run hospitals at the same cost as local residents. "This should not be considered a replacement for travel cover. If you already hold such a card, check it is still in date for your trip," says Bob Atkinson, a travel expert at MoneySupermarket.
While an EHIC covers some medical costs, mountain rescue, getting home and some outpatient treatments are not included. Another potentially huge financial threat is if you ski or snowboard into someone and injure them and they take legal action against you. Once again, the bill could be thousands of pounds but if you have comprehensive winter sports insurance it will include personal liability cover to protect you against this.
You can't rely on standard travel insurance for winter sports, but the good news is that cover can be very cheap. A family of four looking for a week's worth of cover in Europe can buy a policy for as little a £16.96 with OUL Direct, according to MoneySupermarket, which covers winter sports equipment, piste closure and off-piste skiing. However, this policy has a high excess of £250 per claim, and only offers £500 cancellation cover and a stingy £200 baggage cover.
You can get a better deal with Debenhams for £20 with double the cover for medical costs, £3,000 for cancellations, £1,500 for baggage, and all with only £100 excess to pay. Look out for EssentialTravel.co.uk too where you can secure a 15 per cent discount if you are willing to wear a ski helmet as part of the new Use Your Head campaign.
An annual multi-trip policy generally offers better value than single-trip insurance – Moneysupermarket says the same family could pay £28 more for an annual policy with Debenhams – so only opt for the single trip if you are convinced you won't be going away more than once.
"Although important, price should not be the primary basis for comparison – after all, buying the cheapest cover available could end up being the most expensive option if it doesn't provide adequate cover," says Mike Powell, the head of general insurance for analysts Defaqto.
Insurers offering winter sports cover use different exclusions, caveats and coverage levels but once you've checked the basics (including cover for lost baggage, cancellations and medical costs), you should see if there are any extras such as cover for damaged or lost sports equipment.
According to Defaqto, of the 342 single-trip winter sport policies on the market, 80 per cent cover less than £1,000 for loss or theft of equipment. Even if you're hiring equipment, you may need a more generous policy as more than half provide less than £500 of cover. Avalanche cover is another consideration in case you need to find alternative accommodation; Defaqto say that 20 per cent of policies do not offer avalanche delay cover at all.
If you're intending to take a sleigh ride or go heli-skiing, ensure you're covered for them – and for extra peace of mind investigate any local insurance top-ups. "It may be worthwhile paying a small premium for local insurance to cover you for rescue and transport," says Mr Atkinson. "In France, the Carré Neige is only a few euros a day and covers rescue and some basic doctor's bills."
Case Study
Guy Oakley, Marketing manager
Guy Oakley, 36, from Windsor, broke his collarbone when snowboarding in the French Alps last year. "I got caught in a white-out and hit a patch of ice," he says.
"Fortunately, I was fully insured with Snowcard and claimed back all the medical treatment. They also paid for a taxi to drive me two hours to Lyon Airport, re-arranged my flight home and covered physio treatment for two months back in the UK".
The bill would have been £2,500 but was covered with an annual travel insurance policy costing around £60 which included an excess waiver.
Join our new commenting forum
Join thought-provoking conversations, follow other Independent readers and see their replies