The Independent's journalism is supported by our readers. When you purchase through links on our site, we may earn commission.
The winter dilemma: cover up or risk it?
Pick wisely when it comes to insuring against the worst the wind and snow can throw at you, says Neasa MacErlean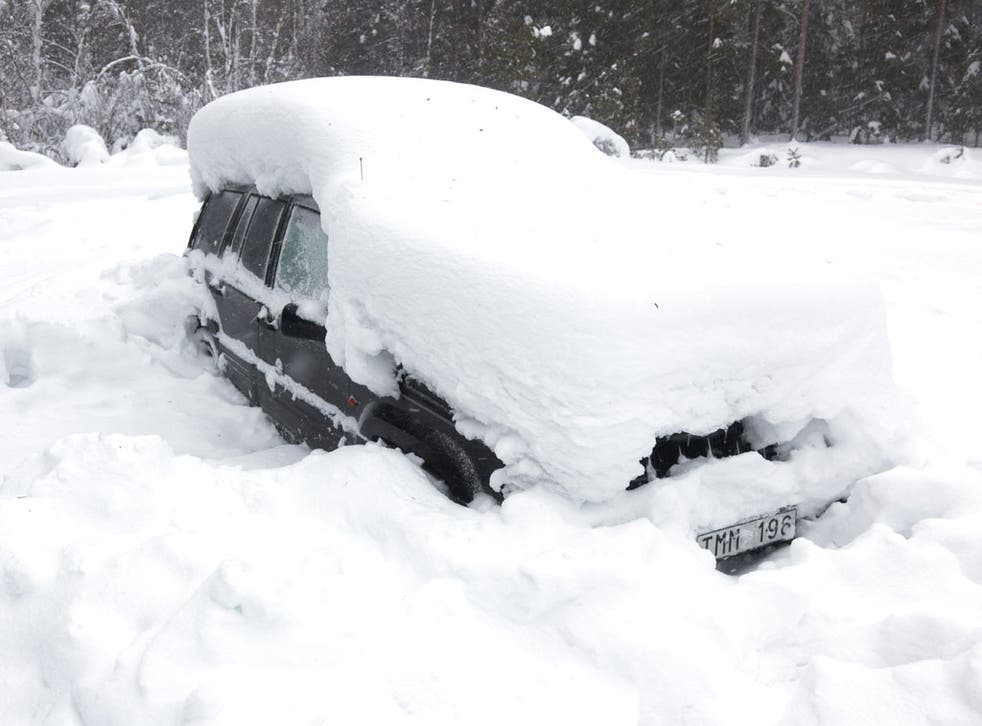 The Highways Agency, Met Office, AA and emergency services providers and planners are all starting to prepare now for winter. Ordinary residents and motorists could also begin getting ready too, as cold weather, strong winds and heavy rainfall can set in very fast. Scotland is used to getting snow in October, and the Met Office calculates that the UK is affected by 20 days of sleet or snow in the average year.
People who do not prepare for bad weather stand a strong chance of suffering. More than one in four households suffered damage in the winter period two years ago, according to AA Insurance and pollsters ICM.
The main areas of vulnerability for all of us in bad weather include our boilers and heating systems, the warmth and water-proofing of our houses and the safety of our transport systems, particularly our cars and the roads we use.
The best way to protect ourselves is, clearly, to ensure that our homes and vehicles are as safe and water-tight as possible. But we can also buy insurance if we think that we are still exposed to major weather risks.
Boilers
About 41 per cent of Which? readers have boiler cover. But the signs are that homeowners could do without it if they keep their boilers and heating systems in good condition. Boilers are the responsibility of landlords so people who rent do not have the financial burden of maintaining them, although they will want to be sure that their boilers continue to work well. Which? calculates that the "average cost of an annual boiler service is £70, while the cheapest annual service contract costs around £140 without call-out fees". Worcester Bosch's service plan, costing £171 a year, comes out top of the Which? customer ratings with a mark of 74 per cent. On one-off servicing, independent engineers and plumbers get higher customer ratings (averaging 86 per cent) than British Gas (42 per cent).
Boiler cover can be included, as a standard feature or as an add-on, in home contents policies, or they can be bought as stand-alone insurances.
Emergency cover
Home emergency cover can be bought separately to cover problems such as leaking roofs, broken windows, boilers that have stopped working and failing central heating systems. Some of these issues can also be insured through home insurance policies. The kind of complaints made on them relate closely to weather conditions. "Burst pipes are on the increase," says Steve Foulsham, head of technical at the BIBA (British Insurance Brokers' Association). "It's of concern to insurers."
The Financial Ombudsman Service – the body which adjudicates complaints when consumers have exhausted the complaints system of the organisation they bought their policy from – is upholding consumer complaints in nearly half (47 per cent) of household insurance claims. Common problems, says the Ombudsman, include "claims being rejected because there was not a single 'storm' that caused the damage" and "complaints about properties being considered unoccupied when damage has occurred".
Homes are particularly vulnerable when they are empty. Steve Foulsham of the BIBA suggests keeping the heating on at a low level (or even draining the water system for longer trips away) so that freezing of pipes is less likely to occur.
The majority of Which? members appear to have some version of home emergency cover – 37 per cent on stand-alone policies, 23 per cent as a standard part of their home insurance and a further 8 per cent who purchased it as an add-on to home cover. However, of those who have made a claim, 42 per cent had to wait until the day after they reported a problem to get help and 30 per cent felt that their policies had failed to deliver.
Roadside assistance
Car breakdown cover is an area which is developing fast, not least because of the difficult weather conditions of the past few years. In January this year, the AA saw a 28 per cent rise in claims as 100mph winds hit some parts of Britain. In February, call-outs to the AA rose 80 per cent on usual activity levels as ice and freezing fog brought chaos for many motorists.
Problems are caused by external objects as well as by the car's mechanics failing. In high winds, dislodged roof tiles and flying branches are a widespread source of damage. But wheelie bins and even garden sheds can be lifted by the wind if they are not securely tethered or weighed down.
Some drivers have been buying specialist snow tyres for winter. Sales of winter tyres "have rocketed but are still not widely used", says Ian Crowder of AA Insurance. A problem in which some insurers saw the fitting of snow tyres as a modification to the car, thus invalidating a potential claim, has largely been resolved now in the consumers' favour, say the BIBA and AA Insurance.
The Highways Agency is meeting contingency planners such as the AA, RAC and the Met Office next month to discuss the issues for this winter. There will be concern that last winter, which was relatively mild most of the time, will have pushed planning issues down the agenda for many drivers. As winter draws in, more messages will go out to encourage motorists to have a spade in their car, a blanket, survival kit and some water. People tend to think of the principal road problem as a snow drift, says Andrew Howard, head of road safety at the AA, when a more dangerous problem is often "long traffic jams with people trapped overnight". Howard strongly urges people to keep an old sleeping bag or blanket in the car.
"You don't starve in a hurry but you do freeze," he says.
If people are worried about a trip they are going to make, Howard suggests that they ring ahead to ask people at their destination about conditions and the best roads. "Quite a lot of the time it is the last four or five miles which will cause the problem," he says. And, if conditions do deteriorate to the extent that roads have to be cleared, Howard adds: "Always stick to main roads. They will get treated first. That is the way the entire system works."
The Ombudsman is finding in favour of consumers in just under half (47 per cent) of roadside assistance cases now.
Which? points out that a particular problem on these policies is that premiums can go up heftily if they are automatically renewed. The magazine cites the example of a two-car two- person policy which cost £140 in the first year, was put up to £205 on automatic renewal and which was lowered to £135 when the policyholders complained.
A common claim which is just about always turned down is when an owner leaves the keys in the car which is then stolen. This happens particularly often in icy weather. "People start the car up," says Ian Crowderon frosty mornings. "They pop back in the house for a cup of tea and wonder why the car isn't there when they come out. If your car is stolen this way the insurers will not pay out on it."
Thieves are becoming very alert to the kind of opportunity that weather can present to them.
Boiler protection 'buys only a peace of mind'
Roy Gooderson, a buy-to-let landlord of 25 years' standing, lets six apartments in the Whitstable area. Would he buy boiler cover for them? "Absolutely not," he says, explaining that he feels he would be out of pocket had he done so.
Mr Gooderson has good, long-standing relationships with gas fitters and services and relies on them – and his own knowledge – to keep boilers in good condition.
Nevertheless, Mr Gooderson is happy that his mother has taken out a boiler cover contract with British Gas. "It's only a good idea for people who want peace of mind," he says.
Modern condensing combi boilers dispose of water through a pipe that goes outside. "The biggest call-out for gas fitters in winter is when the condensation pipe freezes," he says.
So, in his own properties, he uses other solutions to avoid this happening, such as linking the pipe to the washing machine discharge.
He has all his boilers inspected once a year but thinks the new boilers have a shorter lifespan than their predecessors, and he prefers to change them every 10 years.
"I wouldn't have a brand new boiler serviced for two or three years," he says, believing that the technology is such that they should rarely have problems in that period. And boilers are so tightly regulated and cut off so quickly if anything appears to go amiss that safety is no longer an issue, in his view.
Links
AA www.theaa.com/motoring_advice/seasonal/winter-checklist.html
Financial Ombudsman Service www.financial-ombudsman.org.uk, 0800 023 4567 and @Financialombuds
Gas Safety Register (to check that gas fitters are registered) www.gassaferegister.co.uk
Highways Agency Information Line 0300 123 5000 and www.highways.gov.uk/traffic
Institute of Domestic Heating & Environmental Engineers (including calculator to work out boiler size for consumers): idhee.org.uk/homeframes.html
Met Office (5 and 30 day forecasts): www.metoffice.gov.uk/public/weather/forecast/?tab=5day
Register for free to continue reading
Registration is a free and easy way to support our truly independent journalism
By registering, you will also enjoy limited access to Premium articles, exclusive newsletters, commenting, and virtual events with our leading journalists
Already have an account? sign in
Register for free to continue reading
Registration is a free and easy way to support our truly independent journalism
By registering, you will also enjoy limited access to Premium articles, exclusive newsletters, commenting, and virtual events with our leading journalists
Already have an account? sign in
Join our new commenting forum
Join thought-provoking conversations, follow other Independent readers and see their replies