Is one-year borrowing worse than a payday loan?
You don't have to pay 5,853 per cent interest to get cash... Chiara Cavaglieri checks other options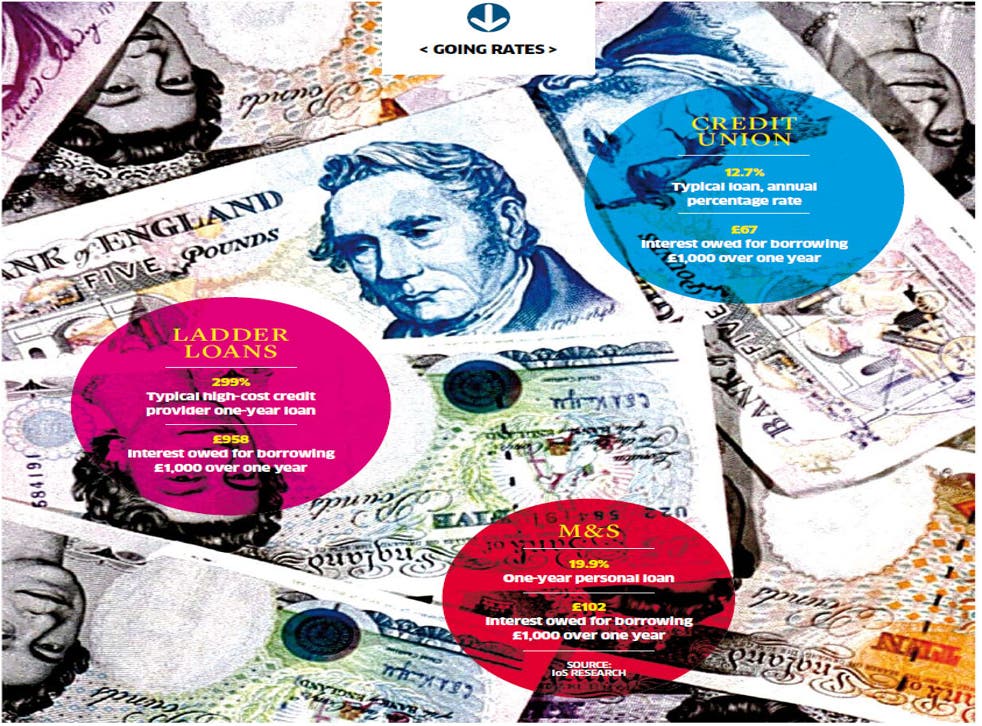 It would appear that warnings against the toxic nature of payday loans have had little success, after Wonga's recent announcement that it made pre-tax profits of £84.5m, up 35 per cent. Even if the message is slowly getting through, borrowers now need to watch out for another breed of companies offering short-term loans – the 12-month lenders.
One-year loans have managed to escape some of the wrath aimed at payday lenders, but they are potentially more dangerous because the headline interest rate is lower. The likes of Wonga have absurd annual percentage rates (APRs) of 5,853 per cent while many companies offering 12-month loans charge 299 per cent. The truth is that the APR on a 30-day loan is somewhat misleading because they are – theoretically at least – designed for very short-term borrowing, but over a whole year you'll be paying interest for much longer and that's when an extortionate rate is a worry.
They may insist otherwise, but the target audience for both payday and one-year loan companies is the vulnerable – the television adverts and marketing material tempt borrowers by offering hundreds of pounds in their accounts in a matter of minutes. Many say that they accept people with bad credit histories, raising concerns that short-term lenders fail to check whether borrowers can really afford to repay the loans in time. Regulators have also criticised firms encouraging customers to roll over loans, which can lead to the total debt spiralling out of control.
"One-year loans should be treated with caution as they can be an extremely expensive way to borrow. People should consider all their options, or seek free independent debt advice if they are struggling with their finances. The high-cost credit market is dogged by poor practice," says Which? executive director Richard Lloyd.
On the Pounds to Pocket website the blurb boasts that "there are no hidden fees" and "you can even repay your loan early with no pre-payment penalties". While this may be a relief to someone with fairly low expectations of being treated fairly, there are some other areas of real concern. The inflated interest rate, for starters – they cite an example loan of £1,000 over 365 days with 12 payments of £158.19, equivalent to 278 per cent APR. Other companies charge even more, with Ladder Loans asking for £163.10 per month on a £1,000 loan, working out to 299 per cent APR.
To get an idea of just how expensive these loans are, Marks & Spencer offers a one-year loan at 19.9 per cent APR costing £91.82 per month. The total amount repayable with M&S would be £1,102 at the end of the year, a staggering difference of over £850 compared to the Ladder Loans loan (£1,958). On top of this you could be stung with late payment penalty fees (both Pounds to Pocket and Quick Quid hit you with an automatic charge of £12) and if you miss several payments in a row many of these firms play hard ball and demand the full balance and any unpaid interest.
There may be long-term damaging effects too as payday loans can make it more difficult to get a loan, mortgage, overdraft and even credit card if lenders differentiate between payday loans and high street loans when looking at your credit report.
"Lenders' scoring systems are built by modelling actual customer data. As a result, if a particular lender's experience is that customers who take out payday loans are more likely to miss their repayments, this will be reflected in their credit scoring," says James Jones of credit reference agency Experian.
The good news is that there are many alternatives to short-term loans. If you use an existing credit card and clear the whole card in full the following month you don't pay any interest at all. If you have a poor credit history you may be able to apply for a card offering a 0 per cent introductory deal. The market-leading cards are reserved for people with the best records but you are far more likely to be accepted for shorter deals such as the Barclaycard Initial, which gives 0 per cent on spending for five months. You must pay at least the monthly minimum or you lose the interest-free bonus and if you don't clear the card before the end of this period the interest payable is a hefty 34.9 per cent representative APR (although this is still cheaper than short-term and payday loans).
Before you apply for additional loans or credit cards do check your credit record. There are lots of ways to improve your score including getting rid of old credit cards you no longer use, registering to vote at your current address, and reviewing your report to check everything is accurate (you can also add a notice of correction to explain any missed payments).
Credit unions are another option. Members are offered cheap loans with no set-up fees or early redemption charges and the maximum a credit union can legally charge is 26.8 per cent APR. Many charge no more than 1 per cent a month on the reducing balance of the loan (an APR of 12.7 per cent), equivalent to paying back a maximum £1,067 in total if you borrowed £1,000 over a year. These are independently-run co-operative organisations which provide loans, savings and occasionally current accounts.
"Many credit unions help members to escape from the high-cost trap of payday lending," says Mark Lyonette from the Association of British Credit Unions.
An authorised overdraft can also be a useful way to borrow small sums. Most banks offer arranged overdraft limits charging an average interest rate of 16 per cent according to Moneyfacts.co.uk, and some offer interest-free overdrafts for a certain period. But you should steer well clear of unauthorised overdrafts as these have monthly fees from £5 to £35 or more as well as transaction fees for every cash withdrawal, direct debit, standing order, cheque and card payment.
Register for free to continue reading
Registration is a free and easy way to support our truly independent journalism
By registering, you will also enjoy limited access to Premium articles, exclusive newsletters, commenting, and virtual events with our leading journalists
Already have an account? sign in
Register for free to continue reading
Registration is a free and easy way to support our truly independent journalism
By registering, you will also enjoy limited access to Premium articles, exclusive newsletters, commenting, and virtual events with our leading journalists
Already have an account? sign in
Join our new commenting forum
Join thought-provoking conversations, follow other Independent readers and see their replies