Low hopes for a happy new financial year in 2014
Consumers who put Christmas on credit are expecting their finances to worsen in the year ahead
Paul Gallagher
Sunday 29 December 2013 01:00 Comments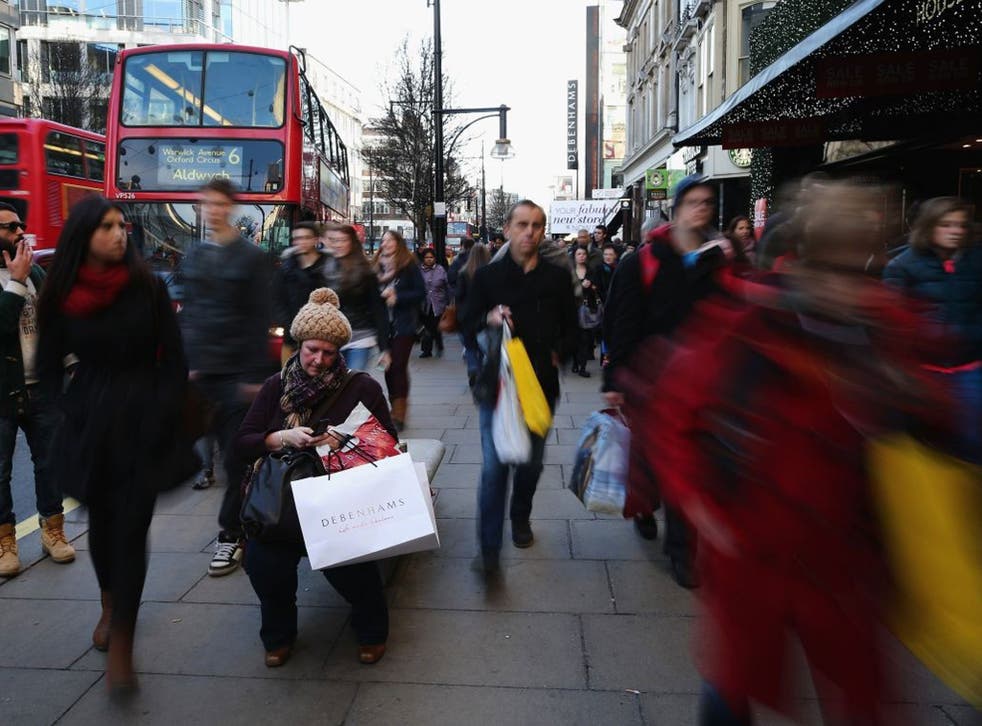 Millions of people who relied on credit to fund their Christmas will feel their budgets squeezed even tighter next year, according to a new survey.
As household bills continue to rise, almost half of us expect our financial situation next year to be tougher than in 2013. Only three in 10 expect their family's situation to improve in the new year, while 60 per cent said they are already dreading the arrival of their winter energy bill.
The Which? survey also found that 13 million people could afford to pay for Christmas only by borrowing, with more than four in 10 using credit cards, loans or overdrafts to fund their festive spending. A third of people (34 per cent) also dipped into their savings, taking an average of £450 from their accounts.
The research comes as the Institute of Public Policy Research (IPPR) warned that the economic recovery in 2014 will be "bittersweet". The think-tank said further growth will arrive just as consumer gloom increases, with the household debt bubble inflating again.
Of the Christmas borrowers, 76 per cent spent the money on presents, with 22 per cent using credit to pay for food over the festive season. About 2.5 million say it will be well into the summer next year before they can pay off December's debts.
Older people will be the hardest hit by the latest squeeze in living standards, with 57 per cent of 50- to 64-year-olds saying that their household budget will be tighter next year.
Richard Lloyd, Which? executive director, said: "Despite continuing signs of an improving economy, it seems that families are still really feeling the squeeze, with millions of households pessimistic about their finances in 2014 after relying on savings or debt to fund Christmas spending.
"We want a new year resolution from the Government to do more to help hard-pressed consumers in 2014 by getting a grip on the cost of essential bills, and a resolution from firms to make sure they are giving customers the best possible value for money."
Tony Dolphin, chief economist at the IPPR, said there was a danger that better economic news could lead to "complacency", despite the fact that the next debt bubble looms on the horizon. He also criticised ministers for not doing enough to boost industry – instead opting for policies such as Help to Buy, aimed at first-time buyers wanting to secure a home with as little as a 5 per cent deposit, which would only lead to greater debt.
Mr Dolphin said the recovery could prove unsustainable for millions of voters. The UK debt bubble is expected to reach 160 per cent of household income by 2018 because the country is still living beyond its means following the financial crisis of 2008.
He said: "There is a danger that a stronger economic recovery and good news on the jobs front will lead to complacency. Instead, we should be alarmed that growth is being driven by exactly the same mix of factors that contributed to the depth of the last recession.
"The Government has introduced Help to Buy, which generates more debt, rather than focusing its efforts on boosting investment spending in the manufacturing sector.
"While there are external factors that have held back exports, the Government has in a sense run out of ideas for the economy and gone for the easy option of boosting the housing market. In the global economy, we are truly living beyond our means, and have been doing so for three decades."
Referring to the growing divide between rich and poor, Mr Dolphin said: "Strong growth in the short term does not mean that structural weaknesses in the UK economy, which became more evident during the great recession, have been eliminated. Unless we move to adopt a new economic model, the recovery will prove unsustainable and bittersweet for those who do not benefit from it before it is extinguished."
Although family incomes have recovered to their strongest levels in at least three years, the divide between the "haves" and "have nots" is growing, a separate report has found. The average monthly income was £2,166 in December, marking the highest figure seen since Aviva's regular family finances report started in 2011 and following 18 months of steady increases.
Despite the overall improvement, families are now separated by a bigger income gap than in January 2011, the report said.
Register for free to continue reading
Registration is a free and easy way to support our truly independent journalism
By registering, you will also enjoy limited access to Premium articles, exclusive newsletters, commenting, and virtual events with our leading journalists
Already have an account? sign in
Join our new commenting forum
Join thought-provoking conversations, follow other Independent readers and see their replies