Don't be conned by excessive service charges
Leaseholders are banding together to tackle inflated bills set by managing agents. Alison Shepherd reports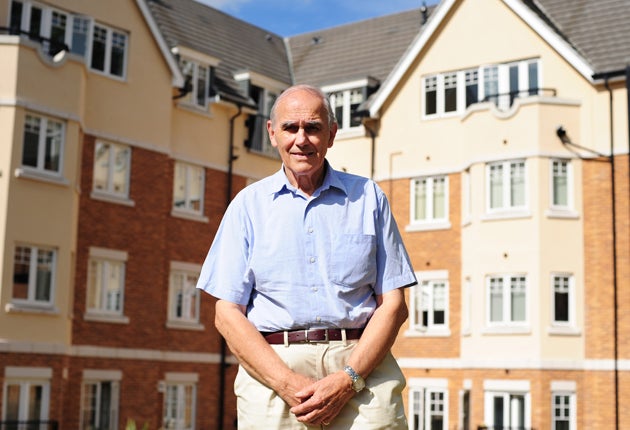 John Cooper, who has spent 13 years fighting with his freeholder's agents rather than enjoying his home, has no doubt: "Managing agents are not registered, need no professional qualifications, operate with no client money rules, and in my personal experience are a complete disaster."
Mr Cooper, a chartered accountant, first ran into trouble with the managing agents of his south-west London mansion flat when he moved in and tried to get a leaking roof fixed. "It took more than three years to get it repaired properly. By then, I had become suspicious about the bills. Many just didn't ring true," he says. "But whenever I questioned them, the managing agent just fobbed me off and refused to show me the paperwork."
It was only when the whole block was roused to fight a £300,000 bill for a new boiler and boiler room that Mr Cooper began to make headway. The leaseholders were suspicious as to why a new boiler with a 25-year working life had failed after 18 months and why the whole boiler room needed rebuilding. "They are supposed to keep at least seven years of accounts, but they had lost five," says Mr Cooper. "What was left was enough to show that they had misspent our money, sometimes charging us for work done in other blocks they managed, and that they had inflated and invented work for which they charged us."
Armed with his evidence, Mr Cooper and his neighbours forced the company to waive some of the dubious costs, and it has agreed to redecorate inside and outside the building – at a cost of £500,000.
This is not a one-off incident, according to Mr Cooper, whose firm helps other leaseholders to carry out forensic audits of managing agents' accounts. "There's no one regulating these cowboys," he says. "Their accounts aren't audited properly and there's nothing forcing them to get a decent price for whatever legitimate work is done. They make their money by waiting for major works for which they charge a 10 per cent 'management fee'. With that and the annual service charge they get, why should they bother about customer service?"
According to the Association of Residential Managing Agents (Arma), complaints in 2009 had reached 281, a 60 per cent increase on the year before. Of these, more than a third were about the level of service charge.
"Our members are required to have a proper, transparent complaints procedure and are obliged to follow a code of practice," says David Hewett, Arma's chief executive. "We can remove companies from our register, but we cannot stop them trading, which is why we are calling on the Government to introduce statutory regulation."
But Grant Shapps, the Housing minister, has abandoned the previous government's attempts to regulate, saying last month: "With the vast majority of England's three million leaseholders happy with the service they receive, I am satisfied that the current system strikes the right balance between the rights and responsibilities of tenants and landlords."
Leaseholders have to rely on each other and the systems already in place. "There's been improvement in regulation," says Tony Essien, the chief executive of Lease, the leasehold advisory service. "Leaseholders, if they are in the majority, have the right to manage or appoint their own agents without having to buy the freehold. The Housing Ombudsman can rule on maladministration and there are leasehold valuation tribunals." These can make legally binding decisions on disputes with managing agents.
But before events get to the legal stage, Mr Essien urges leaseholders to contact his service. "As soon as you have an issue, or even suspect there may be an issue, contact us and ask for advice. We offer a mediation scheme so that disputes don't have to be resolved in court or a tribunal."
Leaseholder Bob Suvan set up his own agency, BlocNet, which claims to offer leaseholders complete transparency. Residents can log on to the company's system and track every piece of work in their building. "Leaseholders can see immediately where their money is being spent and why. This can be the only industry in the world where the people who actually pay the bills have so little say in how that money is spent. Such a huge percentage of the population live in flats and are affected by these things."
Mr Cooper warns that agencies thrive on the inertia of leaseholders. "When you get home from work, the last thing you want to do is exercise your right to inspect their books, but they rely on that. Get together with your neighbours, form a strong committee, tap into the skills that are bound to be there."
Fight back: How to take on the managing agents
Peter Smith owns a flat in Camden, London. "We noticed a steady increase in annual service charges from £2,400 in 2000 to over £7,000 a unit in just four years," he says.
"When the agents presented us with a bill for £28,750 for work on the building, we fought it and had to pay only £100 each. That's when we set up a residents' association. There was a complete lack of control, lack of monitoring of the work we were being charged for and a lack of proper of accounting. They decided to settle with us just before the leasehold valuation tribunal – giving us £123,000 in compensation and returned charges. It was an enormous success, costing us just £1,800 for the solicitor's advice. Anybody can do it. Be bold."
Join our commenting forum
Join thought-provoking conversations, follow other Independent readers and see their replies