Help to Buy 'fuelling a new housing boom'
Fears of another property bubble as prices leap in May at their fastest rate for six years.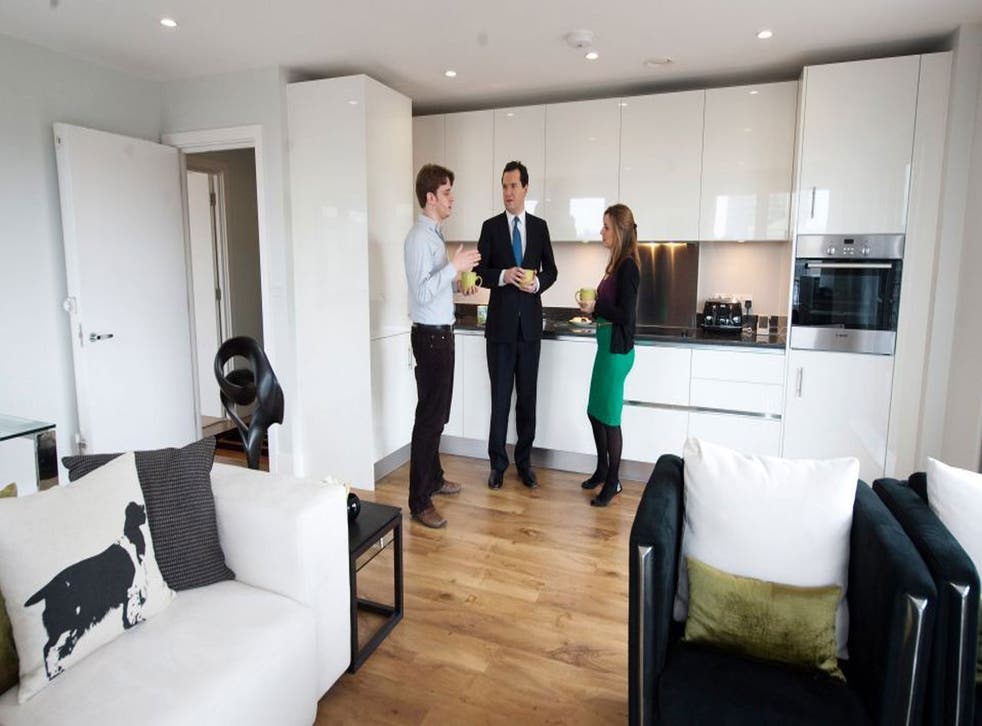 Fears that George Osborne's Help To Buy scheme could lead to a new housing bubble have been exacerbated by new figures showing that house prices grew faster in May than at any time in the past six years.
According to Hometrack prices rose 0.4 per cent last month, the most since May 2007. The Nationwide house price index, based on the building society's lending data, also recorded a 0.4 per cent rise in May.
The house price increase comes at a time when Help To Buy, unveiled in the March Budget, has come under increasing attack.
Critics, including the outgoing Bank of England governor Sir Mervyn King, the Royal Institution of Chartered Surveyors, the Organisation for Economic Co-operation and Development, and various campaigns for affordable housing, have warned that Help To Buy risks fuelling a new housing boom.
Help To Buy is designed to boost mortgage lending and help buyers with small deposits get on the property ladder. But it's been dubbed "help to sell" by groups campaigning for affordable house prices.
One such group, Priced Out, says the main Help To Buy winners will be developers and existing homeowners, including landlords, who will find it easier to sell at inflated prices.
"Pumping more money into a housing market with chronic undersupply has one surefire outcome – pushing up house prices. At best it may help a small number of new buyers, but it will mean housing becomes more expensive for all those that follow," said spokesperson Duncan Stott.
"The major problem faced by first-time buyers is high prices and the daunting levels of debt needed to enter homeownership. Of all the policies you could think of to tackle this, it is harder to think of a riskier or more short-term policy than Help to Buy."
Help To Buy comprises two parts: shared-equity loans and a mortgage guarantee. The shared-equity part of the scheme has already begun and offers a 20 per cent equity loan to anyone, not just first-time buyers, buying a new-build home, meaning they can do so with just a 5 per cent deposit. The guarantee part of the scheme starts in January 2014 and will incentivise lenders to offer those with smaller deposits better mortgages, because the Government will guarantee 15 per cent of the loan.
Both parts of Help to Buy are set to run for three years but Sir Mervyn has warned the scheme must not become permanent. He says Help To Buy is "too close for comfort" to the United States mortgage guarantee schemes that triggered the financial crisis and should not be extended in three years' time.
But although Mr Osborne has insisted Help to Buy is not aimed at pushing up prices, experts say encouraging first-time buyers to take out mortgages with high loan-to-value ratios will do just that. The OECD has warned that "without a sufficient supply response, some measures could create upward pressure on house prices".
Help To Buy isn't the only one of the Chancellor's schemes that has come under attack recently.
In April the Bank of England gave the go-ahead for banks using its Funding For Lending scheme to lend the money to property investors. To encourage banks to lend, every pound of additional net lending to SMEs, including landlords, during the remainder of this year will entitle them to £10 of access to cheap funding and £5 next year.
Danny Gabay, a director of Fathom Consulting, has described FLS as "funding for letting" and claimed that it is contributing to growth in "the buy-to-let sector at the expense of first-time buyers".
Register for free to continue reading
Registration is a free and easy way to support our truly independent journalism
By registering, you will also enjoy limited access to Premium articles, exclusive newsletters, commenting, and virtual events with our leading journalists
Already have an account? sign in
Join our new commenting forum
Join thought-provoking conversations, follow other Independent readers and see their replies