Home in on the property hotspots
House prices are set to rise. Rob Griffin looks at whether your area has got what it takes to benefit from the boom
Saturday 15 August 2009 00:00 BST
Comments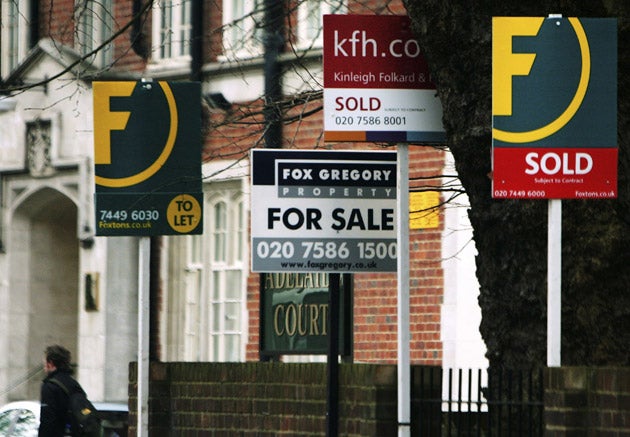 They may not appear to have much in common, but Bagshot in Surrey, Liphook in Hampshire, and Salford in Greater Manchester are all places where house prices are predicted to rise over the next five years.
These potentially lucrative locations, along with Gateshead in Tyne and Wear, Dronfield in Derbyshire, and Ebbw Vale in Gwent, have been tipped to recover quickest from the slump by propertyforecasts.co.uk.
The 11 names are expected to benefit from a variety of factors, such as decent local employment opportunities, exciting infrastructure projects, a strong demand for housing, recent valuation falls, and the low cost of borrowing.
Mandy Bradley, director of propertyforecasts.co.uk, believes these attractive qualities could help push prices up 50 per cent by 2014, although this is still considerably lower than the annual 30 per cent hikes seen during the recent boom.
"The property market is very patchy, with many factors affecting the relative attractiveness – or otherwise – of a neighbourhood," she said. "These include a shortage of property, a strong local labour market and good schools."
The data is the latest piece of good news for the UK property market and follows the publication of official government figures which showed that average values rose 2.6 per cent in the quarter ending June 2009.
It will also be welcomed by estate agents who have seen a dramatic drop in business since the crash in 2007, and by homeowners looking to sell their properties over the coming months.
The fact that decent hikes across the UK are being predicted is encouraging, even though it's important to acknowledge that movements will vary on a very local level.
"It's also great to see apparently less-attractive places looking to perform well over the next few years," said Bradley. "This may be in reaction to local-regeneration projects, both in terms of infrastructure and in tackling social problems."
Separately, figures from the independent website For Sale Sign Analysis ( www.forsalesignanalysis.co.uk) reveal an increase in the number of sale boards that are converted to "sold" around the country.
Within normal market conditions, this rate would usually be around 40 per cent, but although this dropped to just 14 per cent by last October, it has been gradually creeping up in a number of towns and cities.
For example, the conversion rate in Wantage, Oxfordshire is currently at 62 per cent, suggesting that homeowners living in the market town have a strong chance of finding buyers should they be looking to move.
It's a similar story in nearby Didcot, as well as Beckenham in Kent, Wendover in Buckinghamshire, and St Ives in Cambridge. All of these areas have a rate of more than 50 per cent.
At the other end of the scale, however, is Gainsborough in Lincolnshire and Abergavenny in Gwent, whose percentages are in single figures. Blackpool, and Ilkeston in Derbyshire, both on 11 per cent, fare little better.
How quickly properties sell in an area – and thus the speed at which a recovery takes place – depends on supply and demand, and prices falling to attractive levels, according to Kate Faulkner, managing director of website designsonproperty.co.uk.
"Areas where demand is higher than supply will recover faster," she said. "Typically, they will have good schools and a strong local economy that doesn't rely on one or two key employers, or industries affected by a recession."
Conversely, areas which take longer to recover are generally those where the local economy is poorer and fewer people own their properties. They are also likely to be in the throes of regeneration, so have more new builds, so supply is not such an issue.
Does the fact prices are being forecast to increase in certain areas mean that prospective buyers need to act fast or run the risk of missing out on a bricks-and-mortar bargain?
Not according to Mandy Bradley. These figures shouldn't be taken as a guarantee that every region of the country will enjoy a full-blown recovery, she insists, while even those regions that do could find the increases are rather modest.
"For all these promising locations, there are always those which will not perform as well," added Bradley. "Average growth over the next five years in England and Wales is expected to be 18.5 per cent for houses but less than 15 per cent for flats."
It's also worth bearing in mind that UK house prices had fallen 10.7 per cent in the year to June 2009, according to the Department for Communities and Local Government, with the average property now worth £191,423.
So how can you improve your chances of buying at the right price and finding a future hotspot? We consulted a range of estate agents, analysts and property-industry observers to draw up a five-point guide to point you in the right direction.
Decide on your goals
Are you simply wanting the perfect family home, or do you have one eye on a property's potential investment value? If it's the former, then you will know what you want in a house and whether key factors, such as proximity to good local schools, are important. If it's the latter, you will need to view it through other buyers' eyes, so consider whether access is being improved, such as a new link road or train service, or major improvements are under way. Areas where the local council is spending millions of pounds on regeneration projects generally should have the best longer-term potential.
Beginning your search
Consider areas whose neighbouring towns and cities have enjoyed substantial valuation hikes in the recent past, as they can benefit from the knock-on effect of buyers being priced out and looking for relatively nearby alternatives.
Another important consideration is the potential resale marketplace. For example, properties in areas which are popular with holidaymakers are likely to be easier to sell in the future should you want to cash in your investment.
Although it depends on the local vicinity, certain properties usually remain popular, believes Faulkner. "Two-bedroom terraced homes and three-bedroom Victorian properties near good schools, amenities and train stations are the best bet," she said.
What's your chosen market?
Keep an eye on what types of properties are selling quickly and which are hanging around in the windows of estate agents. Even with prices edging upwards, there's still the chance of finding bargains, and most people whose houses have been on the market for at least six months will be willing to listen to offers. Visit dedicated property websites, read local newspapers closely and get on friendly terms with local agents. The more knowledge you have about the local market, the better.
Get your timing right
Are you among the first to have identified this potential hotspot – or are prices already reflecting increasing interest? If you're reading about an area, then the chances are your opportunity has been and gone. Your best chance of making a profit will be by identifying somewhere that rival property buyers have overlooked for some reason.
Do your finances – and negotiate hard
Check to see how much you can afford, and consider using the services of a mortgage broker such as London & Country who can scour the market for the best deals. Ensure you can afford the repayments and always have between £2,000 and £5,000 set aside in case of emergencies. When you're speaking with the vendor, don't show too much enthusiasm and keep your cards close to your chest, advises Dr Sandi Mann, co-author of Upping Sticks: How to Move House and Stay Sane. "Do not let them know how much you can afford until the last minute," she said. "Honesty is not always the best policy when it comes to buying tactics."
Reconsider everything before buying
It's an old cliché, but don't let your heart rule your head. Even if a property seems ideal – and in an area you believe is on the up – make sure you're not persuaded into paying over the odds. The property market is notoriously unpredictable, so being cautious could save you a fortune. Make sure you have read the Home Information Packs and revisit your research before making a final decision.
Location location: Where to buy
Average predicted growth over five years
Houses:
Ebbw Vale (Gwent) 50%
Liphook (Hants): 48%
Bagshot (Surrey): 44.5%
Shefford (Beds) 44%
Dronfield (Derbys): 36%
York (Yorkshire) 35%
Ellesmere Port (Ches): 33%
Salford (Manchester): 32%
Flats & maisonettes:
Bagshot (Surrey) 49%
Liphook (Hants): 48%
Abergele (N Wales): 45%
Gateshead (Tyne & W) 33%
Altrincham (Cheshire): 30%
Source: www.propertyforecasts.co.uk
Join our commenting forum
Join thought-provoking conversations, follow other Independent readers and see their replies