Time to grab a Spanish bargain – but be careful
Desperate to lure foreign buyers back to its property market, Spain's government has cleaned up the buying process. Chiara Cavaglieri and Julian Knight report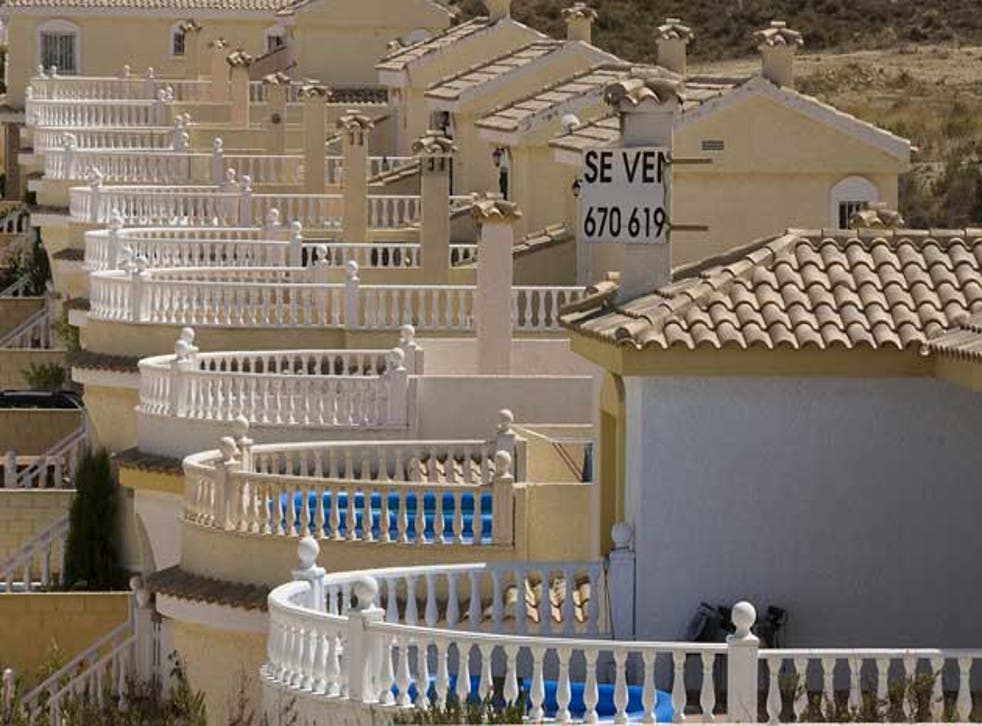 With an economy in turmoil and a reputation tarnished by tales of dodgy developers and legal nightmares for expats trying to buy their dream home, the Spanish property market has been something of a disaster zone for the past couple of years.
Yet some say now is the perfect time to snap up a bargain, with the country's banks trying to offload repossessions and new rules being introduced by the government to improve Spain's image and tempt back British buyers.
"We are in the middle of a big PR push by the Spanish government to get the Brits back," said Richard Way, editor of A Place in the Sun magazine. "We already have heavy discounts – depending on the area and the financial position of the developer – now the government is trying to sort out some of the legal and ownership problems which have given the country's property industry such a bad press."
In an attempt to persuade Brits that they will not fall foul of some of the country's numerous property scandals, measures are now in place to make the system more transparent. First and foremost, expat buyers can go to their local town hall to request a translated land registry certificate.
"The new initiative to enable local town halls to issue land registry certificates is a welcome move in the right direction, as long as any local delegated authority, such as this, is not overturned at a later date by central government," said Louise Reynolds, of agent Property Venture.
These certificates, known as nota simples, cost €29 (£25) plus VAT, and include the seller's details, a property description and any charges and embargoes against it. These can be obtained online from the Colegio de Registradores, land registry, buyingahouse.registradores.org).
Other improvements introduced by the Spanish government mean that properties deemed to be fuera de ordenación – not built to current building regulations – can be registered on the land registry as long as they are at least four years old, in order to protect owners who, in many cases, bought in good faith. For anyone buying off-plan, information about any legal proceedings brought against the property, which could result in fines or demolition, must be incorporated into the land registry. Town halls are obliged to provide registrars with this information and will be held financially accountable for any losses incurred by those buying in good faith.
In a bid to support off-plan buyers, it is no longer possible for a new home to be registered on the land registry unless it has the license of first occupation, a construction license and a technical certificate stating that the building corresponds to the plans for which the license was granted.
"Making the local authorities accountable is also a shrewd move to help address potential corruption that has been an issue for some town halls on the costas in the past," said Ms Reynolds.
All good news, but these measures will do little to comfort existing homeowners struggling in Spain, many of whom sunk their cash into new developments, which were later declared illegal by local authorities. These homeowners now face the threat of demolition because their property was built on restricted land, or because developers seeking a fast buck built and sold properties without planning consent. Other horror stories are told of couples spending their life savings on the deeds to land with hundreds of thousands of pounds worth of debt signed over to it, or off-plan buyers who ended up with a home that fell well short of what was promised, or even nothing at all because their developer went under.
These tales, coupled with Spain's economic plight, are enough to put many buyers off. Yet the truth is that property prices have gone down considerably in the country. Properties in coastal areas, where most holiday homes are found, fell by 9.5 per cent in the year to July 2011, according to valuations from Spanish appraisal company Tinsa. Across the board, prices fell by an average 6.4 per cent.
In general, getting a mortgage in Europe has become increasingly hard, with many banks closing the door to foreign buyers. However, in Spain, the banks have so many properties to shift that there are some good deals to be found for buyers getting their mortgage and new home from one lender. Several agents are now working closely with Spanish banks to offload some of these homes to Brits and other foreign buyers.
The estate agent Connells (connells.co.uk), for example, is working with Spanish bank Caja Mediterráneo, PropertyRepossessionsSpain.com has links to bank Cajamurcia, and Spanish agency Básico Homes (basicohomes.co.uk) now has a UK arm headed up by Robert Evans. According to Mr Evans, in the costas, where most construction took place, buyers can find many well-built developments being sold by banks at attractive prices combined with a mortgage.
"Spanish banks have a lot of property to sell and are really the only option for someone trying to buy a home in Spain with a mortgage. The truth is that it is difficult to obtain a mortgage unless the bank is selling the property," he said.
"Mortgages are available but with the banks holding so many properties they are basically looking to provide home loans on what they have to sell, so those foreign buyers looking to rely on mortgage finance who are not buying a repossession from a bank can struggle," he added.
However, some experts argue that many of the best deals are available for properties that overseas buyers should steer clear of – homes at the lower end of the market likely to be located on over-built, or unfinished developments. "Because a property has a low price tag doesn't mean it's a bargain. Be prepared that with Spanish property you are looking at a long-term investment, maybe 10 years or more before you see capital appreciation," Mr Way said.
For anyone brave enough, the onus is still on the buyer to do their research, carry out due diligence before signing anything and ensuring the property is free of debt and other liabilities. From the start, it's important to hire an independent Spanish lawyer not affiliated or recommended by an estate agent or developer.
"When buying in Spain, it is important to speak to a local attorney who will help handle the agreement, conveyance and possible migration. There are local taxes and fees that the attorney can explain. It can also be helpful to speak to a tax adviser who can find tax incentives to residing in Spain," said Christian de Meillac from agent Knight Frank International.
Expert View
Robert Evans, Basico Homes
The Spanish government has taken this matter very seriously and is working hard to bring some measure of order to those who have lost out buying from developers that have been less than diligent. But it remains a sad reality that many British buyers purchased from British-based or run agencies whose prime motive for sending buyers to a particular developer were very high sales commissions.
Register for free to continue reading
Registration is a free and easy way to support our truly independent journalism
By registering, you will also enjoy limited access to Premium articles, exclusive newsletters, commenting, and virtual events with our leading journalists
Already have an account? sign in
Register for free to continue reading
Registration is a free and easy way to support our truly independent journalism
By registering, you will also enjoy limited access to Premium articles, exclusive newsletters, commenting, and virtual events with our leading journalists
Already have an account? sign in
Join our new commenting forum
Join thought-provoking conversations, follow other Independent readers and see their replies