Tough times call for splitting a home in two
Homeowners are discovering the financial benefits of dividing parts of a large house into several separate properties. Laura Howard reports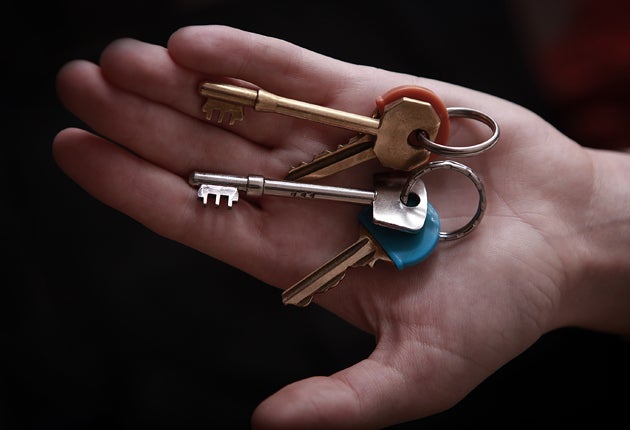 Still licking their wounds after the worst housing crisis in recent history, homeowners are understandably more wary about relying on their property for future capital.
There are, however, some lucky exceptions – those with homes big enough to make into two and who are able to sell off or rent the half they don't need.
According to the most recent data collated by Communities and Local Government (CLG), there were 18.5 million separate owner-occupied homes across England and Wales in 2007. This compares with 16.8 million a decade earlier. "While some of this rise can be attributed to a general increase in homeownership during this time, the figures are also likely to reflect the number of single homes multiplying into two or more properties," said Bernard Clarke at the Council of Mortgage Lenders.
This is especially the case in London, which has a dense population and high living costs. "A good example is when people sell the basement of, say, a four-storey townhouse," says David Smith, a senior partner at London-based estate agent Carter Jonas. "Historically, basements were servants' quarters anyway so they have their own access, meaning the renovation required could be minimal."
Anyone wanting to try this will need planning consent from their local authority to divide their home into two or more properties – and whether this is agreed will depend on a number of factors. "The property will obviously need to be big enough as well as meet building regulations in terms of access; for example, where new doorways and staircases are situated," says Paul Marsh, the past president of the Law Society.
But even a textbook application may not be passed if it does not fit with local authority requirements, said Mr Marsh. "You may not be permitted to convert a large Georgian house in London's Richmond into flats as it would not be in keeping with the area. But in other locations, you would not be permitted to convert several existing flats back into one big property due to a high demand for housing. Each local authority will have its local legal regime established."
This is why if you are buying a home from scratch with the intention of dividing the accommodation into two, it's crucial to establish planning permission in advance. Richard Cass, 64, a director of an architect and property planning company, did just that when he purchased a large but dilapidated 19th-century property in Liverpool's Fulwood Park in 1985 for £75,000.
"The property market was in the doldrums at the time so the house presented a good opportunity for accommodation and investment – but I got planning permission agreed first from the local authority," he said. "As the house was a listed building the process wasn't easy, but my plans were sympathetic to the property's character, and the application went through."
Mr Cass, who was also the developer on the project, paid £250,000 for renovations which took about a year. As the project was a large home made into two smaller ones which had their own access, each property has a separate freehold. But leasehold and freehold arrangements will vary according to the arrangement, says Nicholas Kissen, a senior legal adviser at the Leasehold Advisory Service.
"If you are creating one or more flats in your home, your solicitor would need to draw up new leases which the buyer(s) would be named on. You would remain the freeholder, however, which would deem you responsible for maintenance and repair of common parts such as hallways and staircases – and of the building's exterior. You would also be responsible for buildings insurance."
In most cases, properties will need to undergo major renovations in terms of adding kitchens, bathrooms and separate access – but getting funding for this will be tricky. "As you are changing the nature of the property against which the mortgage is secured, you should first seek permission from your lender," says David Hollingworth at mortgage broker London & Country.
If you want to borrow more against your home to fund the renovation, success with your existing lender will depend on exactly what is being carried out and how much equity is stored in the home. "It could be that you have to move the entire funding to a different mortgage provider that can lend in stage payments, such as self-build where additional funds are released as the project progresses," says Mr Hollingworth. "This means you will also have to consider any early repayment charges that may apply."
Each separate residential home will need to be recorded with the Land Registry. If your home was sold or even remortgaged since the mid-1990s, it will have come under compulsory registration. But as soon as it becomes two homes with the purpose of selling off the new one, you will need to apply for a "transfer of part" or – if you are retaining the home and renting it instead – a "leasehold registration". In either case, the application will be made through your solicitor and fees are relatively minor. For example, a new £200,000 home would cost £200 to register.
According to accountants PricewaterhouseCoopers, whether you rent or sell the newly created property, capital gains tax would be incurred on its sale. This is because, in either case, the extra property would constitute a second home that you never lived in. However, potential profit can justify this and other expenses. Having moved into the first home, Mr Cass rented out the second for the first 18 months before selling it and repaying a large chunk of his initial outlay. The same property sold again three years ago for £1m, while the half Mr Cass still lives in today is valued at £1.2m.
Post-credit crunch, more landlords are left with little choice but to divide a property, says Mark Posniak at Drawbridge Finance, a specialist finance company. "In what is still a difficult property market, people are finding ways to make the most of what they have," he says. "This is why we have seen a considerable upturn in the number of property investors applying for 'refurbishment finance' to fund splitting their existing property into two or more homes. In some cases, the new home is sold off but most landlords retain them and benefit from the higher rental yield."
Mr Posniak adds that, while planning permission is difficult to get, the biggest problem is sourcing funding for the work. This is why experienced property investors use bridging finance. But with rates ranging from 0.99 per cent to 1.5 per cent every month, this is a game left to the experts.
Join our commenting forum
Join thought-provoking conversations, follow other Independent readers and see their replies