Annuities: Buy in ignorance, repent at leisure
A minister has called for switchable annuities, which may be impractical. Meanwhile, says Chiara Cavaglieri, shop around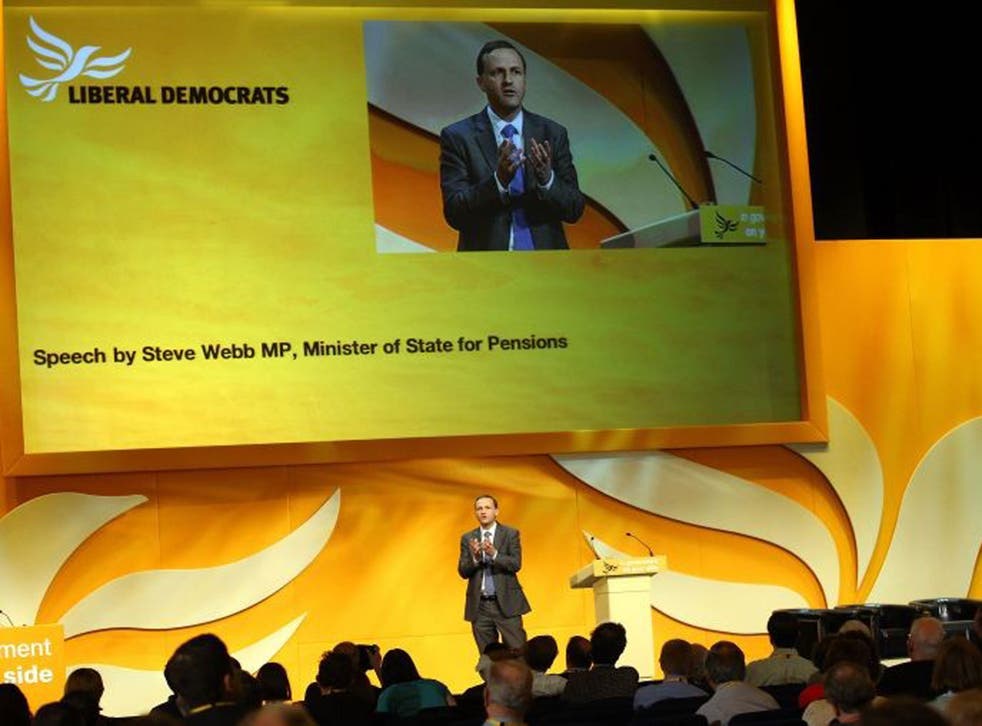 The annuity market which millions of Britons rely on for income in old age isn't working. Returns are falling fast and many of us are failing to find the best deal and potentially missing out on tens of thousands of pounds.
The answer, according to pensions minister Steve Webb, is "switchable annuities" so that pensioners will be able to shop around and change annuities in the same way that homeowners switch their mortgage every few years.
At first glance, giving consumers more flexibility is a positive move, not least because retirement incomes today are a lottery and can differ by 15 to 20 per cent or more depending on which provider is chosen.
However, commentators have been quick to point out that when you take switching annuities to its logical conclusion there are many other problems that could arise.
Tom McPhail, head of pensions at Hargreaves Lansdown, says: "I'm not sure that switchable annuities will ever actually get off the ground. We already have to work really hard to get people engaged with shopping around once let alone repeatedly if they are going to switch every few years". An even bigger issue is whether we can really expect insurance companies to offer annuities that will last for a lifetime if there is a caveat enabling annuitants to switch at any time. The natural outcome is that insurers would be more likely to reduce rates to reflect the added risk that they could lose the money at any point if their customers want to switch away.
Kusal Ariyawansa of independent financial adviser (IFA) Appleton Gerrard acepts the initial attraction of switchable annuities but argues that this move would give rise to far too many complications.
"I can see why Steve Webb argues that you should be able to swap to a better rate should rates improve in the future, but this could amount to being penny wise yet pound poor. For example, when is it best to swap, and what will the cost be? How long will it take to recover the costs? Will insurance companies impose exit penalties?"
Creating more costs in the system could be a huge setback when you consider that over half of pension pots used to buy an annuity are worth less than £20,000 and nearly 30 per cent are worth less than £10,000.
"Since people are living longer, the most sensible arrangement will be a cost-effective lifetime investment solution with an insurance element against short-term fluctuations or early burn-out," says Mr Ariyawansa. "As usual we should look to America where companies combine annuities with investment backed by insurance, thereby allowing the customer to benefit from stock market returns safe in the knowledge that there is a level of downside protection should something go wrong drastically".
Critics have argued that just about everything Mr Webb wants to see improved already exists.
People can currently buy fixed-term annuities that enable them to benefit from improving annuity rates further down the line and they can also use a combination of fixed-term annuities, income drawdown and phased retirement plans to run "mixed" pension arrangements with some annual income through their annuity and the rest of their savings invested – another suggestion from Mr Webb.
So do we really need more reforms, or do we need to work harder to ensure everyone who retires understands what their options are?
One of the easiest ways people can immediately boost their retirement income is to shop around.
The overwhelming majority still fail to take the Open Market Option (OMO) and potentially lose thousands by automatically plumping for the annuity rate offered by their pension provider. So better guidance on the products available is essential. This includes deeper understanding of investment-linked annuities, index-linked annuities, spousal benefit and enhanced annuities for people with health conditions which could include high cholesterol or high blood pressure.
Blair Cann, of insurance brokers M Thurlow & Co says: "Enhanced annuities used to be something of a joke but it is now quite possible to achieve significant improvements, some as much as 25 per cent".
Pensioners should also consider alternatives to annuities, like deferring buying an annuity and going into drawdown which is becoming increasingly popular.
But the Association for British Insurers recently revealed that 52.1 per cent of people who bought an annuity in 2013 had not taken advice.
Many buy annuities online because they believe fee-based advice is too expensive, but David Smith of IFA Bestinvest says they will typically pay more in commission and receive no advice whatsoever.
"Bearing in mind this is the single largest purchase anyone will ever make after their home, surely commissions have to be banned and everyone should be encouraged to take professional advice", he says.
Register for free to continue reading
Registration is a free and easy way to support our truly independent journalism
By registering, you will also enjoy limited access to Premium articles, exclusive newsletters, commenting, and virtual events with our leading journalists
Already have an account? sign in
Register for free to continue reading
Registration is a free and easy way to support our truly independent journalism
By registering, you will also enjoy limited access to Premium articles, exclusive newsletters, commenting, and virtual events with our leading journalists
Already have an account? sign in
Join our new commenting forum
Join thought-provoking conversations, follow other Independent readers and see their replies