Banks are brought to account by switchers as growing number of people expect to be rewarded by their bank
There has been a rise in people moving their savings since an easier transfer system was launched
Chiara Cavaglieri
,
Julian Knight
Saturday 30 November 2013 20:08 Comments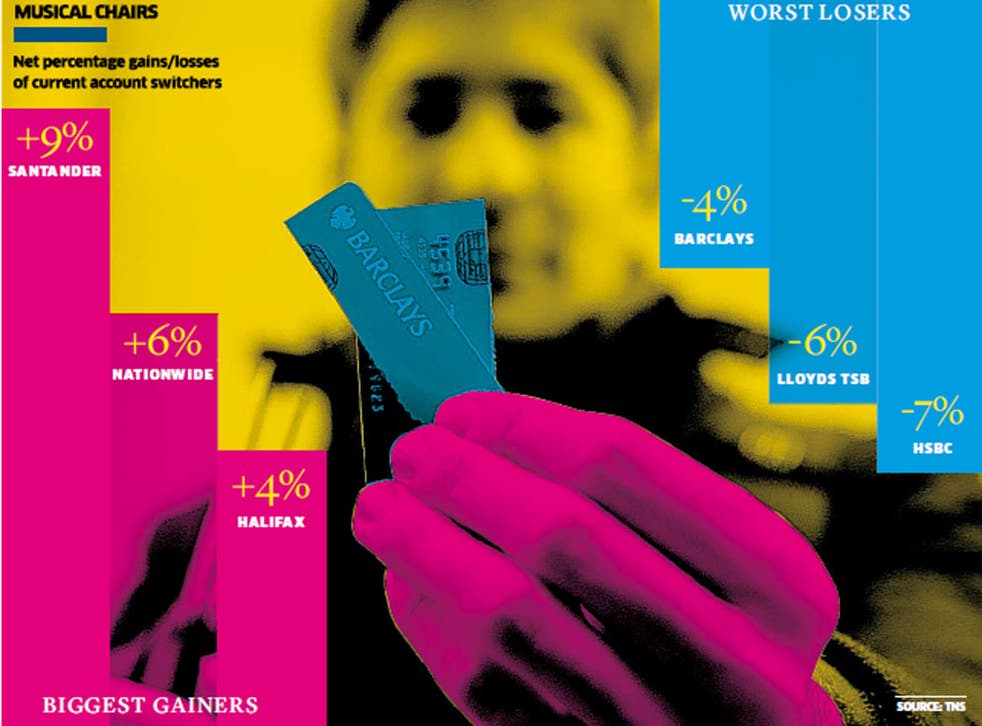 Finally we Brits seem to be waking up. New rules introduced in September to speed up current-account transfers seem to be doing the trick, with the number of switchers in October up 12.7 per cent on last year. Soon, the hoary old line that consumers were more likely to divorce than switch current accounts may be redundant.
There were 115,280 switchers last month, compared to 102,300 using the old, notoriously slow automated service in October 2012, according to the Payments Council. In other research, the latest TNS UK current-account switching index found just over a third (35 per cent) of people who have switched this year did so in the last three months, up from 27 per cent in the three months before the easier switching launched.
The biggest winners so far are Santander, Nationwide and Halifax which made net gains of 12 per cent, 6 per cent and 4 per cent respectively. More than half of all the new customers they gained were from Barclays, HSBC, Lloyds/TSB and NatWest, all of which have lost more customers than they gained this year.
Rosi McMurray of TNS UK says: "People seem very happy with the switching process itself – of those that have switched in the last year 83 per cent were satisfied which is a pretty good result – however, we are not surprised that overall the switching levels remain very low. People will only switch if they have a strong reason to do so".
A growing number of people expect to be rewarded by their bank and financial incentives are the key motivators for customers switching to the likes of Santander, Nationwide and Halifax.
The Santander 123 account pays up to 3 per cent on balances of £3,000 to £20,000, 1 per cent on £1,000-£1,999 and 2 per cent on £2,000-£2,999. There is a monthly fee of £2 but you also benefit from cashback on your bills on top of the in-credit interest at a rate of 1 per cent on water, council tax and Santander mortgage payments (limited to £1,000 per month), 2 per cent on gas and electricity bills, 3 per cent on mobile, home phone, broadband and paid-for TV packages. You must fund the account with at least £500 every month and maintain a minimum credit balance of £1,000 to get the interest.
Nationwide's FlexDirect current account pays an impressive 5 per cent interest, but this is limited to balances up to £2,500 and after the first 12 months it falls to just 1 per cent. Halifax has reintroduced its £100 switching bonus to new Reward account customers who must transfer two or more direct debits and pay in at least £750 per month. This account also pays an ongoing £5 for each month that you deposit £750 and remain in credit and customers earn up to 15 per cent cashback at specific retailers via "Cashback Extras".
Despite all these glittering incentives, customer service is still the main driver for switchers.
"Santander saw the most significant gains, but they are probably less happy about the fact that one in four people cite poor customer service as the main trigger for switching away," says Ms McMurray, who highlights Nationwide as one provider managing to find a good balance between service and value.
Almost 20 per cent of gains by Nationwide and Halifax came from Santander, according to TNS, which suggests that although their financial incentives are bringing in new customers, they are still losing many people due to poor service.
For Laura Willoughby, head of campaign Move Your Money UK, the problem is actually a lack of choice because most of the better financial institutions, such as building societies, don't offer current accounts: "Whilst switching is now quicker, customers are telling us that there is no point switching between the big banks as they are all as bad as each other. People want more choice."
However, another bank that has continually performed strongly in terms of customer service and reputation is First Direct and the good news is that there are still rewards up for grabs – it has its own £100 switching incentive to new customers as well as an automatic, interest-free overdraft of £250. You must pay in at least £1,000 per month to get the account for free (otherwise you pay £10 per month) and you must switch at least one direct debit or standing order. There is also no in-credit interest on offer, although current account holders do have access to a First Direct regular saver paying an impressive 6 per cent.
Whichever account you have, the onus is on you to check whether it's working for you. Many people have been with the same bank for years and while there is nothing wrong with remaining loyal to a bank that has served you well, see how it fares against the competition – there is a useful comparison table on Moneyadviceservice.org.uk. If you have a packaged current account, or you use an overdraft facility, this is particularly important because you could be paying hundreds of pounds in unnecessary fees and charges.
HSBC charges 19.9 per cent for its overdraft facility, for example, but it's worth noting that some of the big hitters offering impressive financial incentives will also sting you with huge fees for dipping into the red. Santander is currently offering a free, arranged overdraft for the first four months, but after this you pay £1 a day (capped at 20 days per month). Similarly, Halifax offers a 0 per cent overdraft for six months and a £50 buffer, but you also pay £1-£3 per day with no cap and you lose the £5 monthly bonus.
In comparison, First Direct offers a permanent, £250 interest-free overdraft and Nationwide has a 0 per cent overdraft for the first 12 months – it charges 50p per day for arranged overdrafts thereafter so you may want to switch once the year is up.
Register for free to continue reading
Registration is a free and easy way to support our truly independent journalism
By registering, you will also enjoy limited access to Premium articles, exclusive newsletters, commenting, and virtual events with our leading journalists
Already have an account? sign in
Join our new commenting forum
Join thought-provoking conversations, follow other Independent readers and see their replies