How to battle your borrowing as lending rules change and charges soar
Credit card accounts could be frozen and overdraft interest rates are rising as lenders cash in on rule changes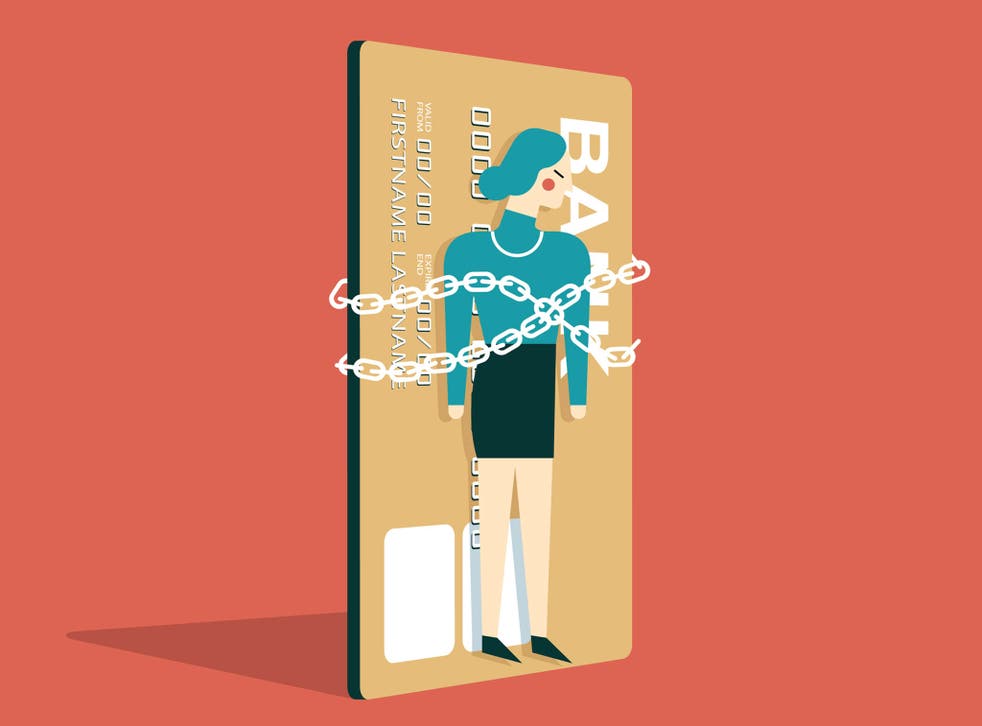 Interest rates on overdrafts are rocketing to 40 per cent, and some credit card customers could soon have their accounts suspended.
For anyone who relies on credit as a means of budgeting month by month, it may feel that they are being squeezed from all angles. In fact, these changes are designed to help customers avoid getting trapped in a cycle of pricey debt and paying more in interest than they ever actually borrow.
So what is changing, why is it happening, and how can you stay ahead? Here's a rundown.
What's changing for credit cards?
For the last 18 months, credit card customers whose accounts are considered to be in persistent debt will have been receiving letters from their providers.
This month, some of those customers may start to receive notifications that their credit card accounts have been frozen because they are not doing enough to clear their persistent debt.
Some people may be surprised to hear that they are considered to be in persistent debt – after all, if you're meeting the minimum repayments each month, then you may feel that you are meeting your obligations.
But new rules from the Financial Conduct Authority (FCA) say that if the repayments you're making are going more on interest fees and charges than actual repayments, and this has lasted for 18 months or more, the lender has to offer you help.
The first letters warning of this went out a year and a half ago, telling borrowers who had been in persistent debt for 18 months that they had to increase their repayments.
Borrowers are being asked to increase repayments or offered loans with lower interest than their credit cards to allow them to repay their outstanding amounts within a few years rather than dragging on with pricey credit card payments.
Those who don't engage with their lenders over this may find that their accounts are suspended. The FCA is cautious about these rule changes, though, and this week it warned lenders not to simply broad-brush suspend the accounts of anyone who is engaging with them.
Jonathan Davidson, Executive Director of Supervision for Retail and Authorisations at the FCA, said: "Under our rules, firms must help customers to reduce the level of debt they have on their credit card more quickly.
"If a customer cannot afford the firm's proposals for how to do this the firm must offer forbearance, potentially including reducing, waiving or cancelling any interest, fees or charges."
What's changing for overdrafts?
Alongside all this, anyone who uses an overdraft will have noticed some fairly significant changes to charges there as well.
The FCA has ordered banks and building societies to simplify their charges, currently an often-bewildering array of interest rates, daily charges and penalty fees for unauthorised borrowing.
It found that banks were making £2.4bn a year from overdrafts alone, with customers who slipped into unauthorised borrowing paying the most.
The charges vary from bank to bank, but Santander had been charging £6 a day, HSBC £5 a day, NatWest as much as £8 and TSB up to £10 a day in fees.
So a change was clearly needed – however, so far many banks have responded to this by scrapping their penalties and fees and raising their interest rates from April.
Why is this happening?
Customers who routinely use credit as a way of budgeting are paying some eye-watering amounts for that borrowing.
The FCA estimates that credit card customers who live in persistent debt are paying around £2.50 in interest and fees for every £1 of actual debt they pay back. That's one reason it can take years, or even decades, to clear the balance.
Overdrafts have been similarly highly priced, with charges that are difficult to understand and compare.
Unfortunately, while 70 per cent of customers will be better off, 30 per cent will now pay more than before.
Last month, the FCA wrote to the main banks to ask for more information on new overdraft pricing, including information on how they arrived at the 40 per cent rate.
What can I do?
Both these changes should serve as a wake-up call to borrowers who routinely live in the red. It's expensive, it's stressful and it's going to become harder to do so.
If you're ready to act to pay down debt and avoid high charges, here are some important steps.
Make a budget
Very few people can get out of debt on good intentions alone. Unless you know how much you have coming in and going out each month, it's going to be very hard to get out of the red and stay out.
Draw up a budget plan by writing down your income and outgoings, including bills, debt repayments and unavoidable payments like the cost of commuting.
What is left is how much you have left to spend flexibly. By understanding how much that is, you could assign more to debt repayments if you can afford to. At the very least, you will be better placed to live within your budget and avoid falling into further debt.
Clear the priciest debt first
If you have more than one credit card or loan or overdraft and one is particularly more expensive than the others, it's worth prioritising that debt so you can clear it quicker.
The less you pay in interest, the more you will be able to clear in debt.
Talk to your lender
If you're receiving letters from your credit card company about being in persistent debt then it's important to speak to them as soon as possible.
Don't be tempted to ignore their letters, or you might find your account is simply frozen after 18 months. The FCA says lenders must treat customers fairly and with forbearance, so open a discussion about your position – they may agree to lower interest charges or to move your debt onto a cheaper loan with a fixed repayment plan.
Don't use debt to clear debt
If you're making repayments to debt using other forms of debt, like a credit card to pay off a loan instalment, this is a big red flag that you might be facing problem debt.
Now is a good time to talk to organisations that can help like Citizens Advice, StepChange or National Debtline. You're not alone – you can get support, and ignoring this issue will mean you risk everything getting much worse.
Register for free to continue reading
Registration is a free and easy way to support our truly independent journalism
By registering, you will also enjoy limited access to Premium articles, exclusive newsletters, commenting, and virtual events with our leading journalists
Already have an account? sign in
Register for free to continue reading
Registration is a free and easy way to support our truly independent journalism
By registering, you will also enjoy limited access to Premium articles, exclusive newsletters, commenting, and virtual events with our leading journalists
Already have an account? sign in
Join our new commenting forum
Join thought-provoking conversations, follow other Independent readers and see their replies