Third of Britons believe they will never clear their debts
How worried should we be about our insatiable appetite for debt?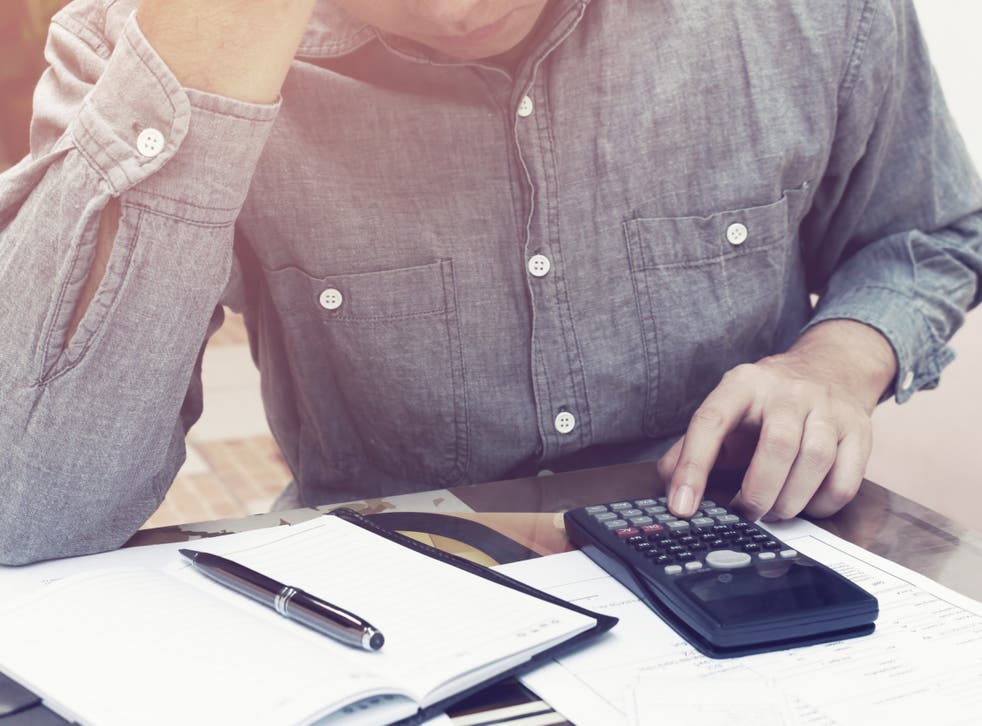 Almost a third of British people believe they will never clear their debts in their lifetimes and more than one in 10 say they won't even be able to reduce their debt levels.
Research by Equifax and Gorkana, seen exclusively by The Independent, reveals that people aged between 18 and 24, in particular, believe they face a lifetime of debt, with just half saying they expect to ever be able get back into the black.
Students graduate with an average debt of £46,000, according to an Institute for Fiscal Studies report out last year, and students from the poorest backgrounds graduate with debts of more than £57,000.
In fact, the vast majority of graduates – 81 per cent – will never clear their debt in full, which means they'll spend the first 30 years of their working lives with a debt hanging over them.
Debt levels across society are rising; figures from the Office for National Statistics show that household debt in the UK is at a record high, with Britons spending an average of £900 more than they earn each year.
But just how worried should we be about this flurry of depression-inducing stats? Is a lifelong relationship with debt simply the new normal – not just for younger adults, but for the entire population?
Take cars, for example – often the biggest purchase we'll make after buying (if we're lucky) a home. This week, Auto Trader predicted that within a decade all new cars will be bought on finance as the way we expect to pay for our motoring changes.
More normal, more expected… more risk
Jeannie Boyle, director and chartered financial planner at EQ Investors, certainly believes there has been a shift in expectation.
"Debt is definitely more normal now – credit cards are more prevalent, and so are zero per cent balance transfers, student loans and pay day lenders," she says.
"For our grandparents' generation it was shameful to be in debt. In recent times, student debt and house prices have normalised debt."
Moira O'Neill, head of personal finance at Interactive Investor, agrees and says the result could be worrying.
"If you're having to borrow four to five times your income to buy a property, an enormous sum in itself, adding some more debt to that may not seem like such a big deal," she explains.
"And that is where people are going to get into trouble. Interest rates have been very low for many years and people with big mortgages or other debts should be aware that they need to factor in a cushion for when rates rise."
Perhaps understandably, commentators from the finance industry seem confident. Brian Brodie, chief executive of the loans agency Freedom Finance, says: "Debt isn't a dirty word. Whether financing home improvements or purchasing a new car, taking out a loan is no longer seen as the 'last resort'.
"Low interest rates have driven many people to lock their savings away in fixed-term accounts that offer higher returns, but reduced access to savings. As a result, 'middle class' borrowing is on the rise. In the last six months, around half of our new loans were taken out by customers with an 'excellent' credit rating."
For Richard Haymes, head of financial difficulties at Equifax company TDX Group,​ this expectation of a lifetime of debt is a clear concern. He says: "With inflation hitting a six-month high in August (2.7 per cent), a recent interest rate rise and limited wage growth, it's disconcerting that a large proportion of people are taking on debt without a realistic expectation of being able to pay it back.
"According to our analysis, personal insolvencies are set to grow by 17 per cent this year, and the main contributing factor is record levels of consumer borrowing."
Lifelong costs
Debt might be manageable while people work and earn but there's concern about what a lifetime in debt might mean for our old-age wellbeing.
Research carried out by the Centre for Economics and Business Research with equity release specialist More 2 Life shows that unsecured debt among 55- to 74-year-olds has risen by more than a third over the last four years, more than twice as fast as the national average. And the most common form of debt for this age group is credit cards, with 30 per cent spending more than they pay off each month.
Boyle adds: "We're increasingly seeing people using pension freedoms to pay off debt when they turn 55, which has an impact on their wellbeing in retirement. This is often the only savings they've effectively been 'forced' to make.
"People also think they will use equity in their property to pay it off later – but this is problematic as downsizing does not always release as much money as expected. Any future drop in property process will exacerbate this."
Register for free to continue reading
Registration is a free and easy way to support our truly independent journalism
By registering, you will also enjoy limited access to Premium articles, exclusive newsletters, commenting, and virtual events with our leading journalists
Already have an account? sign in
Register for free to continue reading
Registration is a free and easy way to support our truly independent journalism
By registering, you will also enjoy limited access to Premium articles, exclusive newsletters, commenting, and virtual events with our leading journalists
Already have an account? sign in
Join our new commenting forum
Join thought-provoking conversations, follow other Independent readers and see their replies