Don't be snow blind: Alpine homes have a summer value
French resorts are diversifying into the warmer months, allowing for greater rental income, reports Julian Knight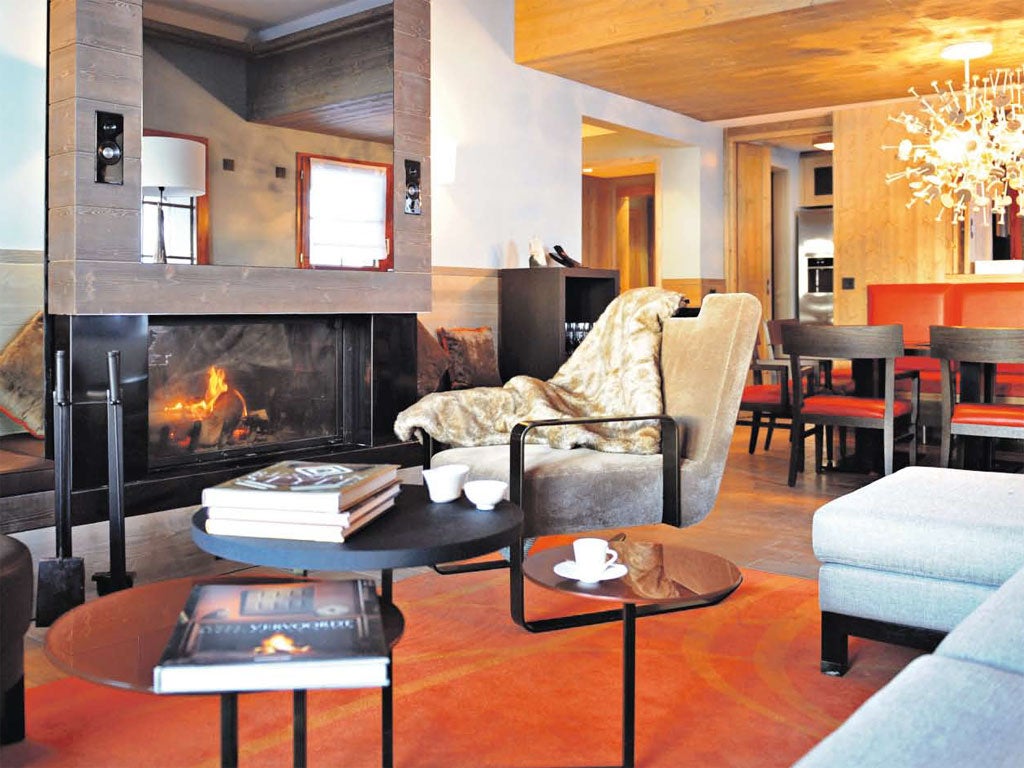 Hear anyone talk about the French Alps and your first thoughts are probably of the white stuff, snow, neige. Skiing and snowboarding, vin chaud and après ski is where it's at in the French Alps, yes?
No, not any more. According to the estate agent Savills, there has been a 26 per cent fall in Alpine ski tourism since 2007, as result, no doubt, of double dip recessions and financial crises. The region has had to adapt to survive – no longer reliant on a glut of tourists in a few short, not necessarily snow-bound, winter months to make their money for the year.
The French Alps is now a year-round destination and this is making its property – always a favourite with British buyers – potentially more lucrative. "The resorts used to be ghost towns in the summer, but now they buzz with holidaymakers. This provides the chance of higher rental returns," says Charles Weston Baker, the head of international residential sales at Savills.
With warmer summer months than the UK, but with lower rainfall and a cooling breeze, hiking, the most traditional of Alpine summer pastimes, has been joined by mountain biking and even the anglophile golf. And, once you add more extreme pursuits such as canyoning, paragliding and abseiling, it's easy to see why the Alps are beginning to carve a tourism niche beyond the snow.
"The Alps seems to appeal more to a younger demographic than in the past and is seen as a place for the family. That's one of the great joys of owning property, lending it to friends and family," adds Mr Weston Baker.
Property prices are still pegged to the prestige of ski resorts. Courchevel, Chamonix and the like, command some of the highest prices as do resorts over the Swiss border. Back in France, more affordable property locations – but still well established ski areas – include Morzine-Avoriaz, Meribel, Les Arc and Valmorel.
Located in Savoie, a couple of hours from Geneva airport, the village of Valmorel is next to the landmark Col de Madeleine and on a clear day Mount Blanc is visible. Club Med, one of France's biggest tourism companies, is selling 19 ski-in, ski-out chalet-apartments near to its all-inclusive resort.
The properties, which can be seen at villas-chalets.clubmed.com, start at ¤556,000 (£440,000) for two beds and go up to ¤1.3m for four beds. When in residence, owners can use the club facilities, including restaurants, bars, gym, spa and pool. It's a walkers heaven, with more than 150km of footpaths set in nearly 9,000 acres of protected countryside. Owners, like paying guests, even have the use of an onsite butler to cook breakfast and make the beds as part of the package.
The properties are available on a leaseback basis, so for the first 11 years of ownership the properties are let out by Club Med to high-end guests. In return, buyers receive a guaranteed rental return of 3 per cent and three weeks use a year.
"The idea is that owners can enjoy the privacy of their villa and dip into Club Med's all-inclusive facilities, which is ideal for families. This all-inclusive deal is a unique offering of this development," says Sylvie Ernoult, Club Med's head of villa marketing.
Leaseback has received some bad press and understandably so. Buyers have found to their cost that the guarantees are only worthwhile if the developer can follow through with its promises. After the financial crisis, large number of developers either went bust or were unable to deliver their guarantees. This wasn't just seen in Eastern Europe or less developed countries, France suffered its fair share of developer failure.
"There were problems with leaseback and people need to be alive to the risks that the guarantee is only a guarantee if the firm is strong enough to follow it through," says John Busby, a director at French Private Finance who specialises in French properties.
Big, it seems, is not only beautiful but necessary when considering buying on a leaseback basis. "Go with the big providers. The Club Med's and Pierre Vacances (P&V) of this world are massive, strong companies which should be well placed to honour their promises. Overall, people like leaseback in the Alps because it gives them the usage while the rental returns allow the investment to pay for itself," Mr Weston Baker adds.
At Club Med, for instance, the chalets are maintained for owners and materials are top drawer – essential in the often harsh Alpine environment.
There are also freehold properties available in the Alps – not tied into a leaseback arrangement – but these come at a premium as developers cannot claim the tax advantages that come with building property designed to be let out.
Savills, for instance, has just started marketing a six-apartment development in Meribel, with beautiful views over the valley and La Chapelle Notre Dame des Neiges. Ranging from two to four-beds, apartments cost from ¤720,000. P&V has a range of properties at a heady 2,000m altitude in Belle Plagne from ¤502,219, sold through athenaadvisors.co.uk.
Mortgages, although subject to quite strict criteria, are readily available in France, regardless of whether the property is bought leaseback or outright. "Mortgage rates are near record lows, with tracker products available from just 2.5 per cent and 20-year fixed rate deals at 3.75 per cent," says Mr Busby.
Generally, mortgage loan to values stand at 70 to 80 per cent. However, there is an affordability test applied to French mortgages and borrowers' total debt repayments cannot exceed a third of their income. But lenders do take account of potential rental income in their calculations.
"The best advice is to have the finance in place before you start looking. You don't want to be rejected once you have your heart set on a place. The good news is that prices are soft at the moment so serious buyers have the whip hand," Mr Busby says.
The buyers market, no doubt, is down to the euro's troubles. But buyers in France, rather than their counterparts in Spain, Italy or Greece, can be fairly sure of France's continuing place in the eurozone. British buyers have benefitted from the uncertainty because exchange rates have improved, but market jitters can strike the unwary buyer at any time.
"On average, it takes between six and eight weeks to complete a resale property purchase abroad. If you're buying off-plan this is generally elongated to 12 to 18 months. Even over just one month currency rates can change dramatically and have a real impact on the price of an overseas property," says Mark Bodega, a director at currency firm HiFX said.
One way to counter such fluctuations is to arrange a future currency contract, which allows you to buy the currency at current rates and pay after completing the purchase.
Join our commenting forum
Join thought-provoking conversations, follow other Independent readers and see their replies