How much should it cost to sell your home?
Would you part with £36,500 in agents' fees alone?
Kate Hughes
Money Editor
Friday 26 July 2019 17:59 Comments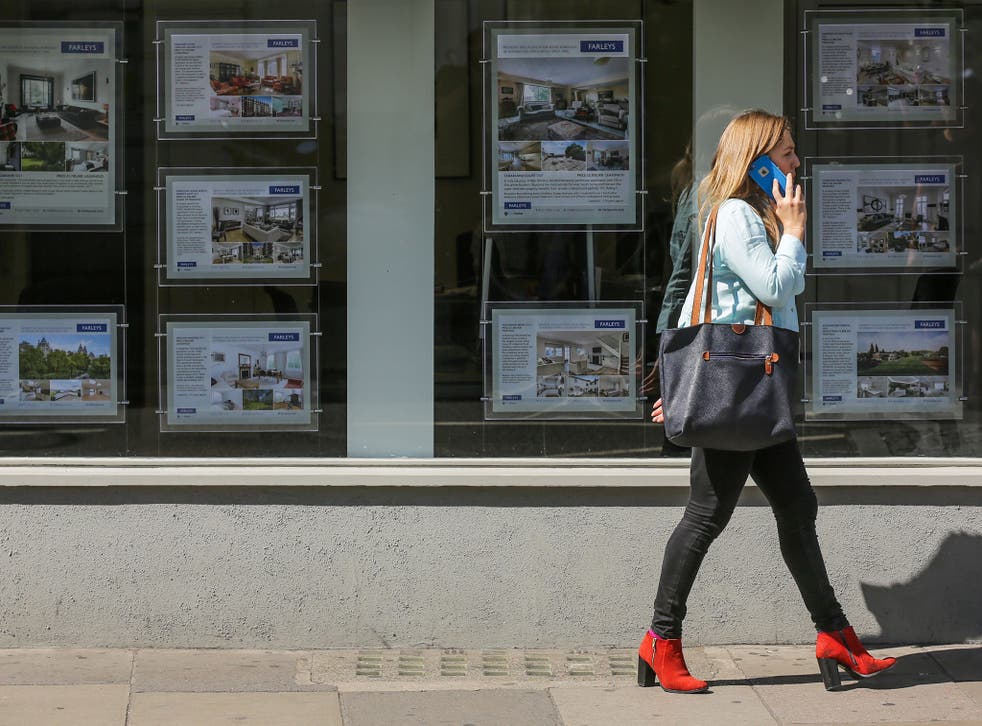 With selling season in full swing, at least minus the Brexit effect, sellers up and down the country are inhaling sharply at the cost of parting with their last property.
It's easy to fall into the underfunded trap.
The "smaller" costs are quickly cast into the shadows by the biggest numbers we're ever likely to deal with in our lives – the cost of the property itself. But selling a home, let alone buying another, come with a whole host of extra, steep, bills to somehow cover.
There's conveyancing to consider – the legal process of transferring ownership from one party to another – at up to £1,500. And don't forget removals at a cost of up to £1200 alone. Even the Energy Performance Certificate (EPC), a legal requirement will add another £50-£120 to your bill.
That's before we even start with remortgaging. Most mortgages are portable, but if you need a larger mortgage for a more expensive property, remortgaging will come with another series of costs.
And these aren't even the big costs. Is Capital Gains Tax waiting in the wings if the property is not your primary residence? And what about actually getting the thing sold in the first place?
Business news: In pictures

Show all 13
How much?!
Estate agent comparison website, GetAgent.co.uk, calculates that some sellers are paying a huge proportions of their assets in estate agents fees to sell their home in a stuttering market. And they're not necessarily where you'd expect.
In cash terms, of course London is going to be eye-watering. The SW7 post code in southwest London is home to the highest with the average commission of 1.9 per cent equating to a fee of £36,540 on the average house price. In fact, the top 10 post codes by amount are all in Kensington, Chelsea and Westminster.
Outside of London, KT11 in Elmbridge is home to the highest fee paid by UK home sellers, with a 1.6 per cent commission equating to £14,921. GU25 in Runnymede is the second highest at £13,408. Even SG10 in east Hertfordshire, SO42 in the New Forest and HP8 in south Buckinghamshire all come in above £9,000.
These prices all reflect the cost of the property itself.
But when it comes to the size of the cut, estate agents in East Ayrshire are taking the most, at an average of almost 3 per cent of the sale price. Properties there may average just under £90,000 each but their former owners are regularly handing over more than £2,640 of it.
Even agents in Thanet, Liverpool and northeast Lincolnshire charge a greater percentage than those in parts of Kensington and Chelsea.
At the other end of the scale agents in PH7 in Perth and Kinross, IV19 in Highland, PA20 in Argyll and Bute and KA2 in east Ayrshire will charge you only 0.6 per cent of the property value to sell it for you.
It's no wonder agents' costs are met with confusion and consternation. Especially from those with buying costs to then consider on top.
So how can you get your home sold for the right price at the right time for the right fee?
The good news is that these days there are choices to fit every pocket. The bad news is that this doesn't make the matter any simpler.
Selling privately
In the world of property, as in so much of life, you get what you pay for.
There's no doubt a traditional high street estate agent works for their commission – from valuation visits and arranging legal requirements, to vetting potential buyers and physically walking interested parties around the home. It's certainly a solution for those with assets but no time to spare.
But for the rest of us, the cost involved, the time invested in getting it done and how quickly you need a sale need careful weighing up.
For starters, don't go anywhere near a quick home buyer or one whose adverts guarantee to buy your property unless you are really desperate and have exhausted all other avenues to liquidate your cash. From last minute cuts to the offer to problems even identifying the buyer and whether they're good for the money, these companies have been in the sights of the regulators for years.
Meanwhile, there's no doubt that selling privately is the cheapest way of selling a home. Aside from the cost of legal obligations and any tax bills, you'll keep the full amount you sell for yourself, but this is a time-consuming option.
Extensive research will be critical before you even begin marketing your home to ensure you don't fall foul of everything from the law to a bad valuation. Citizens Advice provides an impartial checklist for private sellers.
And somehow, though we Brits baulk at the fees charged by some old-school agents, we're not quite ready to go it alone either.
Pared back service
Online estate agents are cheaper than traditional agents with a physical high street presence because they're operated from call centres and websites. If you sign up for a basic package, you'll be doing all the running around albeit within a clear framework. At least one of the biggest online agents won't even supply a "for sale" sign without charging extra.
There's nothing wrong with that in itself, especially if you're aware of what you're getting into and are happy taking marketing photos of your home, conducting viewings and the like. It could also save you a packet.
Consumer group Which? estimates that, nationwide, using a traditional agent to sell a £250,000 property would typically cost around 1.3 per cent in commission, or £3,250. Use an online agent and the figure could be as little as £300 to £1500 regardless of the property's value. You may well have to pay up front though, and London sellers will by charged at the top end of that range.
Support free-thinking journalism and attend Independent events
Which? also found that, on average, online agents sold properties 38 days faster than traditional agents.
But what if you're painfully shy and wouldn't know where to start vetting potential buyers but still don't think you need 24/7 hand holding?
Enter the hybrid deal. Increasingly popular, this bumped up service provided by online agents is a halfway house between the most stripped back of their services and the full-blown arrangements offered by high street agents.
Instead of basing the value of your property on online data, a real-life person will conduct a real valuation, for example. And though they may not have the in-depth local knowledge of a traditional agent, online agents aren't known for inflated prices.
It's also worth knowing that all estate agents, online or traditional must comply with the Property Ombudsman or Property Redress scheme (they have to tell you which) and abide by the 1979 Estate Agent Act enforced by Trading Standards.
Register for free to continue reading
Registration is a free and easy way to support our truly independent journalism
By registering, you will also enjoy limited access to Premium articles, exclusive newsletters, commenting, and virtual events with our leading journalists
Already have an account? sign in
Join our new commenting forum
Join thought-provoking conversations, follow other Independent readers and see their replies