Women are better at investing than men, find reports
The Independent lifts the lid on the other gender gap
David Prosser
Thursday 01 March 2018 12:24 Comments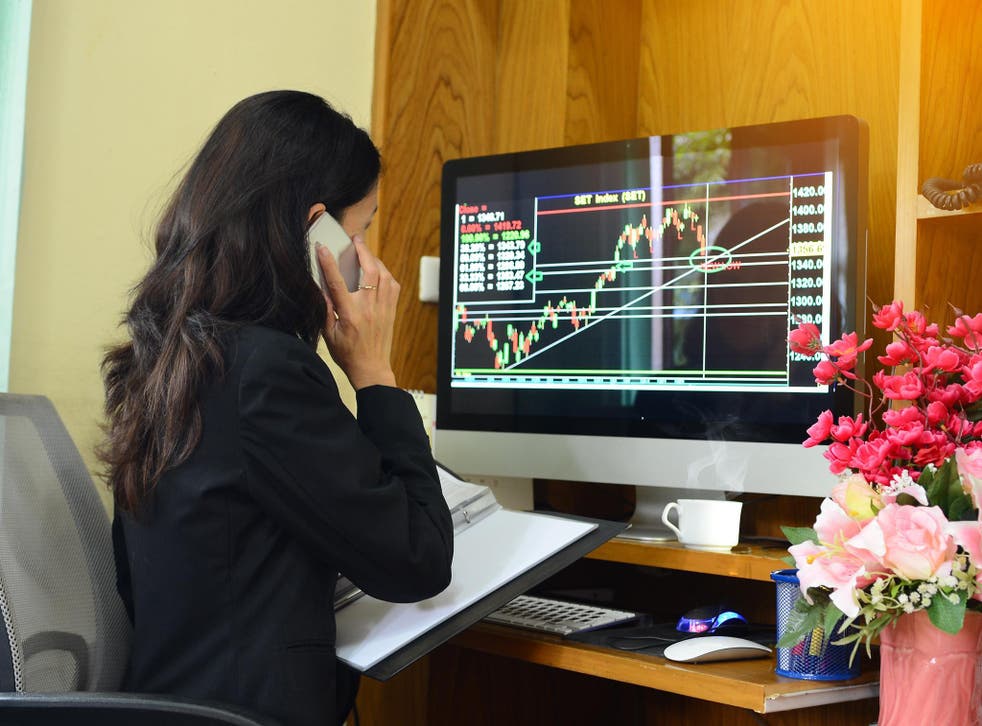 As if we needed confirmation, the latest data suggests the gender pay gap is as striking in the City of London as in so many other professions. Information filed in recent weeks by fund managers in line with new rules requiring them to publish pay gap figures suggests that women working in asset management receive salaries that are 40 per cent lower than those earned by men; the bonuses received by women are a whacking 72 per cent lower.
The headline figures are bad enough, but what makes the gap even more indefensible is the compelling evidence that women fund managers so often do a better job than their male counterparts. The latest study to reveal exactly that was published at the end of last year by consultants Rothstein Kass. It looked at five years' worth of returns in the hedge fund sector – in each of the years studied, women outshone men, with annualised performance of around 9 per cent a year compared with 3 per cent from the male-dominated hedge fund industry itself.
Similar studies going back over many years have reached the same conclusions. For example, in 2013, an American project focused on value investment – a style where fund managers look for companies undervalued by the market – found that women "significantly outperform".
One explanation for this was originally hypothesised by two academics at the University of California, who studied the investment habits of more than 35,000 households throughout the 1990s. They concluded that men tended to be much more confident in their own abilities to invest successfully than women – they were therefore likely to trade much more frequently, racking up costs in the process and often miss-timing the market. Over the period studied, men traded 45 per cent more frequently than women and earned annual risk-adjusted returns that were worth 1.4 per cent less.
It's hardly ground-breaking to suggest that women bring new skills to a given discipline, improving performance as a result. Indeed, this is an idea that fund managers themselves believe in very strongly, which is why they have campaigned for greater diversity among the managements of the companies in which they invest.
Very sensible too. In one study, conducted by the accountant Grant Thornton, researchers found that publicly-traded companies with wholly male boards could be missing out on £430bn of investment returns each year. Meanwhile, Credit Suisse research has identified that the average return on equity of companies with at least one woman on the board is four percentage points ahead of the returns generated by those with no female directors.
It's not just professional female fund managers who tend to outperform. The financial adviser Hargreaves Lansdown has just published data on its own clients in a repeat of the research carried out at the University of California 20 years ago. It found that over the three years from August 2014 to August last year, its female clients outperformed their male counterparts by an average of 0.81 per cent. Over 30 years, Hargreaves Lansdown says, that would mean the women ending up with a portfolio worth 25 per cent more.
Hargreaves Lansdown pinpoints several reasons for the superior performance of its female clients. It found women were more likely to hold well-diversified portfolios, rather than to concentrate risk in one area; they were also less likely to choose more risky investments in the first place. Like the Californian study, Hargreaves Lansdown also reveals women tend to trade less frequently, pursuing a buy and hold investment strategy.
Given so much evidence, you would be forgiven for assuming that asset management firms are keen to appoint more women to frontline fund management roles – for the sake of performance, if not gender equality. However, the news here isn't good: the analyst Citywire, which tracks tens of thousands of individual fund managers operating globally, says just one in 10 are women.
Even worse, in the UK, the percentage of women fund managers actually fell last year. Women are entrusted with smaller funds than men, Citywire reports, and are much less likely to be trusted to run them on their own.
What messages should people take from all this research? Well, while the pressure on fund management firms to promote more women and to pay them properly clearly needs to step up a notch, the performance data also suggests investors might want to add to the criteria they consider when choosing investment funds. Next week marks International Women's Day – why not mark the day by investigating whether a switch to a fund run by a female manager might improve the returns you earn.
Register for free to continue reading
Registration is a free and easy way to support our truly independent journalism
By registering, you will also enjoy limited access to Premium articles, exclusive newsletters, commenting, and virtual events with our leading journalists
Already have an account? sign in
Join our new commenting forum
Join thought-provoking conversations, follow other Independent readers and see their replies