Investors' choice: New entrants or veterans?
Taking a punt on fresh listings, such as Direct Line, can be risky. Malcolm Wheatley reports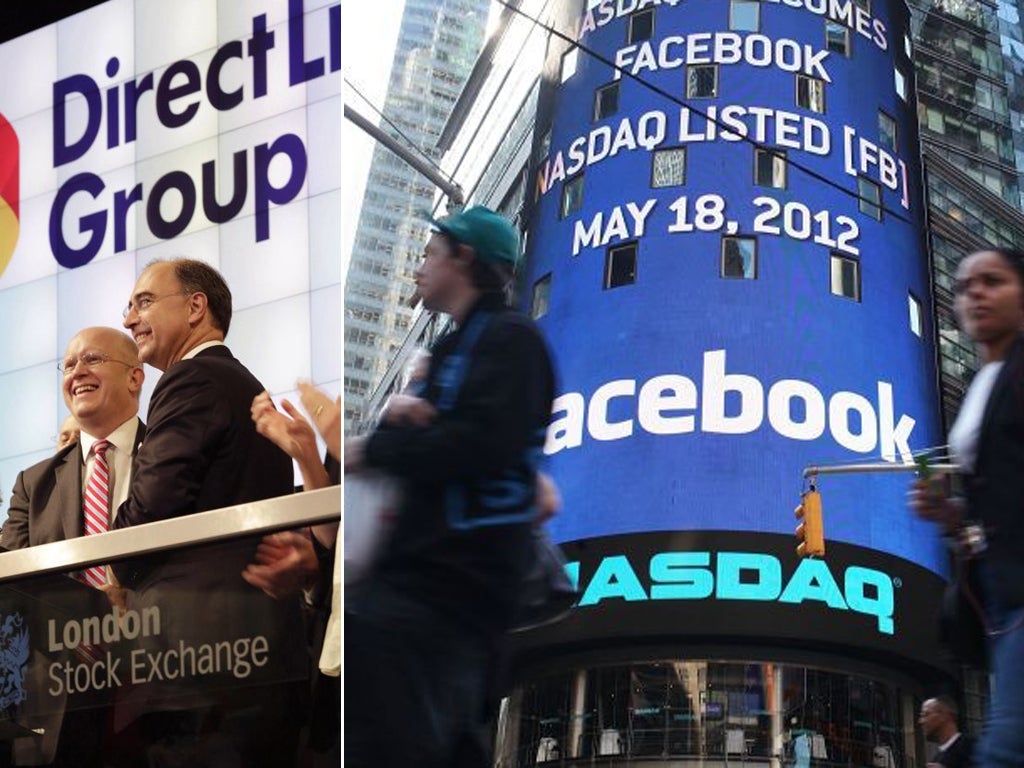 Floated on Thursday, insurer Direct Line was spun out of Royal Bank of Scotland as part of the publicly owned bank's strategy for bolstering its balance sheet.
Priced at a discount in order to attract investors to part with their cash during difficult times for the stock market, analysts reckoned the insurer's true worth to be £600m higher than its flotation value. In early trading on Thursday the shares rose by more than 7 per cent to 187.75 pence, the second highest riser in the FTSE 350.
Flotations – or Initial Public Offerings (IPOs) – have long been popular with private investors. A minimum 100 share investment in British Gas, for instance – costing just £135 back in 1986 – would have grown to £1,722 some 25 years later, a 13-fold increase that is almost five times the rise in the FTSE 100 over the same period. What's more, the energy giant, now split into Centrica, BG Group, and National Grid, has also delivered a rich stream of dividends along the way.
But not every flotation is a one-way ticket to riches – even at 1980s "giveaway" prices. BAE Systems – as British Aerospace is called these days– went on to under-perform the FTSE, as has BT and British Airways.
And the poster child of flotation flops may prove to be Facebook. The social networking giant raised $16bn (£10bn) in May year at a share price of $38, but was last week trading below $22, a fall of 42 per cent.
Such pallid performances are one reason why some investors don't rush into flotations, but wait until the dust settles, and share price to arrive at a level closer to its true value.
But other investors favour ditching flotations completely, and instead buy into well-established FTSE 100 companies, with solid track records, that happen to be trading at attractive prices due to temporary setbacks, or through having fallen out of fashion with the big institutions.
And, in contrast to the chance of quick profits made from "stagging" a new flotation – subscribing for new shares only to quickly sell them once the company has floated – buying blue-chips for the long-term prospect of more sustainable returns.
"It's time in the market, and not market timing, that delivers returns," says Richard Hunter, the head of equities at broker Hargreaves Lansdown.
"In contrast to the impatient 'I want it now' attitude of a lot of institutional investors, the idea of retail investors buying a decent stock for the medium to long term makes a lot of sense: a core investment that you can lock away, rather than be in and out of in six weeks or so."
It's a view endorsed by Warren Buffett, arguably the world's most successful investor, who has delivered returns of more than 20 per cent every year since 1965, turning himself into the world's third wealthiest person.
So what long-term "buy and hold" investments do experts recommend? Mr Hunter points to three shares, each trading on attractive price-earnings ratios, and offering a reasonable dividend, that fit the bill.
"Vodafone has over 300 million customers worldwide, and is already starting to benefit from consumers' increasing use of data services. Even without the special dividend from its Verizon subsidiary, the share offers investors a dividend yield of 5.1 per cent," he says.
"Shell, offering a 4.7 per cent dividend yield, is very cash-generative, very stable, and is one of the few global heavy-hitters which find and extract oil from increasingly difficult places.
"Finally, the market has had a bit of a down on Aviva in recent times. But the company is looking more focused these days, is developing a strategic plan, and offers investors an 8 per cent dividend yield while they wait for the turnaround."
But not every investor will feel comfortable buying individual shares. Jason Hollands, an investment adviser at fund brokers Bestinvest, points to investment trusts as an alternative option: broadly diversified collective investments, like funds, but quoted on the stock exchange, and traded in exactly the same way.
"For the long term, I'd go for a good 'one-stop shop' investment trust," he says. "FTSE-250 RIT Capital Partners is a £1.8bn trust that is conservatively managed, aims for global growth, and you're investing alongside Lord Rothschild, who owns nearly 20 per cent of the trust."
Schroder Real Estate Investment Trust is another pick, adds Mr Hollands. The trust aims to provide shareholders with an attractive level of income from UK commercial property, while also having the potential for both income and capital growth as the commercial property market recovers.
James Bateman, Fidelity's head of fund manager selection, says investors have a choice between higher-cost actively managed collective investments, and lower-cost "passive" products such as index trackers.
"The actively-managed Artemis UK Special Situations fund has a strong long-term track record, while Cazenove UK Opportunities is an 'all weather' fund with another strong track record," he says. "Among index trackers, which passively track the entire stock market, Fidelity MoneyBuilder UK Index and BlackRock UK Equity Tracker are popular trackers that are widely available."
Join our commenting forum
Join thought-provoking conversations, follow other Independent readers and see their replies