Julian Knight: Who will rid us of the curse of the 'chugger'?
Sunday 13 November 2011 01:00 GMT
Comments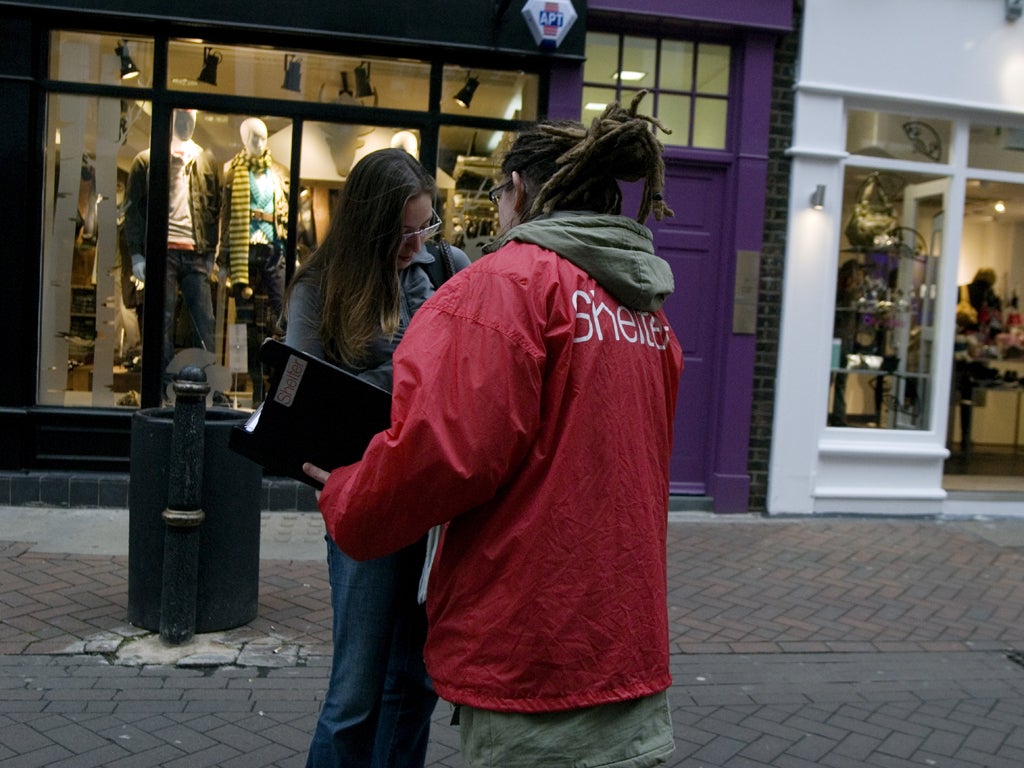 I counted eight "chuggers" – a mixture of charity collector and mugger – with bright purple NSPCC shirts, along Kensington High Street on Friday morning.
They were situated, as ever, along the narrowest strips of pavement, positions where it's hard to escape their attention. They leap out in front of you or try to shake your hand, all playing on the usual British reserve that we don't like to say no – even to perfect strangers.
Day to day, the charity changes and often so do the faces of the chuggers, some smile, some are quite polite. Others, though, can be aggressive. Recently when declining the umpteenth invitation to sign over my direct-debit details, I was told that I didn't care about those less fortunate.
The fact is that for many of these chuggers – or face-to-face fundraisers as the industry insists on calling them – this is purely a job, and not a bad paying one. Routinely they earn a basic of £7 per hour, but can earn much more through bonuses, and, when they are agency employees – rather than paid by the charity – the agency earns a percentage of the direct debit the giver has just signed up to. As a result, anything up to half the money raised can end up in the pockets of the chugger or their commercial employer.
I have even had chuggers come to my door in the evening and at weekends. Last week, in Edinburgh, a group of chuggers working on behalf of Shelter boarded buses and started to hassle passengers. This broke laws intended to combat Dick Turpin-style highway robbery and Shelter apologised, saying it would not be using that agency again. But what this charity and others don't factor into their cost equations is the long-term reputational damage. Shelter reckons it costs in Scotland alone some £3m to employ chuggers. They gather in £11m – but how many lost donations are there from people deeply annoyed at being accosted? In the same week, police in Shrewsbury issued a warning against aggressive chuggers, some of which, again, were working for Shelter.
Now, as any journalist will tell you, dare to write anything critical about charities or how they raise funds and you can expect the Third Sector – the charities themselves, voluntary groups, NGOs and so on – to come down hard. I have had my fair share of furious emails and letters – not from the public, but from charity PRs – when I have dared question the wisdom of the chugger. They say their research shows that people welcome being approached in this way. I'd love to hear from any readers who do.
If anything, a charity is its reputation and that's what makes the Third Sector's addiction to chugging so baffling. Don't they realise that for many of the public the gaggle of chuggers dressed in their bright-coloured tops are increasingly viewed as little more than the equivalent of the old squeegee merchants? And the fact that some chuggers thought it necessary to clamber on to buses shows that the well must be running pretty dry.
The simple fact is that chugging now does little apart from earn cash for private firms and damage the reputation of the whole charitable sector. So when you're out Christmas shopping and you get accosted by a chugger then give, by all means, but only do it direct. Cut out the middleman.
Join our commenting forum
Join thought-provoking conversations, follow other Independent readers and see their replies